Andrew Bird collaborator Dosh goes it alone on "Milk Money"
We chat with the Minneapolis multi-instrumentalist about working in his basement, drumming and the art of crafting a song as long as a sitcom.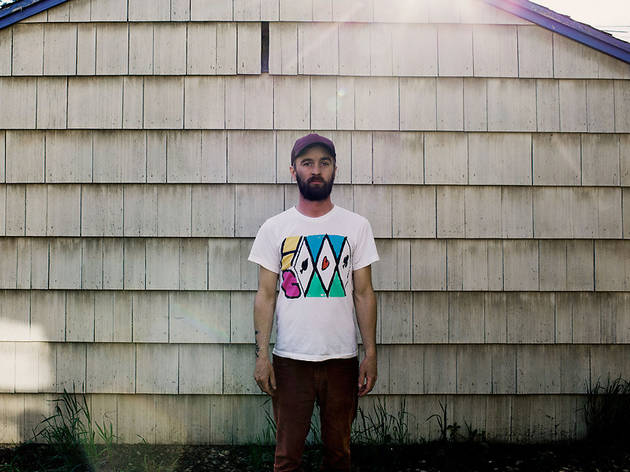 While he's best known as the rhythmic counterpart to Andrew Bird's layered violin strains, multi-instrumentalist Martin Dosh started his musical career with a string of solo releases via avant-garde L.A. hip-hop label Anticon records, culled from material that he recorded in the basement of his home in Minneapolis. Hopping between a Rhodes keyboard, a drum set and an old synthesizer, Dosh uses looping pedals to single-handedly create multi-faceted instrumental tracks that sound like the work of multiple musicians.
His latest record, Milk Money, was released by Graveface records earlier this fall and features a collection of tracks that the subterranean beat-maker has been hashing out for the past four years. We spoke with Dosh ahead of his December 1 performance at the Hideout to find out how his new LP came together.
The last few Dosh records have been filled with collaborations with the likes of Mike Lewis and Andrew Bird, but Milk Money is a largely solo affair. What was the motivation behind tackling this album by yourself?
Well, because there are so many collaborators on my last few records, I thought that if I attempted to make one just by myself it would yield results that were different, just by the nature of not having other instruments on it. Mike [Lewis] has been busy the past few years playing with Bon Iver (he is currently part of Arcade Fire's backing band), so we stopped doing the duo shows. I wanted to just go back to the way I did stuff in 2001 through 2005 and see what happened.
Do you feel as if your creative process changed as a result of this record's solitary nature?
Not really—my creative process is very messy and oftentimes it takes a long time for a song to be finished. Some tunes that are on the latest record are songs that I started working on upwards of four years ago, while some are tracks that I just came up with in the last nine months. I'm always recording in the basement, every night I work for a couple of hours, and then I go back every couple of months, go through the hard drives and listen to all the stuff. I'll hear things that I didn't hear when I was recording them and that often provides me with the inspiration for a song. With Milk Money, I tried to select songs that would balance out the super-long track on side two.
Let's talk a little bit about that final track, "Legos (for Terry)," which you originally wrote for a performance with Wilco drummer Glenn Kotche earlier this year. How did that collaboration come about and what was it like to work with him?
I have a great relationship with the folks at the Walker Art Center in Minneapolis and they approached me two years ago to ask me if I would like to collaborate with Glenn when he performed at the venue. It was one of those things that was planned way in advance. I eventually met with Glenn and we talked about what we wanted to do. I can't really write scores very well, so the only way for me to get the piece to Glenn and have him learn it was to actually record it. After the performance, I listened to it a lot and began to feel like the piece could stand on its own.
The recorded version clocks in at just over 24 minutes—easily the longest track you've ever released.
I've always wanted to do more long-form work and I was motivated by the parameters of the show that Glenn and I performed. The organizers wanted me to fill up 35 or 40 minutes and they gave me a deadline. I knew it was going to be long when I started working on it, I just had to figure out a way of building it properly. When you're mixing a 24-minute song, it's challenging because it goes so many different places and just listening to it three times uses up 90 minutes of your day. It was hard work but I like the way it came out.
You frequently serve as Andrew Bird's drummer and you recently put out a record with the Minneapolis group Cloak Ox. Between playing in bands and working on your solo material you have been keeping busy as of late. What's in store within the next year?
Cloak Ox is out at Justin Vernon's cabin in the woods right now doing a follow-up EP that's going to come out this spring. Bird isn't really doing anything with the band right now, we're sort of on hiatus until next fall. For me, it's just a matter of balancing my solo tours and a trip to SXSW with some Cloak Ox shows. It's really fun to play with Cloak Ox because I'm just playing drums—I get to revert back to my 16-year-old self.
Dosh shows are always a bit unpredictable—I've seen you play solo, as part of a duo and once (at Pritzker Pavilion) with three other guys. How are you approaching this upcoming tour?
I'm just going to be playing solo. I'm doing four shows with Matthew E. White after the Chicago show and I think he has a pretty big set-up, so I'm going to try to bring as few instruments as possible. I'm still on the fence about whether I'll bring my Rhodes or not—I think I kind of have to.
Dosh plays the Hideout on Sunday, December 1, at 8pm.