Bob Mould | Interview
Bob Mould revisits Sugar's Copper Blue and polishes off Silver Age.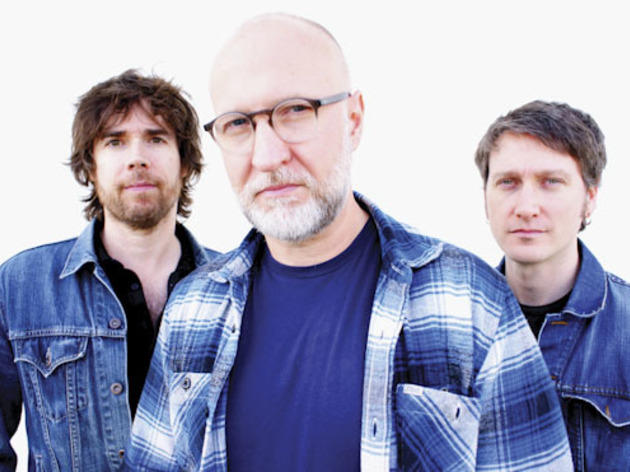 Bob Mould isn't the sort of artist who spends a lot of time looking back. Yet in the last couple years the former Hüsker Dü frontman has come to terms with his past, releasing a memoir, See a Little Light: The Trail of Rage and Melody, and overseeing the reissue of his '90s band Sugar's back catalog. He's currently performing that group's 1992 debut, Copper Blue, in its entirety in addition to select gems from throughout his career, including the excellent new trio disc, Silver Age. Sitting in a Las Vegas hotel room watching a thunderstorm obscure the ersatz Eiffel Tower, he spoke to us about Copper Blue and Silver Age as companions, and the "high-end problem" of having a trademark sound.
You've never seemed the sentimental sort, but you followed a memoir with the Sugar reissues, and now you're playing Copper Blue in its entirety. Coincidence?
The first part was a coincidence for sure, the book and the reissues. Copper Blue was a fixed point in time. I started thinking about [the 20th anniversary] as it approached in late '09, early '10. I didn't envision the book taking three years. But since I had the reissues on my mind, I thought it would be nice to have a companion piece, if I was going to do the record start to finish. I'm happy that I thought about that, and that Silver Age was way simpler than my book! [laughs]
Readdressing Copper Blue played a direct role in the sound of Silver Age.
Yep. I think the template—it was in my mind to have something complementary. There's one song on the record, "Angels Rearrange," where I was specifically trying to capture the exact sound. That was the first song that I mixed, and it sounded so much like Copper Blue I said, okay, one song will do. [laughs] The rest of the record is pretty rough and tumble, compared to Copper Blue.
"Keep Believing" sounds like it could have fit on Hüsker Dü's Warehouse: Songs and Stories.
Doesn't it, though? That was a last-minute song. I brought a different version of it to the band that was okay but not great. I was cycling through chord changes and I got to this pattern that became the guitar solo, and as I played it just instinctively, Jon Wurster, my drummer, suddenly says 'That sounds like you! I like that!' We went in and relearned the song with the new part and ta-dah.
Is it a blessing or a curse to have such a recognizable sound?
It's a high-end problem. But I've come to enjoy the "problem" of having a recognizable sound. [laughs]
But is this the first time you've ever recorded an album with your past work in mind?
With Life and Times [2009], there were moments where I thought it would be really nice to revisit Workbook, but I don't think I did. I guess [Silver Age] would be the first one where I had a bit of an objective in mind. The parameters were tighter.
Silver Age is really strong, but seeing as Copper Blue may be your most popular album, are you worried it may be overshadowed live?
Not once people see us play these songs! [laughs]
It must be surreal to celebrate the 20th anniversary of an album that's more or less only the halfway point of your career.
Oh my God, it's totally weird, but great. People who know my career know the various twists and turns that it's taken. I can be prickly, and I can be difficult and I can get a thought in my head that runs contrary to what people expect from me. At this point I'm just surrendering to the bigger notion that everybody loves [Copper Blue] as much as I do, and that we should just have fun with it. It's very unlike me all the way around, but so far so good.
Bob Mould plays Metro Thursday 13 and Friday 14. Silver Age is out now.