Chris Cornell | Interview
The Soundgarden singer with the mighty roar treats Time Out Chicago to his quiet side.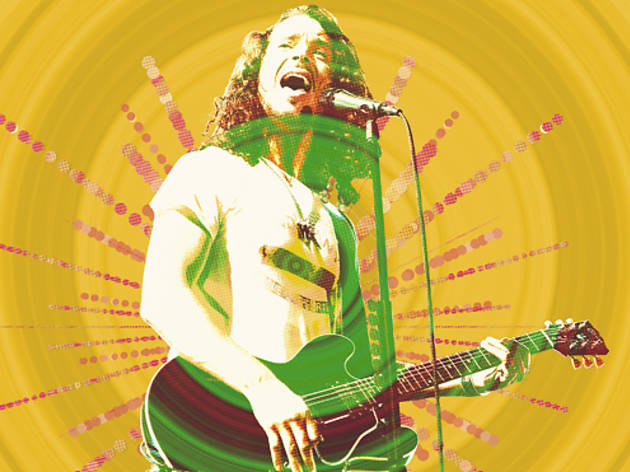 Alongside Nirvana and Pearl Jam, Soundgarden was part of Seattle's Holy Grunge Trinity. Last summer, the quartet reunited to bring its he-man riffs and banshee wails back to Lollapalooza. For singer Chris Cornell, it was a much-needed career recharge. His hip-hop-infused solo record, 2009's Scream, was a critical and commercial flop. But back in front of Soundgarden, the 46-year-old was freakishly youthful, whipping his curly mane around his toned, shirtless torso. The Iggy Pop wrinkles have yet to set in. The comeback went so well, the band is working on its first new record in 15 years. Meanwhile, Cornell is taking a quick break for a solo acoustic trek. We spoke by phone as he walked the streets of New York, five stops into the tour.
In a recent Mojo feature, you said you'd rather talk about anything other than music. So what would you like to talk about?
[Chuckles] Yeah, I don't know. I'm not usually in a talkative mode.
How about mountain biking? You seem to be an enthusiast.
Eh, not really. It's just a bit of exercise. I don't really go mountain biking per se, like a proper sport. So, yeah, not really.
All right, then. You've said the motivation behind your current acoustic tour was to see if you could command a crowd by yourself. Well, can you?
I've been playing over two hours, and it doesn't seem to matter that it's just an acoustic guitar and singing. I actually think to some degree that people are down for longer shows with an acoustic show.
You're playing songs from your entire career: Soundgarden, Audioslave and the solo stuff.
I have a hard time narrowing things down to ten or 12 songs. If I walk off stage in anything less than two hours, it just feels strange. It feels early. I haven't played shows shorter than that in years.
It's hard to even watch a concert for two hours, let alone play.
The only real difference, I suppose, is that it's not a barrage of volume. Most of the shows have been seated people. That makes a difference, too.
One of the first things Soundgarden released was a funk cover, the Ohio Players' "Fopp." You also had a honky-tonk band in the '80s. You have a history of jumping genres. Was it frustrating when critics freaked out over your collaboration with Timbaland?
Early on in the career of Soundgarden, I did "Seasons" for [the] Singles [soundtrack] and Temple of the Dog. I was approaching things differently than I'd ever done before. It was almost like an alter ego that was becoming its own songwriter outside of what I was developing with Soundgarden. But when that record came out, I remember feeling for the first time a sense of surprise from people who would say, "Geez, we didn't know you could write songs like that." And my first thought was, Why not?
Because of being lumped with grunge, you're also pegged as this serious rock dude. But there was a lot of tongue-in-cheek material with early Soundgarden.
Those are things you're doing with your bandmates, and it's like an inside joke. But sometimes the inside joke doesn't work. A song like "Big Dumb Sex" bit us on two sides. Some people didn't understand it was a joke, and were critical of it, thinking it's an aggressive, misogynistic song. And then other people were thinking it's their beer-drinking frat-boy anthem—that it's serious and should be held up as an anthem. Both reactions were completely wrong. It's funny now that Cee Lo has a song where he uses the same words, and it's a pop hit. And our song was considered to be extremely aggressive and profane. It wasn't at all.
Your theme for Casino Royale, "You Know My Name," was the only James Bond theme ever left off the soundtrack. Why the slight?
I wouldn't let them put it on the soundtrack. Because I was going to put it on my own album. Soundtracks were kind of already not really records people bought.
Your voice is considered one of the greatest in rock. You're approaching 50. Robert Plant can't hit the high notes anymore. Do you fear losing your voice?
I was nervous about that when I was in my early twenties. I never thought about it [before then] nor was I ever concerned about it. Yet the day I started worrying about it, I started noticing more that if I pushed too hard at a show it bothered me. I'd kind of be freaked out. Then at some point that just went away. But I'm 46 and I don't really care. Nothing has gone anywhere, nothing has happened.
Chris Cornell visits [node:190623 link=Vic Theatre;] Friday 22.