City of collaboration
Three Chicago rappers tell us why there's no better city for hip-hop artists (and musicians who want to play with them)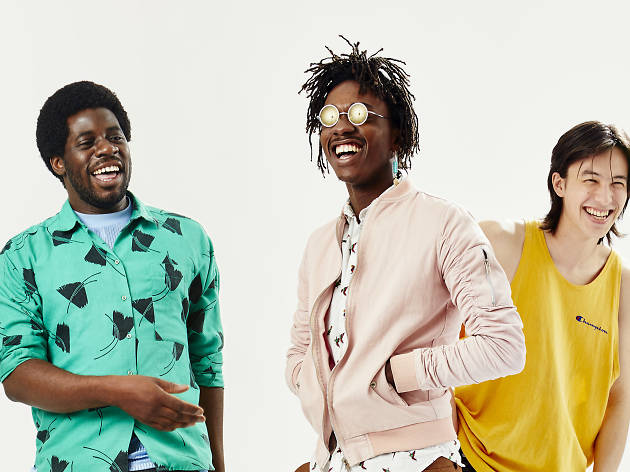 Local rappers Ric Wilson, Nnamdi Ogbonnaya and Sen Morimoto each come from a different background; one grew up in the city, another came from the suburbs and one arrived in Chicago all the way from Massachusetts. But each has found a place in the city's hip-hop scene, drawn in part by the prospect of collaboration—a tenant of the community that has only grown more important in the wake of Chance the Rapper's continued success. As Ogbonnaya puts it, "If one person in a group of musicians makes it, it's good for everyone."
We sat down with Wilson, Ogbonnaya and Morimoto to talk about their respective approaches to creation and why Chicago is a place where teamwork makes the hip-hop dream work.
Photograph: Tony Favarula
What made you want to be a hip-hop artist?
I've always been into hip-hop—I used to do the jerk dance. When I was 14 I was part of a jerk group and that led me into writing and recording music. There was this rapper named Jovane Landry; she went to my high school. She was writing and doing her own videos, so she inspired me to do that, too.
You ended up in the YOUmedia program at Harold Washington Library with people like Chance the Rapper and Noname. What led you there?
When I was 15 I got into the Chicago Freedom School—they taught us about activism, oppression, how to be a political organizer. One of the guys who was fellow with me at school went to YOUmedia all the time and he told me to come through and go to the open mic. That's how I got into that scene of what is now Chicago music and rap—at that time we were just open mic kids, so it's really cool to see everyone thriving and doing their thing.
You left Chicago to attend college—what brought you back?
I dropped out of Clark Atlanta University, came back to Chicago in the summer of 2014 and Dominique Franklin, who was part of the Chicago hip-hop community, got killed right outside of a Walgreens. Folks decided we needed to come together and have a coalition that specifically focuses on police crimes against black and brown people. I got involved with that and my mentor told me she wanted me to go on a delegation to Geneva and the U.N. We had to raise $30,000 for our trip and we did it two weeks because of the Mike Brown shooting. Folks were looking for a place to give money to serve organizations who were doing the work around policing in black and brown communities. That whole trip changed my life forever.
Why do you think Chicago is such a great place for musicians?
There's a community of actual live musicians who are open to playing and helping you form your own bands as a hip-hop artist, which is really rare. The doors opened back when the O'Mys started playing for the Cool Kids. Folks like Kids These Days, they were the emergence of a band with a rapper and a singer. Those groups get the credit for why Chicago is the way it is.
What inspired your latest EP, Negrow Disco?
I was in the barbershop playing [my song] "Soul Bounce" for somebody and this old black guy came up to me and said, "This sounds like some old disco song." I go back home and look up disco music and see how raw and dope it was before Saturday Night Fever, when it got appropriated and white washed. I was like, "Oh shit, disco is really actually fucking crazy dope." At this time, I was growing as a musician and an engineer, so that's where the term Negrow comes from, but it also pays homage to the black, brown and LGBTQ disco movement before Comiskey Park happened and it got trashed.
Do you see any crossover between your work as an activist and a musician?
I feel like I make revolutionary dance music. For so long I was battling with what type of MC I wanted to be—did I want to be a Nas or a Common—and I think I'm finally getting into being a Ric Wilson. I think that's the best place to be.
Listen to Ric Wilson's latest EP Negrow Disco.
Photograph: Tony Favarula
When did you first become involved with music in Chicago?
I started in high school because I started playing in the city with my high school band, the Para-medics. We'd play at Township, Ronnie's and Reggies. We'd hit up bands on the internet that we liked and were pretty actively trying to get involved with music we thought was cool in Chicago. Going to house shows made me want to play more in the city.
Where did you start going to house shows?
I met people who lived in a warehouse in Pilsen who had venues on each of the floors: Treasure Town, Casa Donde and Mortville. I met more people through that and started a band with the people who lived at Treasure Town. They were into touring and planning things themselves. I got pretty immersed in that culture for a second.
You ran your own DIY venue in Chicago for a while, right?
When I moved to the city it inspired me to start a house venue here called Swerp Mansion. I was doing shows at my parents' house in the burbs, so it wasn't a huge stretch, but that environment inspired me.
You play in many different bands, like Monobody and Nervous Passenger. What motivates you to stay involved with multiple groups?
I never set out to do that, it just kind of happens having different friends in different areas and different aspects of music. I like a huge variety of music and I have a lot of talented friends so every band just stems from hanging out with people. I'm just lucky enough to have good connections with a lot of people and make music that I enjoy.
What makes Chicago a great place for musical collaboration?
I think a lot of people in Chicago just want to be creative in any way they can and make something they can be proud of. In a lot of places, there's a lot of ego and people competing—there's some of that in Chicago, and it's not necessarily a bad thing to want to be the best at something. But people here are open to collaborations with people they admire and who are doing things that you may not be able to do. Being able to combine with people to do something that you wouldn't be able to do by yourself is a beautiful thing.
What differentiates your solo material from the music you make with your various bands?
Well it's easy—the music that I make it 100 percent me, but when you perform with a band you have lots of different opinions coming in. It's like making a stew with a band, you have all these different ingredients coming together to form one thing. Whereas with myself, I have to be the one to decipher what the final outcome will be. I have to write the first melody; I have to decide whether the lyrics are stupid or not. When I make music by myself there's less of a specific goal, deadline or confinement.
Listen to Nnamdi Ogbonnaya's latest album DROOL.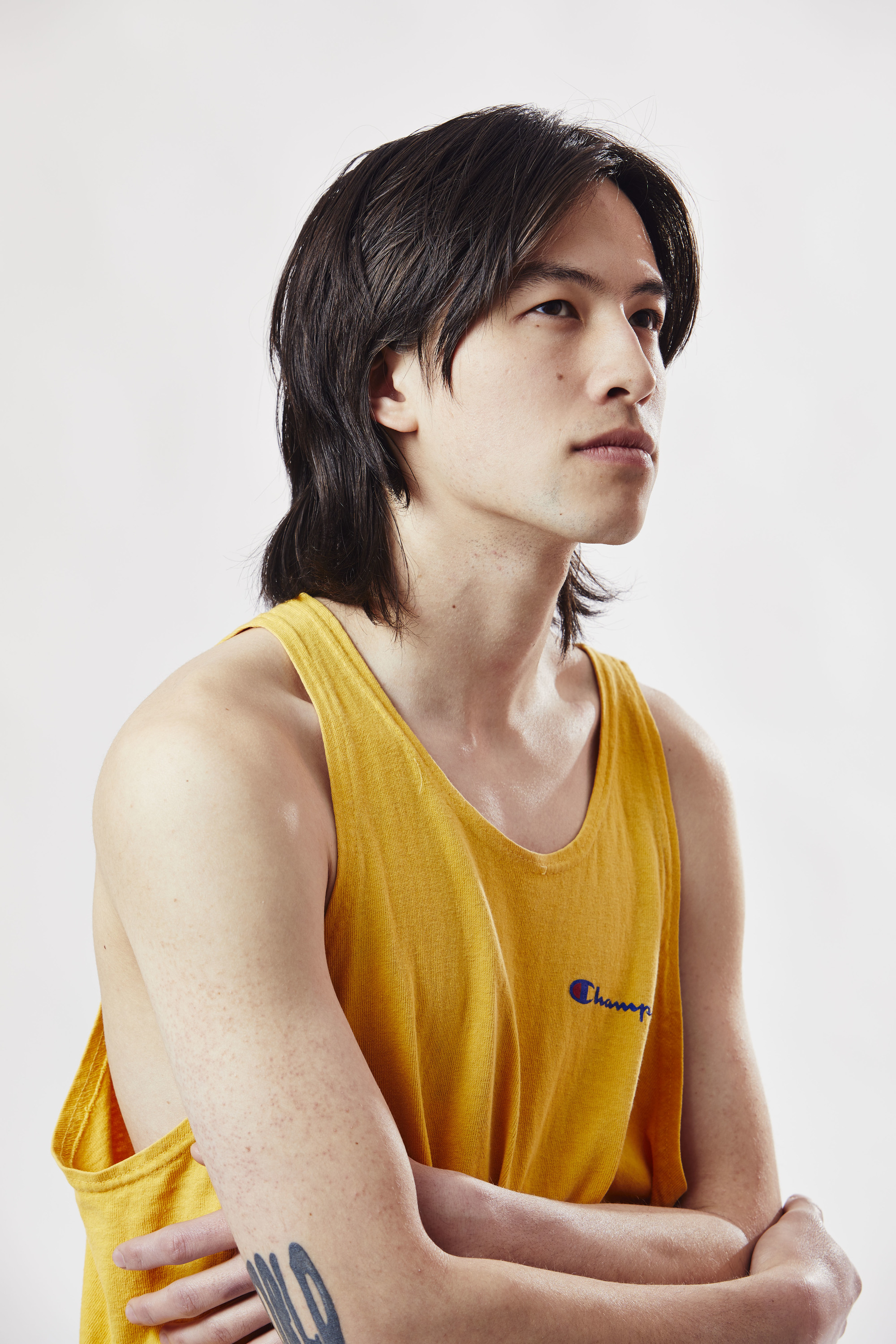 Photograph: Tony Favarula
How did you find yourself in Chicago?
My girlfriend at the time went to the Art Institute out here. I had to get out of Massachusetts so I moved out here. I was just moving to be with her really—I didn't know much about the music scene here, but that's why I'm still here. I just said yes to every show, and I played some really weird ones at first.
Were you looking for people to collaborate with?
I mostly just like making music on my own. There are a lot of smaller scenes that are connected—I do a lot of music with Qari and Devon, they used to be in that group Hurt Everybody. I just met Ric Wilson, Kaina and Eddie Burns and I've been making stuff with them recently. Nnamdi [Ogbonnaya] was one of the first people I met out here and we started making music together. That's my guy—I love that dude.
What about Chicago makes it a great place for musicians?
There's a rich musical history and little to no fun things to do outdoors. Everything is flat, you can't hike, there's a dirty lake and everyone just has to be good people.
As a rapper, what's the attraction of playing with a live band?
Most of the fun is just messing around with instruments and making something cohesive that sounds good. That's just how I've always done it and that's how I enjoy doing it. If I can afford to pay a full band, I'll always do that. When I was a teenager I was arranging horn parts and helping bands in high school, so that's what I've always been doing.
What kind of music were you into in high school?
I started with saxophone and that was studying jazz and learning how to improvise and jazz history and all that stuff. I would do camp over the summer. In school it was mostly R&B stuff, horn arrangements for Stevie Wonder songs. I started rapping when I was 16 or 17 and I just listened to a lot of Lil Wayne and Odd Future, even though I'm really embarrassed to say it now.
Did hip-hop feel more interesting than jazz?
That's definitely part of it. The thing that is really dope about any emerging type of music is that it's exciting to young people. For there to be a space [to apply] everything I learned studying jazz in a format that is more fun to listen to—and people can dance to—is cool. If you were studying classical music in the '30s and then you realized you could put all that theory into jazz, it's the same thing. Most of the people who play in bands with hip-hop artists are actually really amazing jazz musicians, that's why it works so well.
You release a lot of songs on SoundCloud—are you working on any larger projects?
I'm working on a project but my computer just died a couple days ago and I lost what I've been working on for the past two years. We'll see what scraps I can pull together and recreate. I went straight to acceptance which means that something is really bottled up inside me.
Listen to Morimoto's latest project, It's Late.