Damien Jurado 'Brothers and Sisters of the Eternal Son' interview
The singer-songwriter explains the dub reggae influences on his lush latest album and why he ditched the backing band to tour it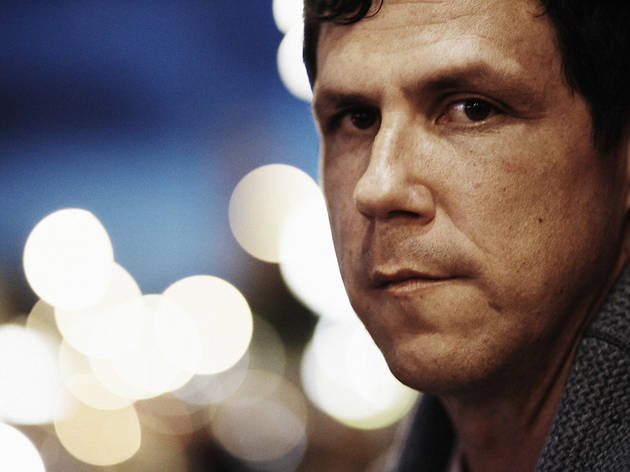 "Damien Jurado is out of his goddamn mind," reads the press release that accompanies the Seattle singer-songwriter's latest album, Brothers and Sisters of the Eternal Son. Working with producer Richard Swift (the Shins, Foxygen), Jurado has assembled his most ambitious record to date, a wildly varied concept album that continues the story he began telling on his acclaimed 2012 release, Maraquopa. The songs that populate Brothers and Sisters are rife with spiritual imagery and Biblical allusions, some familiar and some dreamed up by the artist himself. We caught up with Jurado as he was setting out on his East Coast tour and learned a bit more about the origins of his new record.
You started your career as a folk singer with an acoustic guitar, but your latest record features your most lush production to date. What inspired you to continue experimenting with your sound in the studio?
A lot of it had to do with not really being into much of the production that happens these days. I'm not trying to sound like a music snob or anything like that, I just think that most production sounds terrible. Before I say this, please know that I think there's a lot of modern day production that sounds really good. There are a lot of artists that are putting out quality records with great songwriting. But the majority of modern music is garbage—I'm not into it. Obviously, there are some great producers out there. Sadly, I think ninety percent of them, if not more, follow a textbook way of doing things. For me, making records that are not only challenging for myself, but are challenging and refreshing to the ears of the listener is a high priority.
On your new record, there's an emphasis on the bass and drums that isn't present on your past records. Was there anything that you were listening to prior to or during the recording that informed this sound?
I really like Brazilian music, I listen to a lot of Latin music and I'm a big fan of reggae, dub and electronic music. It's funny; I was talking with someone the other day about how my first record and this new record have a lot of similarities. For example, there's a song from my first record [Waters Ave S] called "Angel of May" and it has a samba beat on it. There are hints of those types of rhythms on my other records, but on the new one it came to the forefront in a huge way.
You've said that your new LP is a sequel to Maraquopa, an album that seemed to be about a man on a journey. Why did you choose to continue this narrative?
It actually came from a suggestion from a friend. He just said, "it would be cool if you finished the story out," and that's kind of what I did. I already had another record written, but I scrapped it to do this new one. It just sort of made sense.
Do you think you'll revisit the record that you scrapped at some point in the future?
No, probably not. It was for that time and I think I've moved on.
The deluxe version of Brothers and Sisters includes a companion album featuring songs from the album re-recorded by a choir. How did that come about?
I like the idea of doing different versions of things and I love the idea of hearing different ways to perform a song. The decision to re-record my own songs was partially influenced by dub and reggae records, which usually include different mixes and versions of songs. Another big influence was groups like the Ray Conniff Singers, which would take popular tunes from the 1960s and perform them with a choir. There was also an obscure group called God Unlimited in Arizona in the late '60s and early '70s that did the same thing with acoustic guitars and voices. So, that's where the idea came from. It was a really fun record to make.
Have you ever toyed with idea of having someone remix your music?
Oh yeah, for sure. I recently saw that a DJ did an electronic version of "Ohio." He remixed the whole song and it sounds really good. I think it would be cool to have a few DJs take my record and re-do it.
When your tour was announced I was very happy to see that you're returning to Schubas. Is there something special about the venue that keeps you coming back?
Well, first of all, I really like the people that run the place. It's all wood, so it's a very comforting room. I think it's the perfect size. The sound system is also one of my favorites. I'm one those people who believes, if you have a good thing, why would you stray from it? That applies to everything in my life, including venues.
A small band accompanied you during the initial tour in support of your last record. How are you planning to perform your new songs on this tour?
It's going to be completely solo. I learned many lessons on the Maraquopa tour, and one of them was that it wasn't really necessary to have a full band because, in the end, what people really wanted was me. That seems to be the consensus of just about every show I've done. For the heck of it, I took a poll when I was in Vermont and asked the audience if they preferred me to play with a band or solo. Only about four or five people raised their hand for the band and everybody else in the room voted for solo.