Danny Brown | Interview
How did the encouraging words of a 60-year-old white lady lead to the year's best ode to cunnilingus? Detroit MC Danny Brown explains.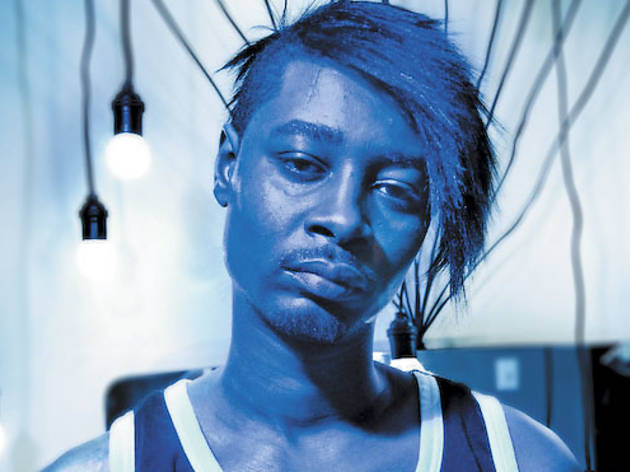 "In my whole 30 years of living, this is the worst Detroit's ever been. It's the worst," Danny Brown says. The Motor City rapper has moved north to Royal Oak, Michigan, a citified suburb that is also home to loft condominiums, breweries and the Detroit Zoo. It's early in the morning, for a musician at least, and Brown is talking on the phone in a sleepy drawl, while quite obviously smoking and munching snacks of some kind. "I try to stay away from the hood as much as I can."
Brown grew up in the city's near north side, a ruinous landscape he details plot by plot in "Fields": "And where I lived/It was house, field, field/field, field, house/Abandoned house, field, field." His father, a house-music DJ just 16 years his senior, kept the young Brown ahead of the curve in trends, outfitting his son with Timberland boots and Wu-Tang Clan records before the rest of the neighborhood kids got hip to them. Yet Brown credits a "60-year-old white lady" for kindling his rap skills.
From first to fifth grade, Brown was part of a program that would sweep up a handful of kids from inner-city neighborhoods each morning and bus them to resource-laden schools in the leafy 'burbs. "The ill shit is that the kids at the suburban school was kind of cool," Brown recalls. "It was the kids from the hood who used to beat me up." The elementary school had a music program, and that 60-year-old white lady, to encourage the shy Brown to rhyme. "It wasn't just them saying to the little black kid, oh, you can rap! Just rap!" Brown says. "They inspired me. I rapped at my fifth-grade graduation."
These days, Danny Brown needs no encouragement to come out of his shell. On his latest, XXX, which he dubs a free album and not a mix-tape, Brown giddily spews blue words like the horniest and most hyperactive motherfucker in Hockeytown. "I Will" should stand as the year's best ode to cunnilingus. It's a persona born from cruising over the Canadian border to Windsor to get drunk and hit up titty bars catering to 18-year-old Americans. He raps in a high, cartoonish voice, pitched somewhere between Redd Foxx and Woody Woodpecker. For the most part. In its third act, XXX shifts from an explicit party to the reflections of a man blessed to have reached the age of 30. Brown's voice suddenly deepens with the lyrical content. The songs tell harrowing tales of stripping buildings for scrap metal, Detroit's crumbling lower class and eating Lunchables for dinner. Brown sounds like a completely different MC. He shifts gears from joking about drug overdosing on "Die Like a Rockstar" to sad admissions of his family's substance-abuse problems on "DNA." Each side helps explain where the other came from.
"I go into the booth and it comes out like that. I don't expect it," Brown says of his bipolar style. "If I'm in a serious situation, I'm going to talk in deep tones. If I'm excited, my voice is higher pitched." Brown crunches on more junk food in the receiver and tells me he studies the work of Prince, David Bowie and Arcade Fire. "I was watching Arcade Fire's live set and my girl was like, you should cut your hair like that. Cut one side off," he says. "She made the appointment, where she gets her hair done. I just wanted them damn braids off, you know?"
Danny Brown hits Reggie's Rock Club with Das Racist on Thursday 20.