Dear Crabby
TOC's irascible music columnist weighs in on Jack White.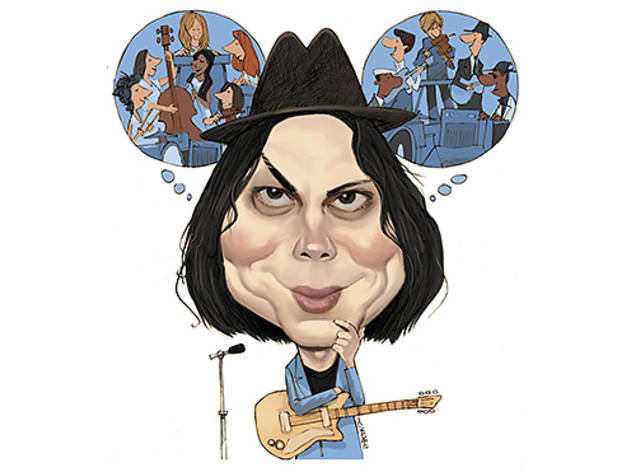 I'm surprised the sunscreen market hasn't made more inroads at Lollapalooza. I'm dying out there year after year. My theory is that any previously existing ozone over Grant Park has since been obliterated by the Air & Water Show. Got any tips for those of us who are mildly melanin deficient?
Sun Punished Fan '12
Dear SPF 12,
Thanks for sharing your theory and, yes, I have a tip: Sleep during the day and don't sleep on the after-parties. Come on, you have no business being in Grant Park if the mere thought prompts you to write a letter to an advice columnist. One thing you could do—short of spending the entire weekend by the shady BMI stage—is wait until night falls and the big names hit. Because really, who cares about the afternoon lineup? Those bands read like the bottom of a vision test. I can barely remember the names. Washed Up? The new number who? Tor? Are the Avengers playing Kidzapalooza or something? Now that I think about it, this all may explain how Jack White nabbed the headline slot. Like you and the cast of True Blood, the guy is way too pale to be out there during the day, let alone play music. I've seen darker albinos. If it's because he's that popular, then we've all been swindled. With his vaudeville charm and shameless hucksterism, the man is like a walking, talking Motor City sideshow. Putting vinyl inside of vinyl inside of vinyl. He probably promised Perry Farrell he'd produce some unplugged Jane's session as a limited-edition 78rpm disc, with a Satellite Party 45 pressed inside that. Why else would anyone let a guy carry a lineup when the dude can't even decide on what gender his bandmates will be that day? It's been a while since I've checked the DSM-IV (look it up, asshole), but between that and his obsession with primary colors, it all must indicate some sort of Asperger's-type syndrome. Though, when all is said and done, it all just seems like a desperate plea. Dropping singles, literally, via helium balloons. Serving up metaphors by the dozen. If the guy wins a Guinness World Record for anything, it probably should be for the most shameless grabs at Pitchfork headlines. It's like him and Wayne Coyne are locked in a rat race for biggest attention whore, though I will reluctantly give White credit that he's at least got the chops to back up his gimmick-laden lifestyle, which is more than I can say for Coyne. Another pro tip: Buy some sunscreen. The stockholders and stock boys of CVS salute you.
Dear Crabby,
My friend and I are debating which Lolla reunion set will be the best. Black Sabbath is the obvious choice, as it's the band's only U.S. gig, but it's hard to imagine those geezers will outplay At the Drive-In. And then there's the Afghan Whigs, which could be the dark horse in this whole thing. What say you?
Sincerely,
Blizzard of Odds
Dear BOO,
Short of seeing these regrouped (and arguably reimagined) bands actually, you know, playing and not merely speculating on the subject, I say: Sabbath has the gravitas, hooks and star power, if not Bill Ward, but At the Drive-In easily will be more urgent and energetic. The Afghan Whigs, well, they'll be there, too. But let's be real for a moment. At least half the dudes in the Whigs and ATDI would be lucky to be humping it out on the kids' stage, playing Hendrix covers for toddlers led by a dude whose claim to fame is strumming guitar in a band whose name begins with the word porno. Though to see swarthy Greg Dulli be the surprise Kidzapalooza guest would somehow be perfect. I mean, if Slash can do it…