Dear Taylor Swift
Is the industry a "love story"? Our youngest music nerd reacts to Swift's predictions for the music biz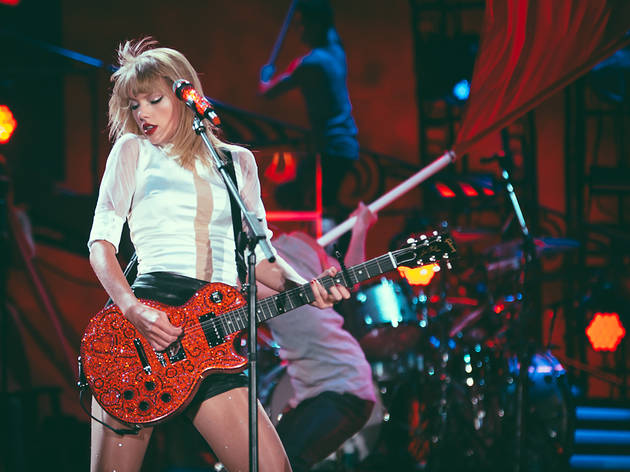 Seeing Taylor Swift's byline in the Wall Street Journal surprised me. Typically finding the numbers and opinions of economists a bit daunting, I try my best with the paper, but give up in the middle of their thoughts. However, I wanted to know how well the singer-songwriter could put her pen to ink in a newspaper that money junkies scourge on a daily basis.
To be honest, I haven't listened to Taylor Swift in quite some time. The most recent memory of her music I have is from freshman year of college, a few years ago, when a dormmate decided that it was a brilliant idea to incorporate T-Swift's 2010 album Speak Now and Big Sean's 2011 hit "Dance (A$$)" into our study playlist. That scarred me for a little while.
But putting all of that behind me, I'm glad I read her outlook on the music industry. It's sweet, optimistic, and understanding of the "YouTube generation we live in". Too often, I hear that the music biz is dying, or that rock is dead. And that is simply a load of bull. More than fifty years after the Beatles and Stones, there are plenty of brilliant minds that breathe life into guitar music.
But the industry that Ms. Swift calls a "Love Story" can feel more and more like a one- night-stand. When it came to revenue through albums, Taylor claims that it is harder for albums to make it to platinum status, as consumers "are buying only the ones that hit them like an arrow through the heart or have made them feel strong or allowed them to feel like they really aren't alone in feeling so alone."
Now, whether or not the general public will ever hear that music is up in the air. If Taylor Swift is going to use the analogy of an artist grabbing the ears of fans to an arrow through the heart, then we have to hold the archer accountable, as they are given too few arrows to fire.
Most radio stations are associated to a handful of major corporations, and broadcasters are forced to repeatedly play the music that Billboard declares to be the Top 40. This not only robs thousands of artists from possible exposure, but also perpetuates the cycle of monthly hits that we soon forget. Ms. Swift has been fortunate enough to be a part of this cycle, and has been even more fortunate to carry her career with enough integrity to keep it going for eight years. That is not something I can say for everyone, as we have had the misfortune of seeing artists attempt to maintain fame by shocking their audiences, or changing their personas.
For most musicians, getting exposure no longer comes through radio, which is a damn shame. Today, the best alternative for the consumer is through live shows. To the majority of artists, both independent and Top 40, going on tour is a fundamental source of revenue. As we are in the summer season, the time of Lollapalooza, Pitchfork and so many other festivals, I am surprised that Ms. Swift forgot about this. In the changing environment of music, it is worth noting that the concert is the one way of listening of music that has remained constant. Not only does concert-going provide as a great way for musicians to pay rent, but it allows musicians to expose other acts as well. Perhaps one of the greatest examples of this is Taylor herself, as she took Ed Sheeran on her Red tour. Look now to 2014, and we see Mr. Sheeran doing pretty well, now associated with an affiliate of Warner Music Inc. and released a sophomore album that has become the most streamed album ever in a single week.
The point is, while there are plenty of artists who get instantaneous exposure through record deals and corporate advertising, the actions of Taylor Swift and so many other musicians illustrate that the best form of exposure is through the word of mouth of fans and fellow artists, and this principle can be achieved through live performances.
Yes, people now wave smartphones in the crowd rather than lighters, and some fans would rather get a selfie with their dream star over an autograph, but the fundamental rule has stayed the same. Musicians helping other musicians is the only way this industry will stay alive and become the "love story" that Taylor Swift—and myself—hope for.