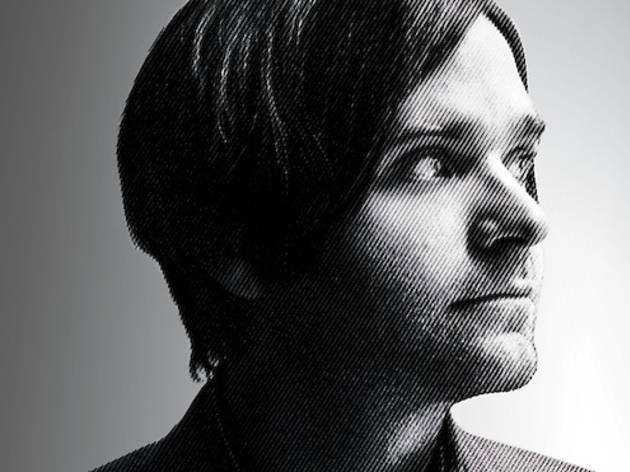 Death Cab for Cutie's Ben Gibbard | Interview
Death Cab for Cutie's lead singer is sober and happy. Does that mean his music's suffered?
Given the number of albums he's moved with moody emo-rock outfit Death Cab for Cutie and his beloved electro-pop side project the Postal Service, Ben Gibbard is surprisingly self-deprecating. Funny, too. Calling from a tour stop in Nashville, the 35-year-old singer explains that his band will be playing some sort of arena that night, "but it's not going to be arena rock. You have to fill the whole arena for it to be considered arena rock." Maybe he's jovial because he survived a storm-related near-disaster at last month's Ottawa Bluesfest, when the stage collapsed on opening act Cheap Trick. More likely, it's because he's married to everybody's favorite summer crush, actor-musician Zooey Deschanel.
The stage collapse in Ottawa looked terrifying. What was it like from your end?
All of a sudden it went from 90 degrees to 60 degrees. We were in a little portable trailer, and we had the door cracked open. And then, about 30 yards away, the whole thing just kind of collapsed. We all break out of the trailer, and we see Robin Zander climbing out of the wreckage. It was a fucking miracle nobody was killed.
Was it the weather, or was Cheap Trick rocking so hard it conjured Mother Nature?
Let's also acknowledge the fact that we have no business playing after Cheap Trick. The rock gods might have been angry.
How's it feel to move from Seattle, where you are much more well-known, to L.A., where your wife is a very recognizable actress?
One of the wonderful things about living in Los Angeles is that it's very easy to kind of disappear into. Being a songwriter, I'm constantly dredging my own self-awareness. To be able to get away from that self-awareness when I go out in public is a nice way to get some distance from myself.
You quit drinking in 2008. How did you know it was time to stop?
The fun, social drinking that happens when you're in your twenties starts to take a dark turn. You start looking at the only people left partying as much as you are and doing that bullshit game of, like, "I'm not as bad as that guy." But I'm not like a 12-step guy. Drinking was starting to affect my outlook on life, my weight, my ability to write songs. When you're hungover multiple nights a week, it's hard to pick up an instrument because you're always recovering.
Some reviews suggested a link between your sobriety and the cheeriness of the new album, Codes and Keys. Is there one?
A much larger part of the tone is, like, I fell in love and got married to an amazing person. And even before that, I stopped living in a very dark place. But it's not a Prozac pillow of an album. It's nervously leaning towards: Maybe life isn't as bad as I thought it was.
Pitchfork said the album seems emotionally distant. The perception from some is that your writing was better when you were unhappy.
I think it's a cop-out. We have this notion that when an artist is in the throes of the worst place they've been, that somehow brings their best work out. Maybe the [notion of] emotional detachment comes [from] not being based in, like, melancholy and darkness. I mean, a song like "Stay Young, Go Dancing," it's probably the most emotionally upbeat song I've ever written. The reason it's the last song on the record is that I was terrified of sharing that with people.
Is it easier to share darker feelings?
Absolutely. Because that's what's expected of me at this point. And people will go just about anywhere with you when you're discussing melancholy or darkness.… I think it's a little bit shitty to say something is emotionally detached only because it's not dealing with dark emotions.
With the new record's ambient tones, are you considering another Postal Service album?
What people don't understand is the Postal Service is not a band. This was a thing we did for six months in 2001 and 2002. I'm not going to sit here and tell you we're never going to do another record, but no one should be holding their breath. But I feel very fortunate that it took on such a life of its own. The original conversations with Sub Pop were like, we might press 20,000 copies, and now it's like you can't have a retail experience without a Postal Service song on in the background.
Would another Postal Service record just be for the payday?
If we wanted a payday, we'd just go on tour; we wouldn't need to make a new record. If I wanted to put another wing on my house [Laughs]—and let me say, there's only one wing on my house—we could decide to play shows just for the money.
Death Cab for Cutie is named after a song from the movie Magical Mystery Tour. Do you wish you'd chosen a better Beatles reference?
The name was never supposed to be something that someone was going to reference 15 years on. So yeah, I would absolutely go back and give it a more obvious name. But thank God for Wikipedia. At least now, people don't have to ask me where the fucking name came from every interview.
I see I struck a nerve.
[Laughs] I'm just kind of jacked up. I've been drinking a lot of coffee.
Death Cab for Cutie plays UIC Pavilion August 25 at 7:30pm.