Delta Spirit | Interview
Matt Vasquez of Delta Spirit on death, puke, empty sex and Sprite.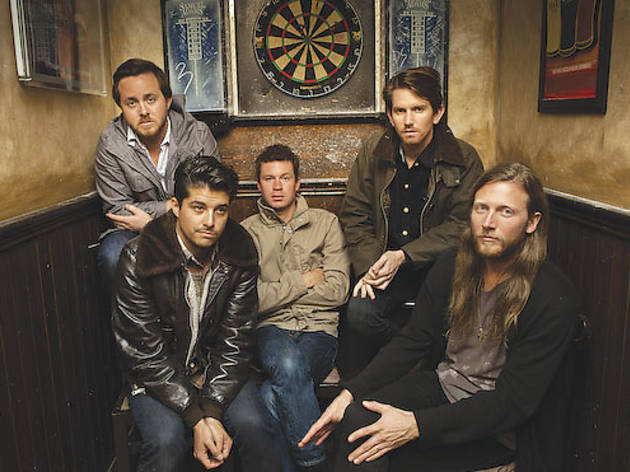 Last month in Vegas, I watched Delta Spirit play atop a bar in a sports book. The band was cruising through something percussive and surprisingly synth-heavy from its new self-titled album when singer Matt Vasquez, pictured lower left, grabbed a bottle of 18-year-old Macallan from the top shelf, put his lips on the pourer and gulped. Delta Spirit might have more keyboards, but it's still rock & roll. The casino didn't charge him. When I reach Vasquez a few weeks later, he's putting something (arguably) more wholesome in his body, a large mango smoothie, while driving to Austin, Texas.
How's the smoothie?
I threw up four times yesterday.
Rough night?
There's a hotel we stayed in where the window to our room opened to the pool. And I don't do well with bleach. It could be psychosomatic, or it could be I'm excited to go on tour.
I hope you didn't hurl in the van.
I did the, Hey, pull over right now move. Kelly [Winrich, multi-instrumentalist] throws up a lot more. I'm like, drink Sprite,
man! I never had to puke so bad that Sprite couldn't help. It's crazy, because it just smells like Sprite. It's just warm Sprite coming out of your mouth.
Mmm. We should get you a Sprite endorsement.
Or Canada Dry. No, club soda. I like that better.
There are dark lyrics on the new record. One refrain says thoughts can kill you like cancer.
I focus a lot on that. Death. Death is a fun topic. I went through a crazy existential time. Humanity is most likely going to end. We probably won't live to see it, but you know, the Koran, the Bible, Homer, the Beatles, all this great thought and expression and experience, it's going to go away. Or not. Or our souls are infinite. Maybe. But being okay with the first thing is pretty important.
Are you beatboxing on "Tellin' the Mind"?
Yeah. That song is about Colton Harris-Moore, the Barefoot Bandit.
The kid that stole the planes and crashed them?
He's a modern-day Jesse James. He never killed anybody. James did. But he's stealing airplanes and having a popular Facebook profile and using an iPhone as a police band scanner. He didn't really hurt people, other than rich people. He needed a theme song.
All of you but one are married. How does that change things?
Being on tour and girls and all that.… I was pretty unhappy. I felt like I was perverting what their experience was of the songs we wrote. I've been stepping away from that for a while. To meet someone I can have real intimacy with… I don't have any desire for a girl on tour anymore.
Delta Spirit hits Metro Friday 23.