Different strokes
For Scott Avett of the Avett Brothers, working with Rick Rubin is just a way to buy canvas and oils.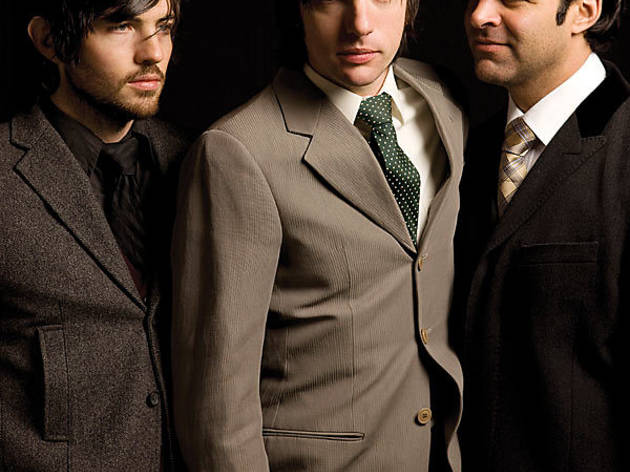 It's early February and winter is almost over in North Carolina, which means that painting season is coming to a close for Scott Avett. Early in the morning, the 33-year-old begins what will be his final oil of the year; the canvas will sit unfinished until autumn. Soon, Scott will head out on a long tour with the Avett Brothers, the punk-inspired newgrass group he fronts with his younger brother Seth.
On the road, the figure painter can bring only a sketchbook; he makes a point of visiting museums for study. Avett finishes up in his studio and plays with his 1-year-old daughter in the field outside his home in Concord, a small town north of Charlotte. "Letting her out and break loose," he says with an Appalachian drawl. The young father puts his toddler down for a nap and takes the phone back outside to chat about his artistic career.
"I was hooked on a girl back home," he begins. The teenage soccer star intended to attend the University of Montevallo in Alabama on scholarship. A crush led him to East Carolina University instead. (He ended up marrying a Georgia girl he met in college.) Avett had always drawn but in high school took only one art class and an architecture-drafting course. He enrolled in the ECU art school but quickly rebelled against the regimented course load.
"I had the attitude that nobody can tell me how to paint. I was young and stubborn." It was a phase of anti-authoritarianism; the Wyoming-born multi-instrumentalist had been thrashing around in punk and metal bands with his little brother. Scott switched majors, jumping into radio broadcasting. After getting a degree, the 22-year-old was pulled aside by an art prof, who begged him to pursue the starving-artist life. "He told me what I needed to do, and music wasn't involved in that," he says with a sigh. "I respected this man beyond…I can't express. It was a hard thing to do." Avett stuck with his brother.
But the angry hardcore shtick grew tiresome. "The punk-rock spirit has shelf life on it," the Fugazi fan admits. "It was just us denying our element." Influenced by '60s folk revivalists, Scott picked up a banjo, Seth a guitar, and the two began playing bluegrass tunes to the same dingy-rock-club audience. "The thing that really drew us in, when you scaled it back to just two instruments and two voices, was the songwriting. Words are important without distortion covering them."
Onstage, that nervy energy remains hard to shake, however. "I still come out wanting to sing like Sam Cooke," Avett says with a laugh. "The next thing you know, I'm gargling blood, screaming over a banjo." Yet a somber maturity hangs over the band's beautiful 2009 major-label debut, I and Love and You. The siblings had been heading in its direction on home demos before hooking up with mellow maharishi-like überproducer Rick Rubin.
"Any idea that comes to the table, you can't walk away from without trying it," Avett says. "That's a huge philosophy Rick brought to us. A philosophy of life, really." At one point during the sessions, Seth and Scott were dropping a chain on the floor for a heavy, percussive number. At their studio guru's suggestion, the track made it onto the latest posthumous Johnny Cash album.
For I and Love and You's cover, Scott hoped to capture "all the human spoils" in a still life full of symbols—a conch shell for travel, books for knowledge—alongside a longing female nude, or desire. "It didn't work. I took it all out except for the skull of impending death," he tells us. "I felt like everything to be told was in there."
The Avett Brothers hit House of Blues Sunday 7. Visit scottavett.com to see a gallery of his work.