Dolly Varden | Interview
Local quintet takes an anti-careerist approach to alt-country.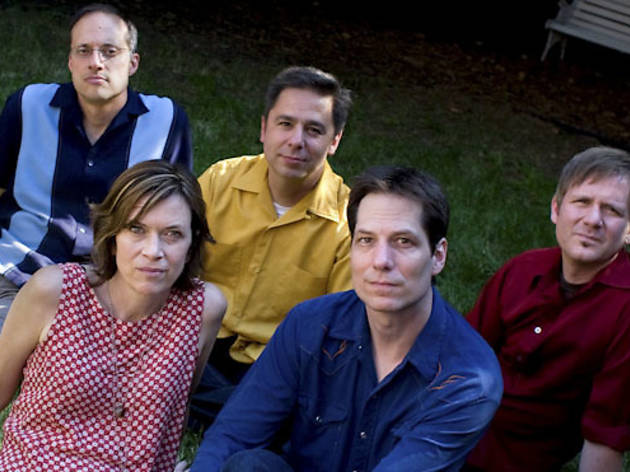 Steve Dawson, who teaches songwriting at the Old Town School of Folk Music, often tells his students to be specific. Don't write vague lyrics about some nebulous town; make it a real town that means something to you. "Specific images will light up your brain more than generalizations," he says. "Even if a listener doesn't know those places, they still light up the brain more."
Dawson followed his own advice when he wrote the songs for his band Dolly Varden's sixth album, For a While. The first song, "Del Mar, 1976," is filled with Dawson's memories of growing up in California near the Del Mar Racetrack, including a "pickle weed hill," a girl whose name he can't recall, a Buck Owens concert and the pyromaniac kid next door.
Sitting in his Wicker Park home alongside his wife and musical partner, Diane Christiansen, Dawson explains that everything in the song springs from his boyhood experiences. Christiansen, whose daughter's pet rat is crawling around her neck during the interview, interjects: "Even the pyromaniac?"
Dawson smiles and admits he made up that part. "I just like the sound of the word pyromaniac," he says.
Many of the new songs reflect on the passage of time. "That's a natural thing to think about as you reach midlife," says Dawson, who is 47. "And a lot of things in my life I've been doing for a long time now—like being with Dolly Varden for almost 18 years, and with Diane for 22 years. And my daughter's 20 years old."
Remarkably, Dolly Varden (named after a subspecies of trout) has had the same lineup over those 18 years. Behind Dawson and Christiansen's appealingly honest-sounding voices, the same three musicians have been honing the band's sophisticated Americana with subtle grace: guitarist Mark Balletto, drummer Matt Thobe and bassist Mike Bradburn.
There was a time when the members of Dolly Varden felt as if they might be on the verge of breaking through to bigger fame. But after driving their tour van far and wide to promote their 2002 album, Forgiven Now, "We decided to take a step back," Dawson says. Thobe and Bradburn each had newborn children, and Dawson and Christiansen wanted to spend more time at home.
In the decade since, Dolly Varden has moved at a slower pace, releasing an album every five years or so. Dawson has taught full-time at the Old Town School since 2007, and he runs the Kernel Sound Emporium recording studio out of his house. Christiansen works as a marriage therapist, while pouring most of her creative energy into painting. A few years ago, she decided she wanted to see her pictures move, so she started making short animated films—a labor-intensive artistic medium that doesn't lend itself well to gallery sales.
"The thing is just to feel alive," Christiansen says. "And making the first animation was like, 'Oh, that feels great! That feels fun!' I never think of what would be successful. I'm an anti-careerist."
"Anti-careerist," Dawson echoes. "It's a movement."
"Yeah, it is," Christiansen says. "I'm the only person in that movement, unfortunately."
"No, you're not," Dawson says. "I am, too."
Christiansen laughs. Fame and fortune would still be nice, she says, but Dolly Varden's members enjoy making music on their own terms, and at their own pace.
In the new album's title track, Christiansen sings her husband's lyrics about watching the flow of time: "We have found a way to laugh but it's happening too fast, but with any luck it'll last for a while."
Dolly Varden plays City Winery Saturday 19. For a While is out Tuesday 22.