Ed Handley of Plaid | Interview
The pioneering Warp Records duo takes electronic music out to the woodshed with its latest, Scintilli.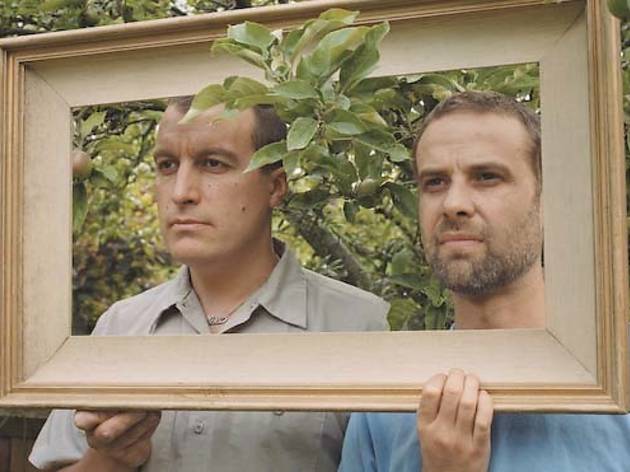 I call Andrew Turner of Plaid at his home, and Ed Handley, the other half of the electronic duo, answers the phone. Turner is sleeping, perhaps suffering lingering jet lag from a recent gig at the Sydney Opera House. So Handley takes the phone out to the back yard, in the toolshed.
Turner resides in rural East Anglia; Handley in London. When the two Brits settle in to work on Plaid music, be it a soundtrack for a Japanese film or an album for Warp Records, they mostly do it in the little cabin in Turner's garden. Two work desks with laptops take up all the space of the 12-foot-by-12-foot structure that is not already filled with equipment. "We have a stack of old analog gear that we've had since the early '90s," Handley says. "And, yeah, most of it is broken. But it looks nice."
Turner and Handley, both now in their early 40s, began making electronic music before the Web, beginning with the Black Dog in 1989 and starting Plaid two years later. As schoolboys, in 1984, they had a break-dancing crew, Def Squad. Alongside peers Aphex Twin and Autechre, Plaid helped define the sound of Warp Records—cold, pinpoint beats that wobbled like dub and skittered with the arrhythmia of free-jazz. Turner and Handley were the most frisky and genre-leaping of the bunch. Like many '90s computer composers, they collaborated with Björk. Plaid has been at it longer than some dubstep stars have been alive, but the group's recently released seventh album, Scintilli, approaches an older old school. The melodic "Missing," "Craft Nine" and "35 Summers" could be mistaken for a chamber quartet of harpsichords, chimes, cello and piano. Much of the album is hushed, bassless and gorgeous, like a choir of sentient music boxes.
"A lot of our time is spent trying to synthesize new sounds and messing around with the engineering side of it," Handley admits. He speaks like a scientist, explaining the relationship between sine waves and harmonies. "When doing something harmonic, you have to go back to traditional sounds," he says. "With rhythm and bass sounds you can go wild, because the emphasis isn't on the tune." Their approach puts the duo contentedly out of step with the new wave of electronic music, which can essentially be described as bass sounds going wild. As those who read our Nightlife section will know, each week seems to see the spawning of a new electronic music scene. I ask Handley about the pressures of keeping up with brostep, purple, wonky, aquacrunk, etc. Rock, jazz and soul are allowed to go retro. There's nostalgic garage rock, yet a new electronic act crafting jungle beats, a sound tagged and dated 1998, would be laughed off. "It's seen by many that electronics without some kind of originality isn't worthwhile—if you're using computers to make music, then the least you can do is make it original. It's not what I believe, but there is that school of thought," he says. Hardly surprising, coming from a guy sitting in a tiny cottage in rural England.
But Plaid has always been too playful to be purist. There are concessions to modernity, of course. These days, the tech geeks are using iPads onstage, not to create sounds, but as controllers and triggers. "I suppose, in theory, you could walk around. Unless you're playing hard dance music, which we're not, you need something for people to look at. We're getting used to the iPad. It's tactile but slightly odd," Handley says, " 'cause it's just rubbing glass, isn't it?"
Plaid plays Empty Bottle Friday 18.