Edward Sharpe & The Magnetic Zeros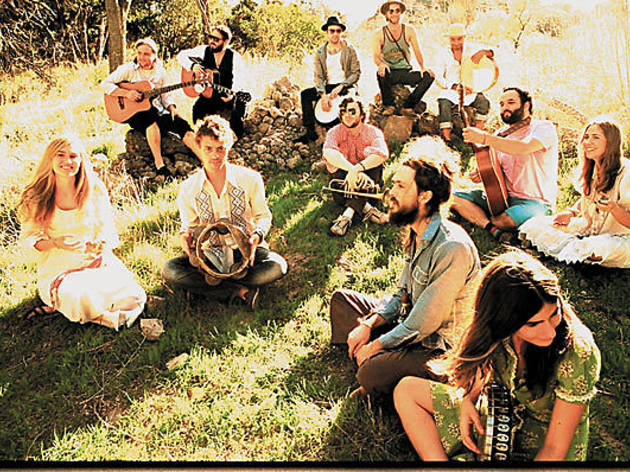 To an outsider, the denizens of California fall into two categories: Hollywood fame-whores and unwashed acid-heads. In the last decade, Alex Ebert has played both roles to extremes. Sporting gaudy blazers and geometric shapes shaved into his mullet, the style tragedy fronted the herky-jerky Ima Robot.
After two party-rock records for Virgin Records bombed, Ebert flushed his life, joined AA and rented a sparse apartment without a phone. That awful haircut grew wild as the songwriter dreamed up an alter ego, the romantic messiah Edward Sharpe. Ebert's metanoia came in the form of Jade Castrinos, a singer he met outside a cantina in downtown L.A. The lovebirds were quickly writing tunes together, mostly about each other ("She got sunset on her breath / I inhaled just a little bit / Now I got no fear of death"). In short time, the couple and a small cult of followers were touring in a dumpy old bus.
Up from Below, the Magnetic Zeros' debut, is a triumphant and epic campfire-folk record. The ten-piece acoustic troupe strums and stomps in unison, stirring an uplifting dust devil of whistling, hand claps, jangling guitars, tambourines and mariachi horns. Frankly, it would all be a bit ridiculous and Hare Krishna if not for the captivating chemistry between Ebert and Castrinos.
He's a topless Jesus with wild eyes; she's a spitfire—swaying, smiling and shouting along in Pentecostal bliss. And out of her little tomboy body roars a raspy, stunning voice, not unlike Janis Joplin's. It's impossible to take your eyes off them. (Though, word is, their relationship has hit the rocks, leading to a more awkward, if no less entrancing, onstage dynamic.) After all, rock & roll is 90 percent mythology and charisma, which this desert-hippie shtick has in spades.