Fucked Up | David Comes to Life
Breaking down Fucked Up's new rock opera, David Comes to Life.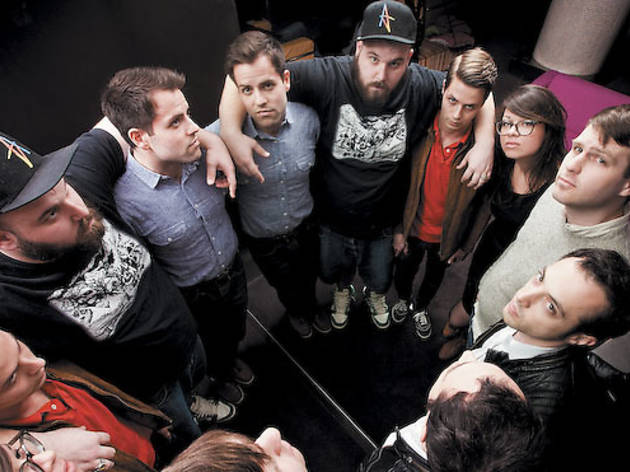 Leave it to Fucked Up to eulogize the incandescent lightbulb just as the feds have ordered it phased out. The sextet doesn't explain how the shift affects David Eliade, the protagonist of the Canadians' landmark third LP, David Comes to Life, who works in a lightbulb factory in a fictional U.K. town. Much of the rock opera is vague, dense with metaphors—on the power of literature and history—that can only begin to be understood after reading the lyrics and character profiles on DavidComesToLife.com.
What's certain is that it's a bold artistic leap forward for a band that first grabbed attention playing in an MTV bathroom in a viral video. Spread across 18 songs and four acts, David follows the arc of a Greek tragedy, but retains the messy spirit of bloated epics by the Who, the Kinks and especially Hüsker Dü, whose Zen Arcade remains a high-water mark of highbrow hardcore fiction and is a big influence here. This redemption story is best enjoyed live, where singer and Fox News correspondent Damian "Pink Eyes" Abraham barks his chunky prose through his Cookie Monster larynx. Here are some basic plot points to get you through the group's gig at Lincoln Hall. Don't worry, they're familiar to anyone who's followed rock operas.
A boy in turmoil.
There's no troubling home life to account for David's despair, yet Fucked Up plops the protagonist in the familiar setting of a bleak and bleary Northern England, seemingly not far from where Jimmy was a garbageman in the Who's Quadrophenia. The leftist undertones of the former are here as well. Our hero meets Veronica Boisson (played on the album by Cults' Madeline Follin, and bassist Sandy Miranda live). In addition to her pinko pamphlets, she doles out her heart, and before long David's fallen for both Veronica and her propaganda.
The girl kicks the bucket.
Despite adding a little clarity and melody to a libretto largely obscured by shouting, Veronica's vanished by Act Two—dead from an ambiguous explosion for which David accepts responsibility. The loss of love inches the story closer to Zen Arcade, where the love interest dies from drugs in "Pink Turns to Blue." However, David's culpability remains an unresolved source of tension throughout this story.
But it all could be a dream.
Vivian Benson, David's ex, is introduced and warns, "Don't trust the words you hear in a song." Like Zen, this could all be a dream. Another character, Octavio St. Laurent, sweeps in to provide unreliable narration, which leaves most of us lost, not least David, prompting the refrain, "Who can I trust?" Before long the two adversaries are locked in a metaphysical bout, not unlike the struggle between Jesus and Judas in Jesus Christ Superstar, or for that matter in the Bible, which is referenced quite often.
There's a good dose of schmaltz.
A dream sequence allows David to reconnect with Veronica one last time, after which he accepts her loss and embraces their fleeting love. Cue the enlightenment à la Zen Arcade, Tommy et al. Sure, it's hammier than you'd expect from a 300-pound punk singer who regularly draws blood from his forehead onstage, but anyone who's been able to hang on to the plot this long emerges from the pit (proverbial and literal) with nicks, scratches and a new appreciation for Shakespeare.
Fucked Up plays Lincoln Hall Saturday 2.