Gotye | Interview
Will the people who made "Somebody That I Used to Know" a breakout hit for Gotye listen to the rest of his music?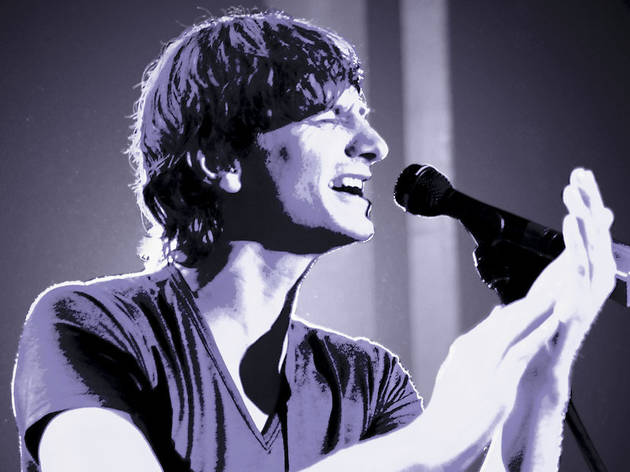 The xylophone-plinking opening, the you-did-me-wrong cry of a chorus and the he-said-she-said views of a breakup: We're quite certain the song's on auto-repeat in your brain right now. Gotye's "Somebody That I Used to Know" is the inescapable earworm of the summer. The 32-year-old behind the tune, Wouter "Wally" De Backer, speaks by phone from his home in Melbourne, where his family moved from Belgium when he was two. Later this month, he'll stop in Chicago in support of his third studio album, Making Mirrors.
Thanks for the song I can't get out of my head.
[Laughs] Is that a good or bad thing?
A good thing, I think.
Cheers.
You've said "Somebody That I Used to Know" "appeals to people who have very confused, broken relationship experiences." Were you speaking from personal experience?
Part of that, yeah. The song is so much about reflecting and musing on the different feelings that can bubble up when reflecting on many years of different relationships.
The lines about the ex-girlfriend who has her friends collect her records and then changes her number are so specific they made me wonder if you experienced that yourself.
Actually, you probably picked the two lines in the song that are the most fictionalized or pure fiction. Other ones for me relate to specific memories.
You've called this album far more personal than your others. In "Save Me," you sing, "I could not love…I was giving up on living." Is there an autobiographical thread there?
More so in that song. And other songs other than "Somebody That I Used to Know" are the ones that are more directly autobiographical. I feel almost pathetic to say it, but aspects of the struggle of depression I'm talking about in "Save Me" relate a lot to the process of trying to make this record or trying to make music in general. More so than other times in my life, I just felt so challenged and vacillated between excitement and anticipation and positive feelings about the experience of making songs to, you know, it felt like real depression at times.
So the excitement and depression of the creative process then.
Yeah. It felt absurd to think sometimes, but what seemed to hang in the balance, taking one step away, could seem to be so trivial, you know, making pop songs effectively, and yet you have so much invested in the outcome of a creative process.
In "In Your Light" and "Save Me," there's someone pulling you out of yourself: "You gave me love when I could not love myself." Are those songs referencing a specific "you"?
Yeah, in the case of "Save Me," it's really a story about me and my girlfriend [musician Tash Parker]. It was through her grace that I managed to overcome those very self-obsessed cycles that were bringing me down in the process of music.
On the SNL episode you were on, Andy Samberg plays a smitten fan who's naked and in body paint, like you and Kimbra are in the "Somebody" video. Any truth to the joke?
[Laughs] Well, actually, yes. There are fans who will come to gigs fully body painted or have made really quite large paintings based upon the film clip. And you probably noticed this: so many parodies and covers of the song.
There's the one parody of the two guys who profess they don't like the song but then can't help but belt out the chorus.
[Laughs]
You've seen that one.
Yeah, I have. Someone sent it to me recently. That's getting a lot of views at the moment, isn't it?
What were those songs for you as a teen in Australia, the ones you sang over and over?
I was listening more to commercial radio, which I would rarely do anymore these days. Might be things like Euro disco, like Slave to the Music [Laughs] and Captain Hollywood Project.
Along with the euphoria of having an international hit, is there also a sense of: But wait, I have all these other songs as well?
I don't feel too stressed about proving that to a mainstream audience. I feel resigned to the fact that this song has worked its own way onto the pop world, which is not a world I ever expected to operate in, as much as it's a curious and exciting experience. The pop audience who are happy to be fed stuff by the music media, it's unlikely that the more interesting, left-of-center and experimental things I do will actually find their way through. There are previous albums that have some stuff that's worth listening to, possibly stuff that's better than "Somebody That I Used to Know." But that song is maybe the one that will have the broadest appeal, and I'm okay with that. The people for whom the phrase "one-hit wonder" means anything and for whom that is a slightly condescending phrase, they're not the people I'm making music for.
So it's okay if they call you a one-hit wonder?
I guess I don't really care, yeah. Commercial success in that ultrascrutinized public pop sphere is often antithetical to actually making interesting and good music.
Gotye plays Charter One Pavilion August 24. Walk Off the Earth (surely) performs its "Somebody" cover at Lollapalooza's BMI stage August 4 at 6:50pm.