Heaven sent
Fuzzed-out pop trio STAR adds some sparkle to the local scene.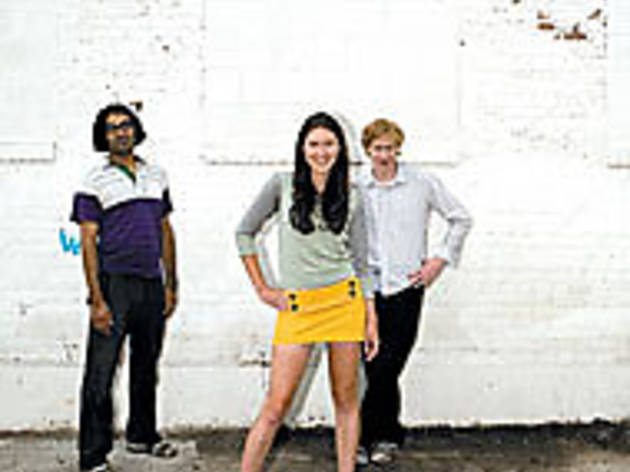 Call it disloyal, but Shannon Roberts has done some of her best performances without her band. "I love karaoke," Roberts says, as sincerely as possible, over beers and a burger in Wicker Park. "Last time, I did Creedence Clearwater's 'Who'll Stop the Rain?' and everyone stopped clapping and having a good time. It may have been the only time in karaoke history all the drunk people got bummed out," she adds, laughing.

STAR, the local rock trio she fronts with bassist Theodore Beck and guitarist Scott Cortez, in fact writes the same kind of pop tunes that could one day make for future karoake gold. On the group's self-released debut this year, Devastator (Lovely Rebel), deceptively simple Brill Building melodies hold the foundation. But the songs come to life thanks to instrumentation that's a lot hipper than "American Pie." Minimalist Velvet Underground drums, My Bloody Valentine guitar waves and floating female vocals—evoking a sober, more focused Jesus and Mary Chain—already have inspired a devoted following. What's more, Roberts strips the passivity from lovelorn pop when her innocent soprano dispatches lacerating lines like "This is what you get for being such a prick" or "Any champion of love would have to hate you."
But the melancholic bent doesn't keep you down. "STAR is the stuff you're going to put on if your sister dies," she says, "and you want to make yourself feel better."
Judging by the music, it's perhaps surprising STAR was born out of love. Although best friends since high school in Wisconsin Rapids, Wisconsin, it was only when Beck, 28, went away to school in Minneapolis and Roberts, 27, came to Chicago to enroll in Columbia College that she felt her feelings deepen. "I thought I was just calling him in Minneapolis because I was quitting smoking and needed a distraction," Roberts recalls with a chuckle. "But then I went to visit him and I was like, 'We should be together,' and he said, 'Yes, of course we should.'?" Soon Beck joined Roberts in Chicago and the two began collaborating informally on home demos. Then, in 2001, the two met Cortez while doing market research for a motion-picture company and, using Cortez's unfinished demos of layered guitars as a starting point, launched STAR.
Although Cortez, 37, grew up in Michigan, he shared their small-town upbringing. "We would have to drive sometimes two hours [to Madison] just to get the CDs we wanted," Roberts says. "I listened to albums like Guided by Voices's Alien Lanes at least 500 times. I don't know if people attach themselves to bands that way anymore."
A small but rapt crowd at STAR's Subterranean show last spring may beg to differ. Barely shifting her eyes—or her body—during the entire set, Roberts not only doesn't look nervous onstage, she looks unshakably confident. "If your song is good, you shouldn't need to jump up and down and wave firecrackers around," she says with a laugh.
Devastator, lasting a tantalizing 31 minutes, stays true to her word. "I really like two-and-a-half-minute songs, so if something doesn't work, we'll go back and just chop away," Roberts says. "You don't need to repeat the chorus five times," Beck adds. In addition, the band writes songs in a divided labor setup: Beck creates drum loops on his computer, gives the file to Cortez to add guitar, who gives it to Roberts to do vocals before it goes back to Beck for the final mix. "It's the opposite of nerve-racking," Cortez says. "It's actually a stress reliever. Whatever Shannon comes up with is always better than I expected."
Nonetheless, dreamy pop remains more identified with U.K. or New York bands. "We do feel isolated in this city," Roberts says. "We love Office and the Pumps but we're not really part of a scene, where we're competing and trying to outdo other bands." Ironically, it's also been what's kept STAR afloat. "That's why I love Chicago," Roberts says. "It's a tough city. So when people like your music, they really like it."
STAR plays Double Door Wednesday 22. The Lusties headline.