Interview: Carrie Brownstein
The Portlandia star and former Sleater-Kinney guitarist returns with Wild Flag.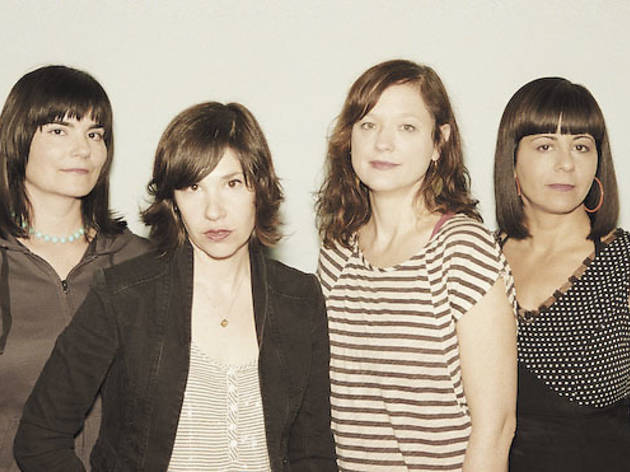 On her IFC sketch-comedy series Portlandia, Carrie Brownstein playfully ribs indie culture, a subject the 36-year-old knows well, having played in seminal bands for nearly two decades. The Seattle native's latest band, Wild Flag, teams her with her former Sleater-Kinney bandmate Janet Weiss, Mary Timony of Helium and Rebecca Cole of the Minders. The veteran newcomers are playing just a handful of shows this summer, including two in Chicago, July 22 and 23, before releasing their self-titled debut on Merge Records September 13. The amiable Brownstein chats with us while noshing on lunch in L.A., prepping for season two of her TV series.
On Wild Flag's first tour earlier this year, you would apologize onstage and reiterate that the songs were works-in-progress.
Oh my God, it's so harsh in the YouTube era to have unfinished lyrics.… I've always written like that, where sometimes I have just a lyrical beat or theme for a song. I have anchor words that I sing around.… It's very rare for me to have an entire song written in terms of the lyrics until we record.
That's unusual.
A lot of people, it turns out, don't do that. [Laughs] A lot of people actually write their lyrics in advance. It's ridiculous. I need to…I need to work on it. I'm always singing fine and mine over and over again.
The count of all-female bands, in all of rock history, is only about 200 on Wikipedia. Does that surprise you?
Um, yeah. It does seem a bit amazing. Occasionally, I think we've had the conversation. There's very few all-female bands that have ever had a number-one record, or that wrote their own songs. The Go-Go's were the only sort of mainstream band. You can't get tripped up on that. We just sort of happen to be this all-female band. There's not a lot of guys playing rock music now either.
Mainstream rock is struggling, isn't it?
Rock music just isn't what is capturing people's imaginations right now. At South by Southwest, we played eight shows in four days. And people looked so stunned by our loud rock music…but it's kind of an interesting place to be. It's nice to have loud guitars feel like they have some impact again.
Considering the band's pedigree, a lot of people expected Wild Flag to be at Lolla or Pitchfork this year. Why are you not?
We'd rather start out where we belong. It's nice to feel like you've earned something.… But hey, I'll be honest: I don't think Pitchfork even asked us.
Really? What the hell's wrong with them?
I don't know. But that's fine. I don't mind. Also, logistically, I'm working on Portlandia all summer.
Have you been surprised by the reaction to Portlandia?
Yeah, I have. Because we started out just doing Internet shorts, and it was very anti-ambitious. Not anti-ambitious, it was just lacking in any kind of point. We really lucked out and it seems to have captured something that people can relate to.
Every time I see a bird on a lamp or shirt, which is too often, I think, Put a bird on it! You really tapped into something.
People have shown me so many bird tattoos, too. And I don't need to see their tattoos. Especially when they're tattoos that are somewhere that should be covered at all times. I have friends that are artists in the craft industry that are mad at me because they're like, "Now we have to find a new animal to put on our work."
Wild Flag plays Subterranean on July 22 and Wicker Park Fest on July 23.