Interview: John Stirratt of the Autumn Defense
The Wilco bassist discusses taking a break from his main gig, rough Chicago winters and what beer best embodies his side band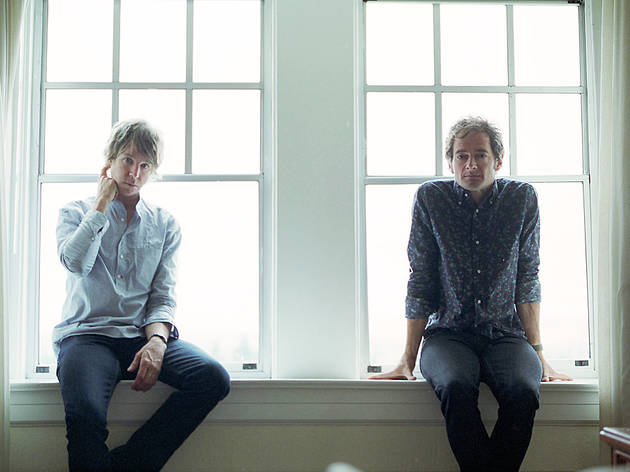 Everyone needs a break from their day job, even musicians in successful rock bands. When John Stirratt and Pat Sansone aren't touring with Wilco, you'll find them holed up in a studio working on tracks for their long-running side project, the Autumn Defense. The duo's latest record, entitled Fifth, channels the gentle harmonies and warm soft-rock stylings of groups like Bread and America. The Autumn Defense's East Coast tour comes to an end in Chicago this week, where the band will celebrate the release of its new LP with a two-night stand at Schubas. We spoke with Stirratt during a quiet moment on the road.
You and Pat have been playing together as the Autumn Defense for almost 15 years. To what do you attribute the longevity of your musical relationship?
We've always shared a common aesthetic. The connection that Pat and I share goes beyond singing and writing songs together—we enjoy the same films, design and records. That's how we became friends and that has been the glue that has kept us together. You see different bands that have been together for 15 or 20 years, like the Black Crowes for example, and there's something about the way they play together that you can't put into words.
Fifth marks the first time you've brought your live band into the studio with you.
On the previous records, we would usually end up tracking as a three-piece, so we tended to build the arrangements in the studio. Because of scheduling, it was never possible to get our live band together at the same time. This time, we were able to get the full five-piece band into the studio and it allowed the songs to become fully realized much more quickly. The record sounds bigger and more cohesive. At some point during the first session, I began to think, "Why would we do it the other way?"
The closing track "What's It Take," references a particularly rough winter in Chicago. Which one in particular?
Well, obviously in 2012 and 2013 there was a big violence problem in Chicago, and when we began to finish up the basic tracks for Fifth there was a shooting at a bus stop across the street from our studio. We had a tune that we had been working on that was half-written lyrically, and our feelings about the situation came out as we finished it. We always tour with Wilco in the summer, so we tend to make Autumn Defense records in the winter in Chicago, which is a time of year that lends itself to very sensitive music. Lyrically, "What's It Take" was just an attempt to get my experience in Chicago that winter down on paper.
These days, Wilco plays in arenas and theatres. How does it feel to be back playing in smaller rooms?
Every three or four years, we get to do an Autumn Defense tour and play clubs. I love getting back into the setting that I experienced music in 95% of the time when I was growing up. There's a great social aspect to it—theatres and small arenas can be pretty isolating for performers, so it's nice to be able to mingle with people. I feel at home in a club.
One of the dates on your tour is at the Dogfish Head brewery in Delaware. Any chance of an Autumn Defense brew in the future? What kind of beer would you make?
We could only be so lucky! Sam, the owner of Dogfish Head, has always been good to Wilco and has brought us a lot of beer—he knows that we're big fans. If we were to do an Autumn Defense beer, I would probably lobby for a pilsner—something light and crisp. We've talked about it, but we're not sure if it's going to happen.
The Autumn Defense plays Schubas February 21, 22 at 9pm.