Keith Morris of OFF! | Interview
Circle Jerks and Black Flag cofounder is back with OFF!, a thrilling hardcore throwback. But does the 55-year-old even like punk rock? You might be surprised.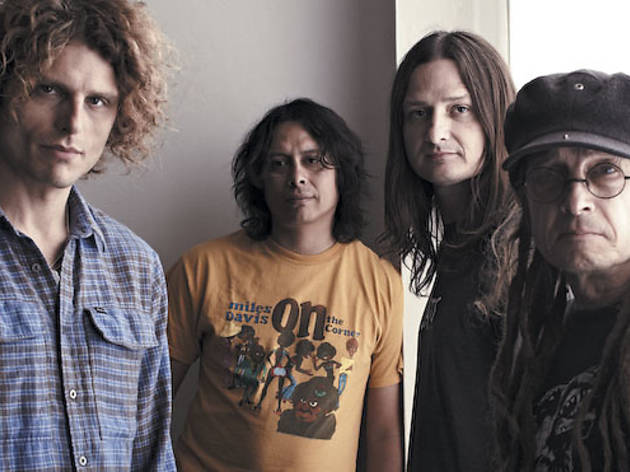 As a founder of Black Flag, Keith Morris helped birth hardcore. With a new band (yet again named for a bug killer), OFF!, the 55-year-old has reverently revived the genre with fellow vets Steven McDonald (Redd Kross), Dimitri Coats (Burning Brides) and Mario Rubalcaba (Earthless, Clikatat Ikatowi, dozens more). With brutal, 30-second songs, Raymond Pettibon artwork and ageless vocals, First Four EPs is the punk platter du jour. We phoned Morris, pictured far right, in the wake of OFF!'s triumphant SXSW shows.
One thing that occurs to me when I hear OFF! is that you have an advantage, because you originally got to make punk rock without being influenced by punk rock.
I grew up with the British Invasion. My favorite bands are the Beatles, the Rolling Stones, the Who, the Kinks and the Hollies. Now there is some aggressive stuff going on there. The Who's "Can't Explain," that's pretty rocking. The Kinks' "You Really Got Me," those are some pretty aggro riffs. As for not having grown up on it, over the last few years I have heard more of this music than one person should really have to be subjected to. [Laughs]
You're sick of punk?
I'm not sick of it. I welcome it. But it's just like any genre of music—you're going to hear bands that are amazing and you're going to hear bands that really should just sell their equipment and get back to their day jobs.
How do you keep it interesting?
I've been doing music for so long that the last thing I want to do is be part of the punk-rock marathon, [on bills] with five bands of the same ilk, same color, that all listen to the same music. That's boring, monotonous. We've had opportunities to play with Dinosaur Jr., they're certainly not a hardcore band. We play with the Black Lips, they're big fans. All the guys in Deerhunter, they're big fans.
Right, you are the hip punk band of the moment. Even hipsters too cool for hardcore are into OFF!.
Actually, you'd be surprised at the amount of flak we get. Punk is a genre that is supposed to be wide open; it's supposed to be 'free your mind.' We need to skip these uniforms and clone-like qualities.
You seem obsessed with challenging tradition, yet made such a traditional hardcore record.
But who knows what we're going to do? We're in our infancy. We're only a year old. We're not going to be out flying helicopters. We're not going to be out purchasing guns. We're not going to be out voting for Republicans. We're young, we're kids. We want to bring our flavor to any party, whether it be the dark party, whether it be the light party. Whether all the girls are dressed in pink, swinging the stick to break open the piñata, spiking the punch bowl with Spanish fly. We want to be a part of all that!
OFF! hits Bottom Lounge Saturday 2.