Kreayshawn | Interview
Is "Gucci Gucci" rapper Kreayshawn the new Rebecca Black, the next Nicki Minaj or both?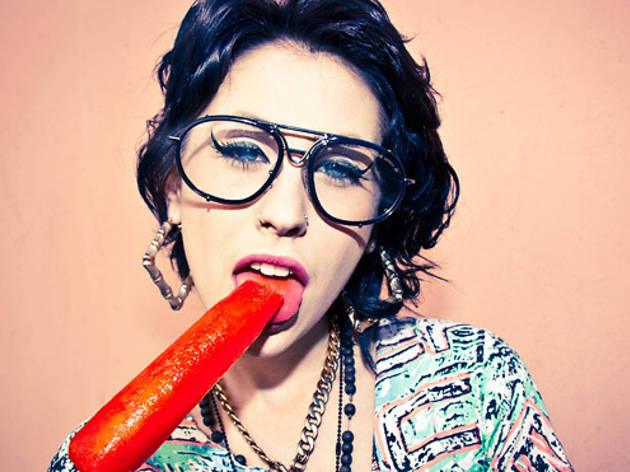 There are plenty of reasons for Natassia "Kreayshawn" Zolot to inspire haters. Folks will be jealous the rapper went from YouTube to a major label so fast it makes the Justin Bieber story seem like an epic journey of patience. Her out-of-nowhere freshness has some people hating on spec: The 21-year-old posted her video "Gucci Gucci" in May, and was signed to Columbia weeks later. Like all white hip-hoppers, she brings up issues of authenticity and exploitation. And her absurdist couture, channeling Madonna, Minnie Mouse and Amy Winehouse, sets her up as a hard-to-miss target.
Some confused critics theorize what's wrong with her without having enough data to back it up. The most common questions levied are: "Is she dumb?" and "She's joking, right?" Yet everyone seems to dig the ode to nonconformity and designer-label disloyalty, with the refrain "Gucci Gucci / Louis Louis / Fendi Fendi / Prada / Basic bitches wear that shit so I don't even bother." It's hard not to love a club track featuring the boast, "I got the swag and it's pumping out my ovaries." Still, some people seem determined to try.
"I do hear [those criticisms] a lot," the Oakland native explains over the phone. "Basically, people tell me things like, 'I listened to the song 30 times, and I'm not sure if I like it yet.' That's why my main focus now is to prove to everybody that this isn't just like a one-hit-wonder type of thing, which just takes time."
While the haters wait for a follow-up, Kreayshawn can be satisfied by the validation of support from rappers like Odd Future, Lil B and Soulja Boy, who have all collaborated with Kreayshawn on videos, not to mention Lil Wayne, who has rapped over the "Gucci Gucci" beat.
As lowbrow as tunes like "Gucci Gucci" and "Bumpin Bumpin" are, there is clearly some intelligence at work behind her smoky eyes and between her chunky earrings. Zolot briefly attended the Berkeley Digital Film Institute studying film and video production. The music videos she directs and edits are clever, entrancing and composed, and won her a gig helming the new promo for the Red Hot Chili Peppers, "The Adventures of Rain Dance Maggie." So is "Kreayshawn" performance art?
The answer to that could lie in her upbringing. Kreayshawn's mother, Elka Zolot, was in the campy '90s garage band the Trashwomen, which dubbed itself "tease rock." I ask what she learned from her mom, and Kreayshawn replies, "I wish she had taught me some guitar. Then I could be, like, the biggest rock star ever."
My theory about her online triumphs—more than 20 million views on her YouTube channel—is that she's calculated what gets the most clicks and filled her lyrics with the Internet's only can't-miss content: cats. "That is true," she admits. "Maybe rapping about cats has something to do with my success. But I do that because I'm always hanging around with cats when I'm writing. I have a cat right here. She's laying in my lap. I got bit in the face by a dog a couple of times, so I'm definitely more of a cat person."
A dog bite to the face: That qualifies as some serious hating. But badmouthing from on-the-fencers willing to watch a video 30 times while making up their minds? That's the kind of basic bitching any artist would be happy to receive.
Kreayshawn hits Bottom Lounge Friday 19.