Kurt Vile on Smoke Ring for My Halo | Interview
Philly's Kurt Vile talks about Smoke Ring for My Halo and his guitar heroes while dealing with a spate of bad transportation luck.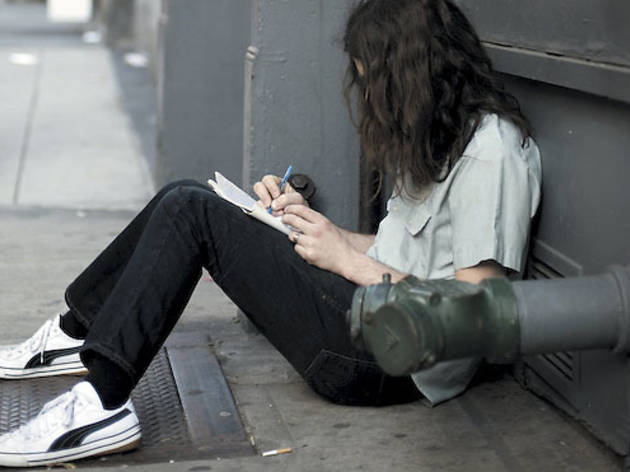 The first time I call Kurt Vile's cell phone, he's stuck in a small-town Connecticut auto repair shop with his band, the Violators. The tour van has broken down. The 31-year-old is trying not to let it get him down, but it is not the time to chat. Two hours later, he's on a night train to New York City, before catching the cheap Chinatown bus back home to Philly. He sounds understandably exhausted but willing to talk about his breakthrough new album, Smoke Ring for My Halo.
"Today was meant to be a big press day," he says with a sigh. "But nothing worked out. Boston Globe called just as the van was breaking down for the second time." He laughs as the train's loudspeaker announces the approaching station in the background. "So, y'know, feel special, cuz you're the only one that's reached me today!"
It's little wonder that the press is clamoring to speak to Vile. The guitarist's fourth album is his finest and most accessible to date. After receiving heaps of praise for 2009's Childish Prodigy, he had the surreal experience of hearing his musical idols—from Sonic Youth's Kim Gordon to now tourmate J Mascis—express admiration for his work.
In the past, it wasn't so easy. Until 2008, Vile funded his penchant for expensive guitar pedals by driving a forklift for a local brewing company. These days, he's found a supportive home on Matador Records and has plenty of free time to woodshed his songwriting in a house he shares with his wife, Suzanne, in Philadelphia's trendy Northern Liberties 'hood.
While the embers of the guitarist's distinctive, stoner-vibe psych continue to smolder in Smoke Ring for My Halo, the songs are more polished and fully realized. Tracks like the stingingly sweet love song "Baby's Arms" and the mellow melancholia of "On Tour" are more conventional than his previous material but maintain plenty of Vile's subtle and ambitiously structured time changes and chord progressions. It's the first record on which he works with a producer, John Agnello, a rock vet who assisted on Bruce Springsteen's Born in the USA when barely out of his teens.
Smoke also includes another first for Vile—lyrics in the album booklet. "I guess I'm proud of these lyrics," the former skate punk says. "Although I liked my other lyrics, it just seemed weird to include them on my more psychedelic records. I wanted to print them out this time so that there's no mistaking. Critics always get the lyrics wrong in reviews, which is amusing—especially when they use them against you."
Vile grew up listening to his dad's bluegrass records, alongside teenage grunge staples like Pavement and Dinosaur Jr. "He's been so good to me," Vile gushes of guitar hero and Dinosaur Jr. frontman Mascis, who is known for his furiously loud and complex guitar wizardry. Vile makes an appearance on Mascis's new album, Several Shades of Why, and the Violators recorded Smoke Ring's most anthemic track, "Society Is My Friend," at Mascis's Bisquiteen Studios in Amherst, Massachusetts.
Now that he and Mascis are guitar buddies, is there a chance of onstage collaboration during this tour? "I'd definitely like to do something like that," Vile says enthusiastically, just as the train rolls through a tunnel and our connection is lost.
Kurt Vile visits Subterranean with J Mascis Friday 1. Earlier in the day, he stops by Reckless Records Wicker Park at 7:30pm for an intimate set.