Lovefoxxx of CSS | Interview
CSS singer Lovefoxxx chats about fashion design, the art of DIY band shirts, bowel movements and why she wants to steer clear of Brazil during the Olympics.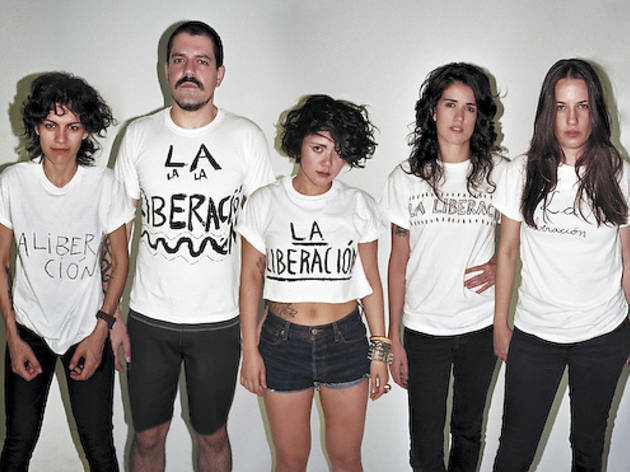 "Music Is My Hot Hot Sex" helped sell a lot of portable music players. The 2006 hit by Cansei de Ser Sexy (or CSS, commonly) popped up in ads for both the Zune and the iPod Touch. But that was half a decade ago. The Zune has been discontinued. How does a band pegged as an Apple-hit wonder fight for relevance? With sheer exuberance. The Brazilian quintet's giddy, upcoming La Liberación follows a darker, heavier sophomore album, Donkey. Singer Luísa "Lovefoxxx" Matsushita has moved home to São Paulo from London, after her engagement to a British rocker fell apart. (He will certainly read into the title.) Lovefoxxx spoke with us over the phone, sounding as cheerful and colorful as her spandex bodysuits.
1. People really do call her Lovefoxxx. But not her family.
"Most people call me Lovefoxxx because there is a Luiza in the band, too. She's the Luiza; I'm the Lovefoxxx. But my parents call me Lu. Or just 'Daughter,' 'Big Daughter.' "
2. Lovefoxxx quit her day job in fashion but has far from given up on the industry.
"I did a big collaboration with the Brazilian brand [Melissa]. That was also my last day job. I did a soundtrack to their show. I did the art direction of the catwalk. And I designed some jelly shoes. I always end up doing that kind of thing."
3. But don't expect the same flamboyant stage costumes.
"I have one suitcase [on this tour]. I know that in my past I used to wear really big outfits, but it was hard to move. One outfit I'm really enjoying is a matador jacket and pants. It looks masculine. But then I change into a T-shirt and shorts. That's it."
4. In fact, Lovefoxxx would almost prefer if you'd not buy CSS merchandise.
"I think DIY band shirts are always the best ones. We still have merchandising, but I feel so happy when I see a homemade CSS shirt. It makes my day. Growing up in Brazil, it was so hard to buy band T-shirts. I would cut out stencils for the exact Turbonegro logo. I have a homemade Spoon shirt. It's very, very low budget. I did it with Sharpies."
5. The band is very close. Very, very close. Perhaps too close.
"When we are home in São Paulo, we go to dinner together. It's where we really spend our money, going out to eat. We have the same phone plan so we can call each other for free. We know the shape of each other's poop!"
6. CSS will skip the 2014 World Cup and 2016 Olympics.
"I don't want to be anywhere close to Brazil when the Cup is going on, or either of those events. Traffic in São Paulo is hell. It's going to be such a mess. They better pull their shit together and organize those subways and airports. It's going to be [a] mess."
7. Brazil recently elected a former Marxist president. But La Liberación is not a political album.
"[The election] didn't feel any different. All of us are in a good mood right now, but it has nothing to do with that. All that I'm singing about is on a personal level. La Liberación really reflects how we're feeling, excited and inspired and free and ready to go outside and run with arms open."
CSS visits Metro Saturday 21.