Markéta Irglová at Lincoln Hall | Interview
The Swell Season songstress steps out on her own.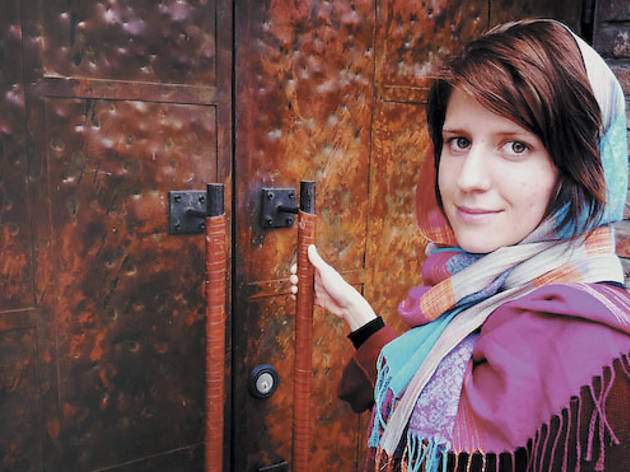 Despite having just jumped off a long-haul flight from Dublin to New York City, Czech chanteuse Markéta Irglová is remarkably chirpy. "It was such a lovely tour," she says happily of her short stint in Europe. Her soft accent—strong Slavic cadence cut with Irish and American tones—is a curiously charming reflection of all the countries where she has lived. "I've had to become good at adapting or I wouldn't be able to cope!"
The singer and multi-instrumentalist has packed a lot of adventure and music into her 23 years. At age 19 she starred in Irish indie flick Once with fellow musician and then-beau Glen Hansard, also frontman of the Frames. As the Swell Season, the pair released three albums (including the Once soundtrack) and scooped up an Academy Award for Best Original Song of 2007. After 2009's Strict Joy, they decided to take a break. Looking for a change of pace, Irglová pulled up stakes from Ireland and headed to the Big Apple.
"The time following my move to New York was very fertile and creative. Before that, I was writing maybe one or two new songs every year just because of the dynamic that Glen and I had," Irglová explains. The result is her beguiling debut album, Anar, a tender and expertly crafted collection of songs that reflects on love, loss and travel and in its finest moments recalls Blue-era Joni Mitchell.
Irglová spent three weeks crafting Anar at Wicker Park studio Soma with Tim Iseler, a local sound engineer she met while on tour with Iron & Wine (she was singing backup vocals, he was the monitor engineer). Irglová, hooked on his sound production techniques, knew that she wanted to work with him on her debut. "I got to know some of the music community while I was staying in Chicago," she says. "It's so strong. Everyone knows each other."
Was she ever tempted to leave her New York digs for life in Chicago? After all, musical collaboration quickly turned to romance for the second time in Irglová's career: She and Iseler were married over the summer. "I definitely thought about it," she says. "I could really see myself enjoying the city, but eventually decided that it was better for Tim to move here, so the two of us live in Brooklyn now."
When Irglová moved to New York, she wasn't sure how she was going to keep writing music, but the kindness of others helped keep her dream alive. "I moved into a second-floor apartment in a pre-war building with tiny windows. There was no way I could get a piano up there," she remembers. "The idea of an electric one wasn't motivating enough; they're just not as charismatic. Luckily, I have a friend whose mother lives on the Upper West Side in a beautiful old apartment, and she has a grand piano in her living room. She told me that I could come and play any time. So I did. I walked there every day from my place in SoHo; it became a little routine."
As she trudged the streets of Manhattan, Irglová dreamt up many of the lyrics that ended up on Anar. In the evenings, she continued to write music in Zora Space, an intimate art and performance venue in Brooklyn. "It felt like going to the office every day," she laughs. "It was almost like life was imitating art: I became the girl in Once who goes into the piano shops to play pianos she can never own."
Markéta Irglová plays Lincoln Hall Saturday 26.