Modeselektor talks Record Store Day | Interview
German techno king Modeselektor explains why vinyl still matters—and how hard it was to buy behind the Berlin Wall.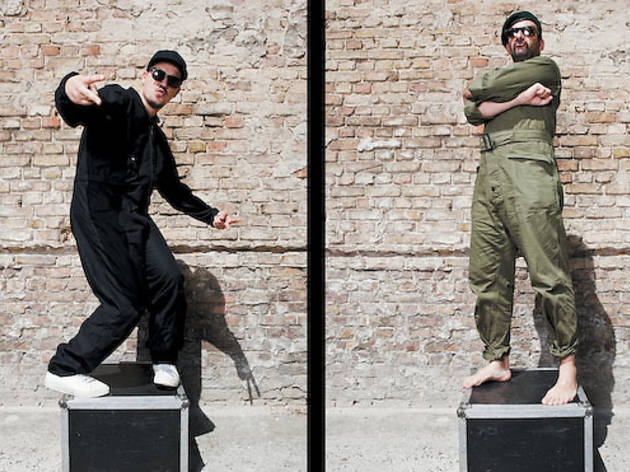 Modeselektor doesn't spend much time deejaying, but that wasn't always the case. Coming of age in the thriving Berlin rave scene after the fall of the Wall, Gernot Bronsert and Sebastian Szary (both now in their early 30s) were spinning and stocking vinyl bins. With the Modeselektor tour bus rolling through town to perform at Metro Saturday 21—Record Store Day—we rang Bronsert in his studio to chat about the charm of vinyl shops, his early days working in one and why physical music remains so special.
How much does physical music still play into your world?
We grew up with vinyl. Kids these days, this is something they don't know and there's a big mystique around it. I think vinyl has become a luxury item. We are not vinyl geeks on eBay and looking for the most expensive vinyl or shit like this. It's more about the fix, the romantic side of the black discs. You need a mechanical turntable, which has a wheel. Then you have this very tiny needle that brings the bass onto the dance floor. We are very fascinated by this.
Were you into this music before the fall of the Berlin Wall?
It was not possible to get records, but very quick after the Wall, that became the soundtrack of our childhood. I grew up with techno. I used to work at a record store here in Berlin, it's a pretty famous one called Hard Wax. I was 13 when I went there the first time. I asked for jungle and they gave me Aphex Twin. That was how the whole thing started. I thought this music was jungle and I really liked it.
Do you still shop for vinyl?
There's a store in London I go to called Phonica, and in Glasgow there's one called Rubadub. In the U.S., sometimes it's difficult. We always go to Amoeba in San Francisco. Since I used to work at Hard Wax, we still have our shelf there with our names on it. We go there once a month and talk to the guys.
Going to a DJ record store is a unique experience.
It's not even just collecting. It's more about the communication. That's a special thing, which most young music lovers don't know. They just go to their download platforms and buy the stuff. That's very anonymous. When you have someone in the store that you've known for a long time and this someone knows a lot about music, you talk to someone.
If you opened a store of your own, what would it be like?
I would never open a record store by myself because I wouldn't be able to make it special. If you want to make a record store, which is good, youneed to live in the record store.
Fair enough. You guys supply the stores instead. Since Record Store Day is about special editions, what would your ideal deluxe package look like?
I've always wanted to release a tape. But not a cassette, I'm talking about a reel-to-reel tape, like from the '70s. This is something I really want to do, but it totally makes no sense. I just know one personwith a reel-to-reel. So we would just sell one and then just keep the restfor ourselves.
Modeselektor plays live at Metro on Saturday 21.
For our Record Store Day picks, click here.