Moonlighting
Via Tania travels the world to go back home.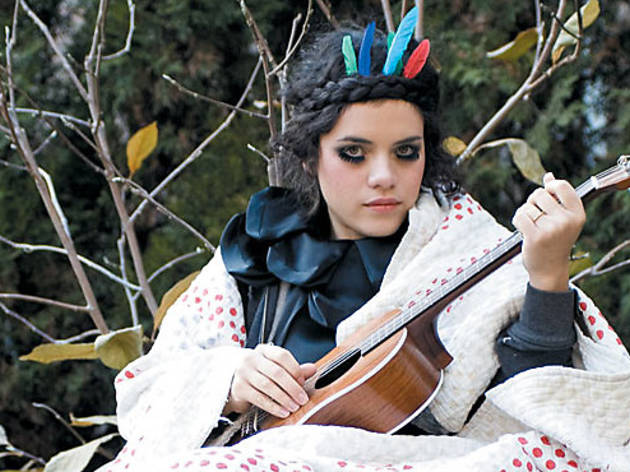 It's only a brisk fall afternoon when we meet Tania Bowers in her West Town home, but already she's bristling at the prospect of a frigid Midwest winter. "It's gonna be a long one," she sighs, staring out at the autumn leaves blanketing the garden in front of the gorgeous stone residence she rents with her husband, photographer Joe Wigdahl. Even though the Australia native has lived in Chicago for ten years, she steadfastly avoids the plummeting temps, opting for the climate Down Under in her hometown of Sydney and New Zealand, where she'll spend the first quarter of 2010—peak summer months in the southern hemisphere.
The heavy travel schedule is nothing new to the 34-year-old, who recently returned from a successful run of showcases at the CMJ conference in NYC, picking up a nod in The New York Times and a feature in Interview. A slow-but-sure buzz is building around the singer and multi-instrumentalist, who's been a steady, if relatively quiet, Chicago presence.
Her 2003 debut LP under the stage name Via Tania, Under a Different Sky, found release through local imprint Chocolate Industries and sported an impressive supporting cast of players from Tortoise, Prefuse 73 and the Eternals. But her new follow-up, Moon Sweet Moon, is a far more intimate affair, following a series of recordings around the world.
Sessions for her second full-length began while Bowers was shuffling between cities, starting four years ago in Melbourne and including a Chicago stop at John McEntire's Soma studios. "I got a grant to travel and write, so I recorded in Stereolab's studio way out in the country in France. I went to Iceland and recorded a little bit there," she says. "But I didn't end up using any of that stuff." Producer Craig Ross helped her shape the material in his home base of Austin, discarding most of the original supporting tracks and rerecording to shine the spotlight squarely on Bowers.
There's a mysterious quality to Moon Sweet Moon, with Bowers's breathy voice gently seducing on tunes like "The Beginning" and "Dangerously," conjuring the album's namesake and a state of perpetual dusk. That ominous, ethereal edge also reveals itself in her eclectic style, with dark circles of eye shadow and throwback duds. When not in the studio, Bowers is a gifted freelance stylist and makeup artist; she turned Califone into ghosts for the band's recent film, All My Friends Are Funeral Singers.
For Bowers, lunar lullabies come naturally. "Growing up, I always had a really intense relationship to the moon," the soft-spoken Aussie recalls. "I remember my parents saying, 'The moon is watching you. The moon can always see what you're doing.'… In Zimbabwe, where my dad's from, after your child is born, there's this night where they introduce you to the moon." Invoking that childhood memory brought the album newfound maturity: "It felt like my first adult record, when I really started working out the themes." Much like the warm fall colors draping her home, nature wraps around the new record.
In a striking parallel to her recording process, maturing creatively meant stripping away the layers of excess to reveal a childlike innocence. There's a nursery rhyme–like quality to much of Moon Sweet Moon, as on the brittle "Wonder Stranger," hinted at in amorphous, playful lyrics ("When you speak the language, your words turn golden / You touch the air, it becomes uncertain").
Now that the epic endeavor has found release, Bowers plans to pick up the promotional pace next year. When the climate's a little more forgiving.
Moon Sweet Moon is available now. Via Tania visited the TOC offices for an Infinite Loop podcast. Download for free at timeoutchicago.com/music.