Pete Wentz of Fall Out Boy | Interview
He sold America emo. Now Pete Wentz is dealing in hoodies, hooch…and firearms?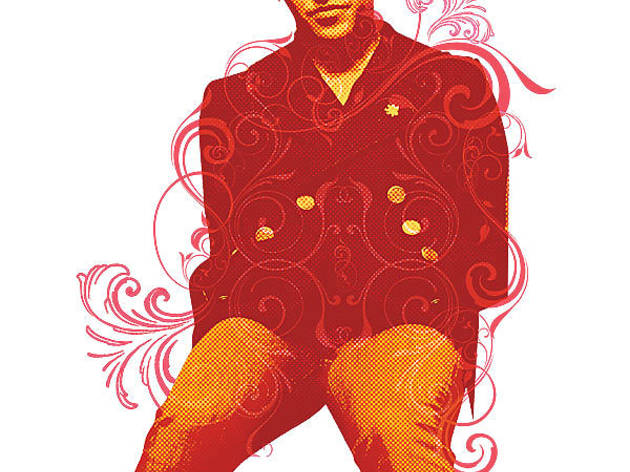 Growing up in Wilmette, Pete Wentz, teen soccer star, dreamed of being a lawyer but dropped out of DePaul, credits shy of a degree. Since then, he's been lyricist, bassist and public mouthpiece for Fall Out Boy, a group of mall punks both adored and derided for their blatant aim to rule the pop charts and their success at it. Now he's a record-label honcho, clothing designer and film producer, plus a tabloid regular along with his wife, Ashlee Simpson. Their baby, Bronx Mowgli, gets more ink than most celebs. To top it off, Angels & Kings, the River North branch of his "dive bar" chain, recently won TOC's Readers' Choice Award for Best New Bar. How does Wentz do it? He swears by sleeping three hours a night.
Time Out Chicago: First off I want to congratulate you on Angels & Kings. The bar won our reader's poll for Best New Bar. Would you like to deliver an acceptance speech?
Pete Wentz: That's awesome. But, oh man, I am definitely the wrong guy to do that. The people who are the nuts and bolts are the people should be giving that acceptance speech. I was there to help design. I was there to help to launch, but other slept there all night, going out of their mind to finish it. I would feel bad shaking a trophy over my head, "I was awesome, thank you!"
TOC: How often do you stop in?
Pete Wentz: Once ever two months.
TOC: You just opening up bars in towns you want to hang out in, aren't you?
Pete Wentz: I could lie and say that there was no strategy involved, but to be honest with you it's usually in places where I want to hang out. A lot of times you go to places and they won't let a bunch of your friends in. Or if they do let you in, you've got to take a picture with a bottle of this drink, or whatever. Why not have your own clubhouse to cause ruckus in? If I break it, I buy it, but at cost.
TOC: It's a surprisingly small space. I was expecting some multi-tiered nightclub.
Pete Wentz: I leave that to the Europeans and those in the Los Angeles area. It's meant to be a dive bar. The downstairs is where it's at.
TOC: That opened recently, right?
Pete Wentz: It feels like you're in the Whiskey Rebellion when you're down there.
TOC: [Fall Out Boy singer] Patrick [Stump] is now a record critic for Rolling Stone.
Pete Wentz: He's always been one, but usually only in my ear. Now he's actually writing them down for a respected publication.
TOC: Do you have any similar aspirations?
Pete Wentz: I don't ever want to criticize anything. It's so hard to remove yourself from that. That's not my cup of tea. Besides, grammar is not really my thing. I love writing, but I have that E.E. Cummings idea that as long as you stay inside the rules of your own world, it doesn't matter what it is. Let's say that a picture is worth more than a million of my words, not just a thousand.
TOC: Yet you have literary references in your lyrics, like David Mamet on "Coffee's For Closers." Though that's the Mamet movie, not the play. What I'm saying is that you seem well read.
Pete Wentz: I do read Mamet. But saying you're a well read person, it's like… someone interviewed m my wife and asked, "So, you're hot, right?" I'm not as well read as I was when I was younger—I just devoured books. Now I'm just trying to weed through Twilight to find where the rest of the books are in the store.
TOC: I once bumped into you at a Barnes & Noble.
Pete Wentz: What was a doing? Was I hanging out?
TOC: It was Christmas Eve. You were looking at the rock books with Patrick.
Pete Wentz: That sounds about right. That's about the only thing we agree on, as far as reading material. We barely agree on artists. We might have had Sharpies in our pocket, hanging out by magazines with Fall Out Boy on the cover, waiting to get noticed. And we did! But nothing happened. How unfortunate. What a lonely Christmas that was for us. It was the only gift we wanted.
TOC: Do you often come back to town?
Pete Wentz: I'm there all the time. I'm in the process of convincing my parents to sell me their house so I can just live in my childhood bedroom forever. I figure it might make me age slower.
TOC: Do you ever run into old high school friends when you're back in Wilmette?
Pete Wentz: The greatest thing about me in high school was that I didn't have a lot of friends. But I do run into people who—
TOC: Hated you?
Pete Wentz: No, who say that we were friends in high school. The only reason I don't buy it is that, I can't remember names for the life of me, but I have a photographic memory for faces. And 90% of the time I'm like, I do not remember you.
TOC: And you went to DePaul to study Political Science.
Pete Wentz: I had aspirations to do different things with my life. I wanted to play soccer. I wanted to be a lawyer. Serendipity.
TOC: Well, you've really started to speak up on African politics.
Pete Wentz: I got into a mini Twitter fight with someone who said that "Africa should be allowed to mine their own resources, and do what they want with them." That would be fine if you were going down to the market and buying that mineral, coltan, and transforming that, at market value, into a cellphone yourself. As long as there's fighting going down there, as long as there are warlords, people can go in and get coltan out very, very cheap. Man, this is going to sound like the biggest namedrop ever, but I was talking to Ben Affleck, who is the most well versed person I know on all of the tragedies in Africa, and he turned me on to Coltan. You can leave the Affleck part out, because it's going to seem like we hang out. We don't hang out.
TOC: And Fall Out Boy filmed a video for "Me & You" in Africa.
Pete Wentz: We went to Uganda, this place called Gulu. We had this idea of doing a documentary about Uganda. Yet that felt a bit trivial, a bit white knight, get on the horse we'll get you out of here. In the displacement camps, we realized the people were exactly the same as the people we grew up with. They had the same emotions, the same basic makeup. The only difference was longitude and latitude. We thought filming a love story between two Ugandan teenagers, based on stories we heard, would be more far more dangerous. I'd never seen something like that on TRL.
TOC: Were the Ugandans fans of Fall Out Boy?
Pete Wentz: They were into our tattoos. They hadn't heard our music. We were famous for having tattoos.
TOC: As someone trying to raise awareness of the Congo and Uganda, do you feel guilty about hanging AK-47s in your bar?
Pete Wentz: I don't in that particular case, because I know where those particular AK-47s came from. I can't say too much about it, as I don't want to get that person in trouble. They've all been cemented and are not working. And we shipped them, illegally, so we couldn't put a return address, as you can't really ship an AK-47. That is the weapon of the mercenary, but it's also been the weapon of the revolutionary. There's a great book by Kalashnikov on it, where he says it's the worst thing he's ever invented, and he would have rather invented a lawnmower. That's an aesthetic idea. My whole idea was to call the bar AK-47, but the neighborhood councils in NY were not so into it.
TOC: So, wait, those guns in the bar are black market weapons?
Pete Wentz: No, no, no. Essentially, you can buy automatic rifles, but they're shipped to you in pieces. Those pieces were purchased legally by an artist. I bought them after they were already decorated.
TOC: You don't think that "aesthetics" can still send the wrong message?
Pete Wentz: I feel like I do more damage on that specific issue by using a laptop and cellphone. Coltan is a mineral that makes you phones thinner. At the same time I don't know how to escape it. It's purposefully made, by the people who made, so that it's hard to know where you're getting it from.
TOC: You turn 30 this year.
Pete Wentz: I don't have the same problems a lot of people have. I feel like I turned 30 when I turned 27. I was just happy I made it through, because that was the year I was sure I might have bit it.
TOC: Because of Kurt Cobain and Hendrix?
Pete Wentz: Yeah, that's the rock & roll year. I don't want to put myself in a category with those other people, but 27 was their year.
TOC: Were you doing things that could have led to destruction, or was it cosmic fate you were hoping to avoid, like choking on a chicken bone?
Pete Wentz: I have been self-destructive in the past. 27 was a hazy age for me. I remember a good couple weeks of that year. 30 doesn't loom over my head. When you're in your late 20s you feel like you're the oldest teenager, when you're in your 30s your feel like you're the youngest adult. I'm ready for that.
TOC: Plus you have a kid now. That matures you quickly.
Pete Wentz: I haven't been into my birthday since I was 25. We'll go out and party. That's good publicity. I'm not good at accepting presents. "thanks." I give the same reaction. It's difficult to give me presents. It's a Curb YE moment.
TOC: How is fatherhood going?
Pete Wentz: It's not much different than most people. Other than that we're a little more nomadic.
TOC: Is your lifestyle tough on the family?
Pete Wentz: The question is weird. Of course it's really tough. It's like standing with somebody next to their parents grave after they died in a car crash."Man that kinda sucks, doesn't it?"
TOC: Tired of getting crap for the name?
Pete Wentz: No. Not at all. We never gave the reason for the name. People should know Mowgli because they know Kipling, or at least Disney.
TOC: I've read lots of speculation on Bronx.
Pete Wentz: The speculation was very far off. When I do things with my child, when I name my son, I don't think about what that tabloids or blogs say about it.
TOC: Besides, at this point it's not even newsworthy. American society has clearly gotten over traditional names. In 13 years, Mike will be the minority at Hollywood High.
Pete Wentz: Lots of people carry on family traditions. Celebrities get targeted. I know plenty of celeb babies who have normal names, and plenty of "normal" kids who don't. People live their lives the way they live them. I ate a bowl of cereal this morning. It's not that interesting.
TOC: On top of a baby, you have bars, a clothing line, a film production company. How much say do you have in all these endeavors?
Pete Wentz: I'm really hands on. I'm a micromanager. I have people move stuff millimeters then I say, Oh god you were right before, move it back. At the same time, I'm able to delegate. If I took anything away from the Reagan Administration, which I shouldn't have, as nobody should take anything away from the Reagan Administration, but if you surround yourself with talented people, it's going to make you look smart.
TOC: But how do you find the time?
Pete Wentz: I've always a problem with sleeping. When you have a lot of hours on your hands, it's either that or do nothing.
TOC: You don't sleep?
Pete Wentz: 3 or 4 hours.
TOC: Isn't that worrisome?
Pete Wentz: That's how it's been for so long, it doesn't bother me. Or it's going to catch up with me and I'll sleep for a couple years. Sleep and food are completely meaningless to me. Give me a PB&J and a couple hours sleep and I'm good.
TOC: So no Pete Wentz restaurant.
Pete Wentz: Well, no, I understand that other people like food.
Fall Out Boy plays Allstate Arena Saturday 9.