Q&A: Nick Zammuto
The former member of the Books continues to reinvent himself on his new album, 'Anchor'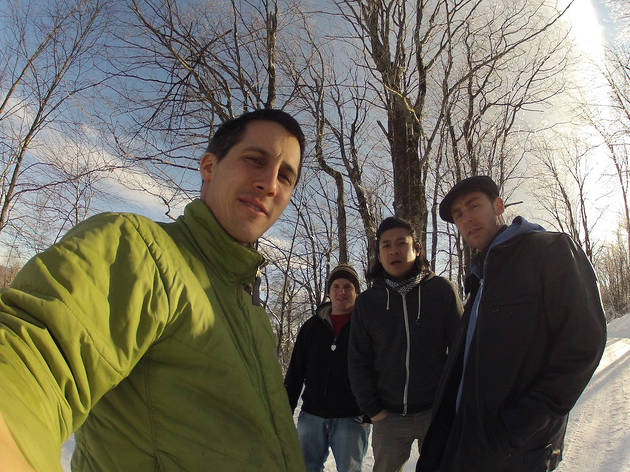 When the Books split up in 2011, multi-instrumentalist Nick Zammuto considered quitting music altogether. With some encouragement from his family and friends, he recorded the aptly titled Zammuto LP, assembled a band and toured with the likes of Gotye (remember him?) and Explosions in the Sky. Now he's back with Anchor, an eclectic new album that blends unconventional time signatures with catchy synth melodies. We spoke with Zammuto about recording in his remote Vermont studio and his decision to ditch his vocoder.
You started an Indiegogo campaign to fund Anchor that ended up raising three times its goal. What were your expectations going into the campaign?
"I thought that I was probably going to stop making records because it was not a financially feasible way to support my family. The fact that the campaign was so successful made me redouble my efforts—I was able to make the record that I wanted to make. The unexpected profits from that fundraiser were used to improve my studio and I think that, more than anything, created the sound of the record. I have so many people to thank for keeping this project going."
How did touring with a full band behind the first Zammuto record affect the way that you approached Anchor?
"When I started the first record, the band didn't really exist yet, but I knew that I really wanted to work with a live percussionist. [Zammuto's drummer] Sean [Dixon] and I really bonded during our tour behind the first record, so when I started working on Anchor, he was the first one in the studio. We would sit down and record for hours, trying to develop loose skeletal ideas for something that would unify a whole record."
After those initial sessions with Sean, was the rest of the record assembled in a piecemeal fashion?
"Yeah, I like working in short burst on a lot of different tracks. Usually when I'm working, I'm alone or with one other person, like my brother Mikey on bass or Nicholas [Oddy] on guitar. The band doesn't really get together in the same room until we start rehearsals. I love ignoring my first impressions of things, because I feel like the first idea I have is always the wrong idea when it comes to developing a piece. I always have to wait for these second and third concepts to come to me before I'm actually able to finish something. It's a very laborious, time-consuming process because we end up destroying so much of what we try, but in the end it creates unexpected results."
The cover of Anchor depicts your small studio in Vermont, which is where you recorded, mixed and mastered the record. How do your surroundings shape the music that you make?
"The studio is essentially a tiny shack on the top of a cold mountain and it's almost like living in a microscope. You can really hear details in the room, and we can work in a very uninhibited way because there's never anyone to bother. Half of my band comes from New York City and they love coming up here because it's such a nice change of pace for them. We eat good food, take walks and play music—it's a nice way to work."
There are many unconventional moments on the record, like the 5/4 rhythm on "Need Some Sun" and the interlocking tempos of "Code Breaker." Are musical challenges like these integral to your creative process?
"I feel like I'm looking for something that I don't know yet with every track. I've been at this game long enough to realize that I know almost nothing about music. There are these spaces that are out there that are right next door to what is known, but nobody ever goes there for some reason. Those are what I'm most interested in exploring because they're familiar enough that people can accept them, but unfamiliar enough that it really changes the whole physics of what's going on in a song."
On the first Zammuto record, your vocals were often digitally obscured. What made you feel comfortable bringing your natural voice to the front on this record?
"It seemed like an important thing to do. Listening back to the first record, all of those vocal effects were important to achieving the effect I wanted at the time. I was going through so much turmoil making that first record that everything in my head was completely scrambled. I was trying to reinvent myself from scratch which was a difficult proposition. With this record I just had to accept myself for who I am: I'm not a natural singer and I don't think I ever will be. But somebody has to sing it, and for now that's me. I decided to push myself, figure out what my voice is actually capable of and use what I've got."
Do you still feel as if you need to reinvent yourself each time you begin working on a new project?
"Certainly, but it's very much an internal pressure, it's not something that is coming from outside of me. I couldn't stand making the same record over and over again, I would be so bored that I wouldn't be able to finish it. I need to be in new territory all the time, I just thrive on that feeling. I don't know where I'll go from here, but I'm sure it will be unexpected. I wouldn't be happy if it wasn't."
Zammuto plays at Schubas on Sep 9 at 8pm.