Q&A: S. Carey
Bon Iver drummer Sean Carey chats about his new record and favorite canyon on earth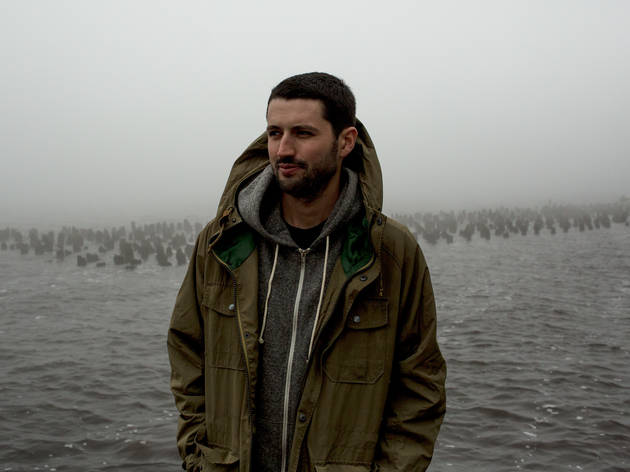 Shortly after drummer Sean Carey graduated from the University of Wisconsin—Eau Claire, he stumbled upon Justin Vernon's early Bon Iver recordings and asked to play with him. He has served as the group's drummer ever since, touring and recording with Vernon while still setting aside time to work on his own music. Carey's latest solo record, Range of Light, features a collection of peaceful chamber pop tunes, not unlike the work of his famous Eau Claire cohort. We spoke with Carey in the midst of his current North American tour.
You grew up playing the drums and were a percussion major in college. How does this affect the way you approach songwriting?
With some of my earlier songs, I tried to stay away from drums as much as I could—they were anti-drummer songs. There was still percussion in the songs, it was just more orchestral and delicate. I think that some of the songs have certain rhythmic undercurrents that definitely come from my background studying percussion and drumming. I really like to play with different time signatures and layer rhythms on top of each other. I'm always trying to integrate those tendencies into folk and pop songs.
Your new record, Range of Light, certainly isn't filled with drum solos. What inspired your minimalistic approach to rhythm on your new record?
That's just what interests me. I love rock drums, but at a certain point I get bored with it. If I'm writing beats, I want them to be a little bit more interesting. Frequently, that turns into layers of different percussion instruments, like shakers or wood blocks. I'm inspired by bands that do textural things with rhythms, such as Menomena, Megafaun and Califone.
Much of the lyrical content on Range of Light deals with nature. Are there any specific locales that informed this record?
There's a canyon in Arizona that we go to with my family every summer and it's my favorite place on Earth—that's what "Crown the Pines" is about. It's this isolated canyon up in the mountains; it's hard to get to and you have to hike in on elk trails. When you think of Arizona you think of the desert, but this canyon is super green and covered in pine forests. It's a place that I always love going to that really inspires me.
You toured with Bon Iver for around two years in support of the band's last record. Was it difficult for you to transition back to working on your own music?
It's been nice, but I like doing both things. Bon Iver is super exciting, touring is very fun and playing in front of lots of people is satisfying. S. Carey is also great because I take on a different role as the leader of a group. It's a totally different feeling when you're creating your own music and you have musicians that you're playing with that are working on some idea that has been in your head for a couple years.
Unlike your first record, Range of Light was written and recorded with a group of additional players. What spurred the collaborations on this record?
We recorded at [Justin Vernon's] April Base, which is a studio ten miles away from my house. It's a very peaceful place and it's off the grid so you can focus on making music without distraction. Being in a studio with your best friends is a pretty good way to spend a few days. They made the songs better than I even expected, just because of their involvement. It's always nice to have some outside ears on your work.
Your video for "Crown the Pines" featured some beautiful projections. Is there a strong visual element to your latest tour?
We're doing projections for all the songs, so it's actually very similar to the music video. We collaborated with a lighting designer named Michael Brown who has worked with Bon Iver, Wilco, Grizzly Bear and the National. I think it enhances the music. It keeps the vibe in the same place and helps unite the audience.
S. Carey plays Lincoln Hall April 23 at 9pm.