R. Kelly | Interview
Has the R&B star changed his ways?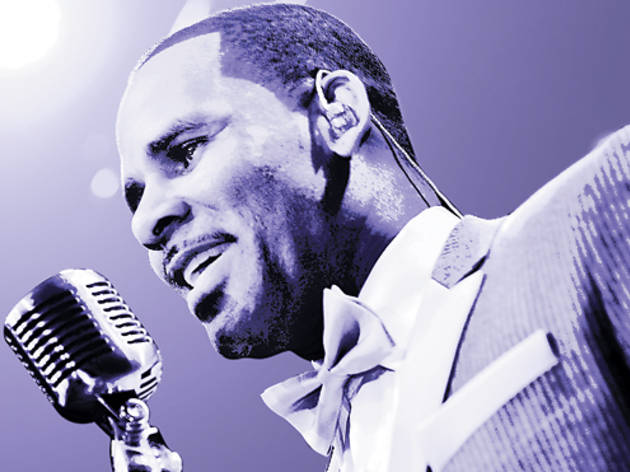 This year, R. Kelly released his 11th studio album, Write Me Back, and published his memoir, Soulacoaster. On November 23, new episodes of his hip-hopera Trapped in the Closet premiere on IFC. So far, 2012 is a far cry from 2008, when the R&B singer was acquitted of child-pornography charges. In South Carolina, the Chicagoan, 45, spoke by phone during a break in rehearsals for his Single Ladies Tour, which stops at the Arie Crown October 25 and 26.
I understand lots of women toss things onstage when you're performing.
Mainly you've had panties tossed onstage a lot. The women, that's like their tradition. I've had money thrown onstage, dollars, couple of five-dollar bills. I took the money, but it wasn't much. [Laughs]
On Write Me Back, you sing, "When a man lies, he kills every reason / She ever had for loving him / Mirror, I'm talking to you."
I'm allowing the men to know that I've also been in that position. In the past I've lied to my girl and I've gotten in trouble and lost her or gotten into arguments, and they was all my fault.
What's a lie you regret having told?
Well, that I didn't have another girl. [Laughs] It's the traditional man lie: "You're the only one." But you end up losing the ones you really love and you never thought that you could lose, and it hurts your heart forever.
Secrets and lies are also a theme in your Trapped in the Closet series; every character is involved in infidelity. Do you think, unlike your character, you could be faithful to one woman?
Oh, absolutely. And I have, at times. But when you're feeling single, you feel you can mingle.
Would you rather just be a "sexosaurus"?
There's a time and place for everything. You're younger, you might want to go to clubs and kick it, but as you get older, you start seeing that life has more meaning to it. The people that you love are the people you want to start trusting and start wanting them to trust you and start respecting them.
On your site, you say of your new album and memoir, "[People] already know who R. Kelly is. But I felt it was time they met Robert the person." What's the biggest misconception about Robert that these works will correct?
It's not about it being a big misconception. It's just that if you don't know someone, you don't know 'em. And when you're as famous as I've become, it comes a time when your fans deserve to know a little bit more about you than just the music. I've heard people have written books of me. People don't even know me, but they've written a book on me. You ever heard of hearing it from the horse's mouth? I'm the horse.
Reviews of the book mention the two sides of your work: the spiritual and sexual. And you write about going to church as a kid but then being molested, seeing an adult couple having sex in your house and having to photograph them. Do you think your childhood led to the double-sided quality in your music?
Absolutely not. If you're gonna tell your life story, you gotta be honest, or don't do it. That book was all about my fans and letting them know who Robert was when he was coming up.
You don't see any connection between your upbringing and your songs?
Well, I believe that the depth of your struggle can determine the height of your success. I was inspired to come out of everything I've been through and end up in a place where I never thought that I would be. My mother wasn't rich, and I never seen my father. I was a street performer. I've been shot. And now I'm known around the world, and I've touched a lot of people with my music. That's one of the great testimonies that's gonna go down in history.
In the book you describe drinking from your mom's coffee mug, putting your mouth where her lipstick marks were. Given that closeness, were you ever able to ask her about what was going on in your childhood home?
No, I love my mother too much, man, to bring that to her. I really loved my mom, so I never addressed a lot of things with her because I never wanted to see her sad. I never wanted to put her in a position where she was uncomfortable. Mom is Mom. And I would hope no guy would do it. Now, I did ask her about my father, but after she blew that off or told me what she told me, I just let that go as well.
One music writer said that after your 2008 trial you emphasized "neutered classic soul over the more salacious music [you] specialized in previously." Do you think you've had to curb the sexual quality of your music because of the legal troubles?
Absolutely not. If I can do a Love Letter album and I can turn around and do "Bump n' Grind" and then do "I Believe I Can Fly" and get four Grammys, why not take my talent to those levels? It has nothing to do with anything that I may go through. It's just my gift, and I know how to work it, and I'm gonna work it as long as my fans is asking for it.
Your next album is called Black Panties. Is that a return to the raunchy R. Kelly?
Actually, it's not a raunchy album, and there's never a return because I don't feel like R. Kelly is gone. It's just that R. Kelly know how to switch lanes. You stay in one lane, people know what you gonna do, now they not gonna buy your albums. That's why I switch lanes.
You inspire a lot of humor. Have you heard of Dave Chappelle's video "Piss on You"?
No. I spend a lot of time in the studio, man.
R. Kelly plays the Arie Crown Theater October 25 and 26.
Read outtakes from this interview—in which Kelly's publicist gets super-duper mad at us for asking the obvious question—here.