Redgrave | Interview
Bluesy Chicago duo Redgrave makes the most of a second chance. We chat with singer Angie Mead in a dive bar to get the full story.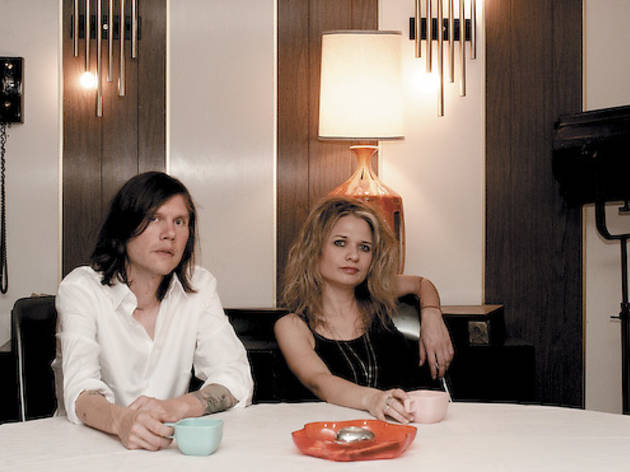 At 2pm on a Thursday, there is nobody sitting in the L & L Tavern but Angie Mead. The slim singer-songwriter sips rum and Coke and picks at a piece of crab rangoon that was offered up by the bartender. "I haven't eaten since 1985," she jokes. Mead looks out the front window, to the corner of Clark and Belmont, and recalls one late night when she was mugged around the corner, on her back steps after watching Schindler's List. "I could smell the carbon on the gun," she says. "I was taking criminal justice courses, so I was trying to reason with the guy."
Shortly thereafter, around the turn of the millennium, Mead left Chicago for Los Angeles with $400 in her pocket. To "make it," she says with scare quotes and a shake of her head. Just over drinking age, Mead worked in a guitar shop and hustled a Monday night residency at the Gig, a club on Melrose. Her bass player worked at the hip songwriters' den the Largo, where Mead was able to brush shoulders with Aimee Mann and Elliott Smith. She got to meet Lemmy in a strip club, and once went to Stephen Stills's house. Yet she was scamming McDonald's for food, yelling at the counter staff about fictional burgers that were left out of her bag. "I had no idea what I was doing," she says. "I realized how much I had back in Chicago." So she moved home. However, ten years would pass before Mead would again make music.
Today, the 34-year-old lives in an empty apartment in Avondale. All the furniture has been moved out to make room for recording equipment and gear. "To give myself a sparse space to write," she says. Over the winter, after working as a publicist for Bloodshot Records and Uncommon Ground, Mead was suddenly unemployed. And she had just suffered a rough breakup. "I had a lot of loss. I couldn't even listen to music because it reminded me of what I wasn't doing," she says as Lee Hazlewood's "Some Velvet Morning" pours out of the jukebox.
Alone, in her bare rooms, Mead began recording demos with an acoustic guitar and an iPod Nano. She locked herself away for days on end "without eating or seeing people," and sent the resulting demos to Stephen Howard, who played bass in one of her favorite old local bands, Pinebender. She asked him to drum. "I always knew Steve was the only guy who would not write me off as some singer-songwriter. I wanted to be heavy, dirty, bluesy." To underline her change in aesthetics, Mead claims Detroit as "her most favorite place on earth."
During our chat, Howard, 36, is down the road rehearsing zither with the Blue Man Group. I call the jobbing musician a couple of days later, as he is driving through the Poconos on the way to a gig at a regional blues festival. "I had heard Angie's things years and years ago. People ask me to play a lot. Most of the time I don't dig it. So the demos sat unlistened to for a month," Howard says. Eventually, he listened. "I never thought I'd try to start another original band. But her songs are so awesome. There's a need for it."
"I went from thinking he's a flake to him being so deep into this. He's like an angel to me," Mead says, before berating herself for being so cheesy. Howard has been scouring eBay and music shops for gear. He had to find an electric guitar that Mead could play upside-down and lefty. She insists that I not compare the band's dirgy songs to the White Stripes and PJ Harvey. I do have to ask about the band name, though. "I didn't even know who fucking Vanessa Redgrave was!" Mead says. "It sounded pretty and romantic. Plus, Satan's Ship was already taken."
Redgrave plays its fourth show, to celebrate a new 7-inch, at Schubas Thursday 1.