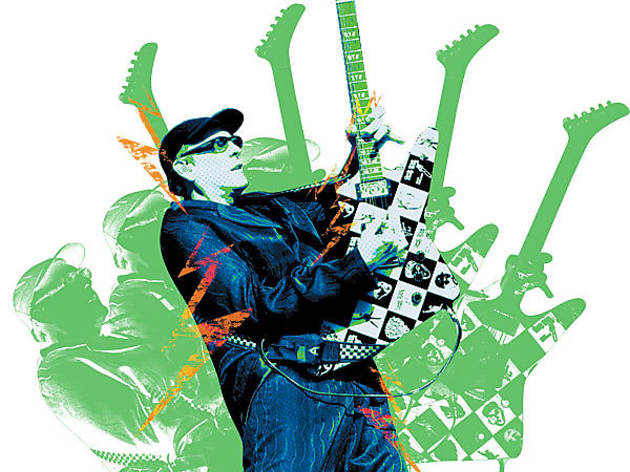 Rick Nielsen of Cheap Trick | Interview
Rick Nielsen and Cheap Trick keep playing "Surrender" but show no sign of giving up.
Cheap Trick invented the notion of being "big in Japan." Thirty years ago, the struggling quartet from Illinois released its smash fourth album, Cheap Trick at Budokan. Finally, those early overlooked gems such as "Surrender" became radio staples.
Even if Cheap Trick never ascended to rock & roll Valhalla like Led Zeppelin or the Stones, the band members have been should-be superstars for so long they've become icons out of sheer stubborn stick-with-it-ness. Not even having their greatest hit covered by Lindsay Lohan could compel them to throw in the towel.
After recording themes for That '70s Show, The Colbert Report and Transformers 2, the smart-ass power-pop staple recently released its 16th album, The Latest. But goofball guitarist Rick Nielsen's biggest local hit might be Piece pizzeria (1927 W North Ave, 773-772-4422), which he co-owns. We spoke with the suburban dad over the phone from his Rockford home.
Time Out Chicago: Piece is mecca for those of us who loathe the local deep-dish. Are you not a fan of Chicago-style pizza?
Rick Nielsen: Oh, sorry, Chicago, no. It's the crappiest stuff.
TOC: That's heresy for an iconic Chicagoan.
RN: Chicago-style pizza is a loaf of bread with a can of V8 juice on top of it. Piece is not an investment, it just keeps me from spending money elsewhere. I only try to be involved with stuff I actually enjoy, like my guitar collection.
TOC: "Sick Man of Europe," the single from your new album, was Cheap Trick's old name. Why the sudden nostalgia?
RN: It was a bad idea for a band name years ago. And here we are X amount of years later. If it's a bad idea, we'll take two.
TOC: But it's worked out well for you.
RN: We've got stuff in TV shows, movies, video games. We're played in more places now than when we were supposedly popular.
TOC: It seems your biggest fans are in the film and television industry.
RN: Last year there was a Mexican movie, Rudo y Cursi. The director was taking his kids to school one day trying to think of a theme for this thing, and his kids start singing "I Want You to Want Me." So now you got a Spanish version of it. Wow. I'm moving to Guadalajara.
TOC: How did you end up making the Colbert Report theme?
RN: Before the show started, we got a call from Steve Colbert. I liked his segments on The Daily Show. They reminded me, in an odd way, of Max Headroom, that clone or whatever. Steve said, "I like your song 'I Want You to Want Me,' and I want everyone to love me." So I just turned the melody to that song around.
TOC: Why name it "Baby Mumbles"?
RN: Robin [Zander, Cheap Trick singer] and I did vocals that were like…[Sings] ba-la-la-la-gaga. I did background vocals like that—stuff that doesn't say anything—on a John Lennon record, and he called them baby mumbles.
TOC: You are to guitars what Jay Leno is to cars. How many do you have?
RN: Probably over 400. Then I have about 2,000 pieces, parts and things I've been collecting since the '60s.
TOC: Do you play them all?
RN: Oh, yeah. I don't care if they aren't in mint condition. Every guitar, from the cheapest to the most expensive, has something the others haven't. They're like cell phones. You know, the iPhone might have cool apps, but it's on stinkin' AT&T.
TOC: What's your most valuable?
RN: I have one that took me 30 years to find, a 1963 Guild Merle Travis. They only made three, and I had only seen pictures. Back then it cost $2,000, the kind of money for a Ford Mustang. Pete Townshend owned it at one point.
TOC: Good thing he didn't smash it. As a collector, does it break your heart to see guitars destroyed to bits?
RN: I have smashed guitars before.
TOC: Often?
RN: Well, you know, I restrain myself. I will never resort to it. I'm not like Paul Stanley from KISS, who saws the neck halfway through so he can break it.
TOC: Do you ever regret breaking a guitar on stage?
RN: I've broken the one that looks like me, the Uncle Dick. I smashed that in Santiago, Chile. My gear wasn't working. My guitar tech of 20 years quit. It was real emotion I had. That's what I do; I'm a musician. It wasn't part of the show, but it was part of the show.
Cheap Trick headlines 104.3 Jack FM's Jack's Cheap Christmas at Allstate Arena on Thursday 10.