Robin Thicke | Interview
The R&B singer-songwriter judges—both ABC's Duets and his love life.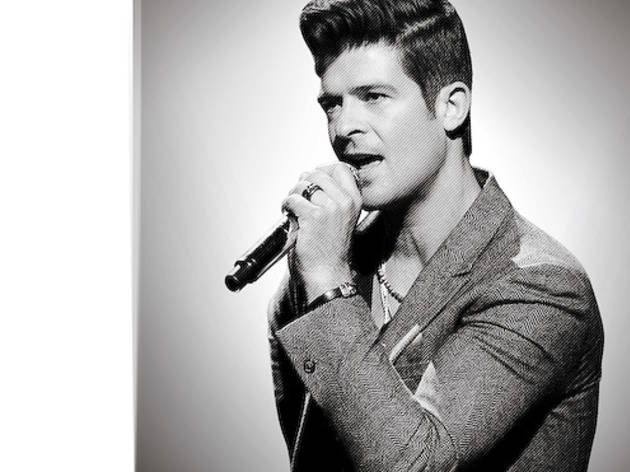 Robin Thicke is driving to the ABC studios in L.A. for the new singing-competition show Duets. "So," he says, "I apologize if I break in and out a little bit." The line dies four times during our brief chat. In between, we manage to discuss the R&B singer-songwriter's fan base of black women, love life with actress Paula Patton and the TV series in which he and fellow judges Kelly Clarkson, John Legend and Jennifer Nettles each partner with two contestants. Duets sees the 35-year-old on the same network that aired the '80s sitcom Growing Pains, which starred his dad, Alan Thicke.
Tell me about your Duets partners.
I don't know if I'm really supposed to before the first episode airs. I can tell you they're both girls.
Not surprising.
Yeah, I seem to have good chemistry with women. [Laughs] They're wonderful girls, and they're trying very hard. You know, they're a little green. But it's not how you start; it's how you finish.
Any tips from your dad about getting into TV?
"Make sure you have some good one-liners ready." [Laughs] He's got some old Hollywood tricks in his back pocket. "Get some sound bites."
Check your teeth before you go on.
Exactly. "Make sure you get your hair done right."
People who've seen your concerts here in Chicago tell me women, especially black women, go crazy for you at your shows.
That's a very nice compliment. I appreciate that.
You must get interesting proposals.
It's showbiz, baby. Proposals are everywhere.
What does your wife make of that?
Maybe she's delusional, but she always tells me I'm the greatest.
You've been pretty open in talking about your personal life with Paula. In December you told Essence, "I like to try to get her into double-digit orgasms as much as possible."
The problem with doing interviews is that they don't say, "he said jokingly" or "he laughed out loud and slapped the table four times." I mean, I'm a comedian. They just went wherever they wanted with that. They didn't say I was laughing my head off as I said it.
We'll make note of that here then.
Yeah, I mean, jeez, if I could get her to double-digit orgasms, I'd be a scientific experiment.
You wouldn't be talking to me now.
Yeah, I'd be busy. I'd always be busy. [Laughs]
Do you ever play your own music in the bedroom to get in the mood?
No, sometimes she tries to play my music in the bedroom, but I always end up judging it. Like, oh, the bass is too loud; I should've added some more background here. So I can never focus. The only time it works is if I play her a new song and she goes, "Hold on, I'll be right back," and she comes back in lingerie. Then I know it's a good song.
You've remarked that you have a 90 percent black female audience. Do you see Duets as a way of broadening your fan base?
I sure hope so. That's what I'm trying to do. I'm obviously the least well known out of the four of us. I'm the underdog, and I'm used to being in that situation. My songs don't play on pop radio; they play on black radio.
Oh, I'd say you're more well known than Jennifer Nettles.
That's the beauty of art. There's an audience for all kinds of great art. I'm sure people wouldn't know me very well in the country world, and people probably wouldn't know her very well in [my] music world.
Do you find yourself still having to address questions about being white and singing R&B: "You're a white guy playing black music"?
It's so funny how we use white and black. What I always say is I sing soul music—because it's from my soul. Bob Dylan and John Lennon and Bruce Springsteen, these are soul guys. Bruce Springsteen might not sing like Otis Redding, but he sings with white soul. He's singing and he's writing songs from the bottom of his gut.
Since you've never dated a white woman and have just a few white male friends—
I haven't dated anybody else since I was 16. When I was in junior high, I went steady with white girls.
Do you find yourself more interested in black culture generally?
I don't think so. You've got to pick a table in high school to sit at, so I ended up hanging out with black people or black culture 'cause that's what I was into when I was younger. The older you get, the more you like all different cultures. I'm trying to create the world around myself to be a place of as much equality and openheartedness as possible.
Duets premieres May 24 at 7pm on ABC.