The Beach Boys | Interview
Mike Love and Bruce Johnston chat about the Fat Boys, Pink Floyd, Van Dyke Parks and Brian's brilliance.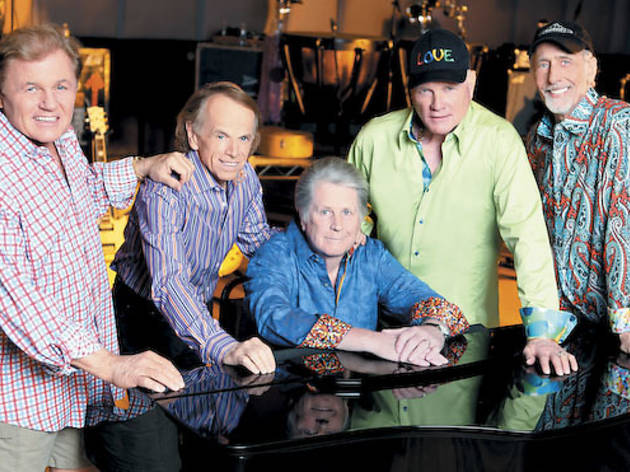 Celebrating 50 years, the Beach Boys have reunited all five surviving members of the early '60s—Brian Wilson, Mike Love, Al Jardine, David Marks and the new kid, Bruce Johnston, who joined in 1965. In addition to a nostalgic tour, the band has cut a new record, That's Why God Made the Radio.
Though troubled genius Wilson has recently come back in the fold, Love has kept the band name alive by dishing out the group's early teenybopper hits on the state fair and casino circuit. Love, Wilson's cousin, has always been seen as the crassly commercial foil to Wilson's brilliance. But is that fair? We reached Love, 71, and Johnston, 69, by phone as they prepared to tape an appearance on Late Night with Jimmy Fallon.
Mike, your falsetto has a lot to do with selling Brian's themes, yet you're overlooked by critics.
Mike Love: Part of that stems from the fact that I was not included in the writing credits for "California Girls" and other songs. When Uncle Murray [Wilson] did the publishing, he didn't put my name on them. So there was the impression that Brian did everything, which wasn't true. I was responsible for a lot of concepts and a lot of lyrics.
Bruce Johnston: If Mike didn't do what he did, we would not be standing here. Brian's amazing, but Mike is so aware of what the public wants.
In 1987, you made a rap record with the Fat Boys.
ML: "Wipeout!" That was great, really brilliant! It was number one on MTV for about a month. It was our idea to do this, and their album sold 2,800,000 copies off of "Wipeout!"
BJ: We were in Houston, we met their Swiss manager, and we suggested the instrumental "Wipeout." If they did the rap, we would find the hook. It went number one in Germany, number two in England.
Bruce, you were on Pink Floyd's The Wall.
BJ: Well, I was a little sonic window dressing on it. I did some of the vocal arrangements and got to sing. What happened was they approached the Beach Boys—no one knows this—to sing on The Wall. We were in Dallas. We got a great studio, but [Pink Floyd] just couldn't get down there, so we couldn't get the bands connected. That would have been something.
What Beach Boys recording are you most proud of?
ML: "Good Vibrations" was unlike anything that came before. I collaborated with Brian. I wrote every word of the lyrics of that single, which was enormously successful. I also collaborated on "Kokomo," another number one record, huge record. They say it was bigger than "Good Vibrations." It's a wonderful record, and I dig the heck out of it. But "Good Vibrations," I'd say, is probably the one I'm most proud of.
What track do you wish you never recorded?
BJ: Some cockamamie song from some movie we did in the '80s. It was terrible! I blocked the name out of my head.
What was the movie about?
BJ: A little boy who was being a bad boy all the time. [1990's Problem Child, which inexplicably uses the Beach Boys instead of the AC/DC song].
ML: I wasn't a big fan of some of the [Smile] lyrics done by Van Dyke Parks. I had no problems with the music or vocals. Brian's voice was amazing! But some of the lyrics were a bit much for me. Words are meant for a reason. They have a purpose, which is to communicate, and if you get too out there… It's as if Lewis Carroll visited the Beach Boys. I'm the one who did every single word of "California Girls," and that is so descriptive and inclusive of all the girls in different parts of the United States. I think about stuff like that. So when you get a lyric that's too indecipherable or doesn't make any sense, although it can be appreciated as, what do you call it, "creative," I'm competitive by nature. I want music to be successful. I want it to sell.
The Beach Boys visit Chicago Theatre Monday 21 and Tuesday 22. That's Why God Made the Radio is out June 5.