The best tracks of 2011
A countdown from ten to "Countdown."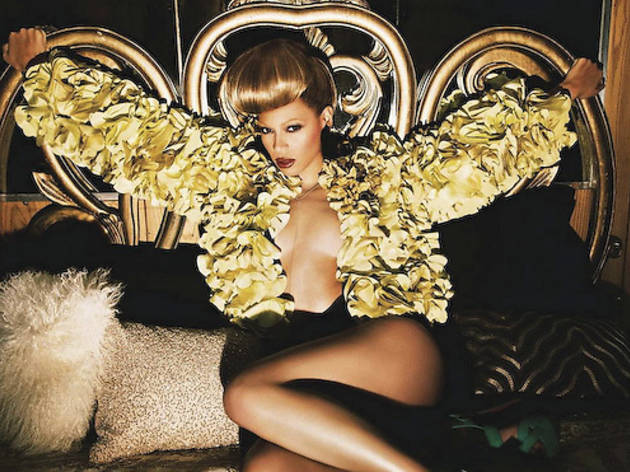 "Rolling in the Deep"
Adele
Hands clap and hallelujahs cry as the rhythm does the Hustle. It carried an entire blockbuster on its back. A list without it is just disingenuous.
"Suck It and See"
Arctic Monkeys
Line of the year: "That not a skirt, girl, that's a sawn-off shotgun / And I can only hope you got it aimed at me."
"Countdown"
Beyoncé
This breathlessly zips back and forth through five hit bits in under four minutes. It's a creamy Supremes milkshake poured over a drumline rumble. No, a cheerleader routine. No, a love letter. Then there's that NASA countdown chorus. It packs more curves than Queen B's body.
"The World (Is Going Up in Flames)"
Charles Bradley
Bradley cut this gutting shortly after his brother died. His voice, as worn and supple as an old baseball glove, leaves scar tissue on the vinyl. This is about salvation through survival. Anything else calling itself soul sounded phony in comparison.
"Black"
Danger Mouse & Daniele Luppi feat. Norah Jones
A romantic blend of Jones's musky vocals, Italian film scores and gunslinger ballads. So classy, it should require a jacket and tie.
"Graveyard"
Feist
On paper, it reads like Danzig lyrics. Yet Feist's chickadee chirping beams through the winter gloom, as she chants, "Bring 'em all back to life!"
"Paradisco"
Charlotte Gainsbourg
It fulfills the promise of its fantastic title. The French actress layers her mille-feuille melodies as producer Beck obeys his "Sexx Laws."
"I Follow Rivers"
Lykke Li
The Swede writes a love song as Aeschylus would, in a swirl of black veils, with whirlpool organs and pagan percussion.
"Codex"
Radiohead
Its best piano ballad yet. A sense of weightlessness arises from the melt-away horns and Thom Yorke's idyllic lines. And people call him gloomy.
"Life Is Simple in the Moonlight"
The Strokes
Casablancas croons, "There is no one I disapprove of or root for more than myself," as the mood glides from gorgeous doldrums to triumph. A killer guitar solo flutters in like a cosmic crystal banjo.