The Drums | Interview
Jonathan Pierce comes to terms with his thoughts on God and the afterlife on Portamento. It's a far cry from odes to surfing, but just as sweet.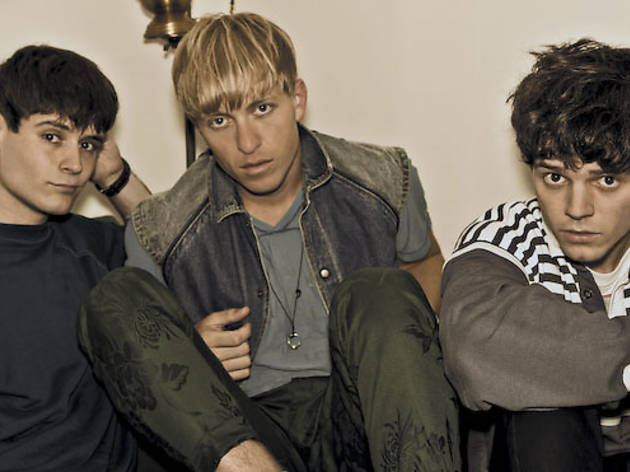 Photoshop can remove the eerie red eyes caused by a camera's flash. The Drums used the software to paint them in. Frontman Jonathan Pierce is resting in an Irish hotel room and describing to me the cover of his band's second album, Portamento. "The cross hanging on the wall, the cryptic lady standing next to me, the dark atmosphere, that awful blue garland," he says over the phone. "All typical of my childhood." Pierce was raised in the fabulously named and less fabulous to live in small town of Horseheads, New York. "It was a very extreme, religious household. I never bought into that for myself. So I was viewed as an evil child," he says, explaining his devilish corneas.
Pierce bolted Horseheads for New York City as soon as he could, to helm a synth-pop band, Elkland, which was signed and promptly ignored by Columbia Records. The 27-year-old is no longer in touch with his parents. "I talk to some of my siblings, who have come to terms with certain beliefs I have," Pierce says. "It becomes difficult to talk about anything except for the weather and…the weather."
The singer has no such difficulty opening up for an interview, or in song. "Book of Revelation," track one on Portamento, immediately delves into his metaphysical wrestling. "I believe that when we die, we die," he croons sweetly over the bubbliest of tunes. "There's no heaven and there's no hell." Pierce jokes the song is almost 30 years in the making. "As much as I would say I didn't believe in that stuff, there was still this small flame of fear burning in me, like, oh God, what if it's all real?" he confesses. "It wasn't until the making of this record that I 100 percent came to terms with how I felt." Even some of the band's managers and handlers grew itchy with the notion of leading off with "Book of Revelation." It could be polarizing, they worried. "But we're a band that likes to push buttons," Pierce says.
That may surprise listeners familiar with the sunny melodies of the pop group's debut. "I wanna go surfing," went that record's most catching refrain. The Drums, like all good bands, began with a complete, fantastic concept. After the demise of Elkland, Pierce reconnected with an old camp friend, Jacob Graham, and retreated to Florida to build the Drums from scratch. The two wrote songs based on scenes from movies, or scenes from movies they made up. The formula was simple: Imagine a hybrid of one beloved American influence, the Shangri-Las, and one U.K. influence, the Wake, a postpunk obscurity.
After whipping up some demos, the guys invited Graham's mother to their apartment to hear the results. She left quietly and politely. "Jacob and I thought, Okay, well, maybe nobody will care about this," Pierce says. Mom was wrong. The Drums quickly became the biggest Big-in-England success out of New York since the Strokes. "I don't know if there's been another band in the last ten years as hyped as the Drums," Pierce considers without a trace of boasting, nearly sighing.
Pierce grew tired of having interviewers ask about his trendy hair. "It was time to step out of the clouds and put our feet on solid ground." The demise of the Drums has been given just as much consideration as their creation and second phase. "I like the idea of putting out a few strong albums then going away forever," Pierce says. But first, there's the business of having thousands of festivalgoers in Dublin sing along to his thoughts on the afterlife.
The Drums visit Subterranean Tuesday 4.