The girl who cried terrorist
M.I.A. returns in a tornado of controversy. But is she no more than a windbag?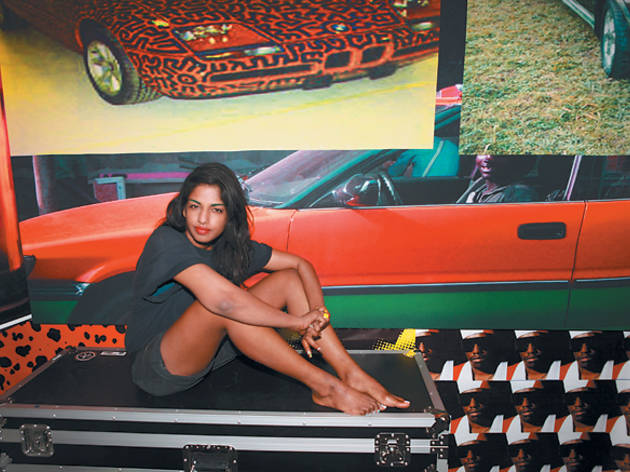 It was not how Maya "M.I.A." Arulpragasam had intended to promote her third, eponymous album, MAYA. Lynn Hirschberg of The New York Times spent days with the Grammy- and Oscar-nominated provocateur. It was an unflattering profile of the 34-year-old mother and rising pop star, to say the least. Weeks later, M.I.A.'s foot flew to her mouth in GQ, when she claimed she moved to the exclusive enclave of Brentwood, Los Angeles, because she couldn't afford Brooklyn. With the new record out this week, our Music and Nightlife editors sat down to ponder the aftereffects.
BD: So, do you care that M.I.A.'s an idiot?
JPF: Reading that NYT article, you get a different impression of her. She's more of a creative director than a musical talent.
BD: Isn't that what major pop stars like Madonna have always been?
JPF: Yeah, I didn't realize to what extent M.I.A. was also doing that. You wonder how much her albums are her or her producer, Diplo.
BD: She smelled like an act from the beginning. I wasn't scandalized by the Times pulling the curtain back on the wizard. But a weird thought struck me. M.I.A. is just like Sarah Palin.
JPF: Ha. Go on.
BD: M.I.A., who relied heavily on back story to get in the spotlight, just got loads of unflattering press. She embellished her father's back story. She demonstrated little knowledge of Sri Lanka. Equate that to, "I can see Russia from my backyard!" So in response what does M.I.A. say? "I didn't order truffle french fries." Brilliant diversionary tactic. Like, "Where was Obama really born?" And the anti-journalism sentiment from both was eerily parallel.
JPF: She used diversionary tactics to get signed on her label, XL. She said, "I should be on your label." Not, "Here's my music, it's dope." From the get-go it had nothing to do with the music.
BD: I find it hard not to loathe her as a person. That's affecting how I listen to her music.
JPF: I'm in an odd spot as a DJ. Take someone like R. Kelly. I'm not rushing out to buy his album, but I'm not holding his icky personality against his abilities to get a club dancing.
BD: With M.I.A., it goes beyond personality. She's a hypocrite. Her entire stage act is this guerilla, radical figure. Now she's revealed to be completely unknowledgeable about politics.
JPF: Taking her authenticity to task does make me less interested to hear what the album is about.
JPF: What's interesting is that M.I.A. is not and was not geared to be a big pop star.
BD: Right, her new single, "Born Free," is metal.
JPF: It's just shock. Her first release was called Piracy Funds Terrorism.
BD: She knows this. The album cover is YouTube bars. She's a living viral video. She's savvy. Unlike Lady Gaga, who uses generic electro-pop as her platform, M.I.A. knows that the music is ancillary to what people are saying about you. If people are tweeting and tuning in to see what you're up to, the music can be anything.
JPF: M.I.A. came up with music fans who were more closely listening to her. Those fans who loved how raw and crazy she was. It wasn't until Slumdog Millionaire and "Paper Planes" that the public cared. For others it's, oh, she's in the press and I should be listening to this.
BD: We're both reluctant to call her an artist. An artist can obviously create something that's not representative of their true person. In someone else's hands, it can be provocative. MAYA is quite similar to Björk's Volta. "Lovealot" in particular brings to mind Björk's "Hope," a song about an Islamic suicide bomber who hides explosives under a fake pregnant belly. That song makes you think. M.I.A. makes your knee jerk. That's the difference between a good artist and a bad artist.
JPF: M.I.A. had a limited run of Reeboks. They had little pastel grenades stenciled on. It's a never-cry-wolf thing. Saying all these charged things, people are going to tune out. If she comes up with something worth saying at some point, once she realizes that's what she has to do, no one's going to believe her.
MAYA is out Tuesday 13 on Interscope Records.