The Hives | Interview
Hives frontman Pelle Almqvist chats about money, playing rock and roll in the desert while wearing tuxedos and proper knee maintenance for lead singers.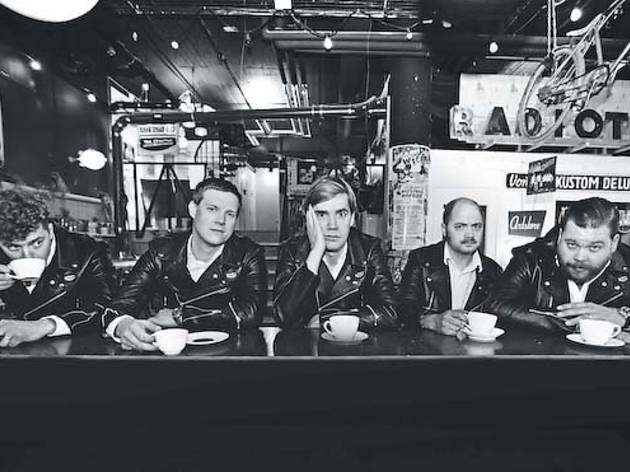 "Sit down, Tom Hanks!" Pelle Alqvist yelled at the VIP section of the Coachella 2012 crowd. He was commanding the entire audience to take a seat, and the privileged were not abiding. When I reach him at home in Sweden, the Hives frontman admits he was not entirely sure if Tom Hanks was in attendance or not. He just thought it sounded funny.
Moments like that make the Hives one of the greatest live rock acts on the planet. Perhaps the greatest. After a long wait, the Swedes recently unleashed their five-years-in-the-making fifth album, Lex Hives.
Many of your new songs are about money. Was that a conscious response to the economy or just something that came up while recording?
A bit of both. I think it sounds cool when you scream, "MONEY!" over and over. We started recording in the last boom year, before the crash. It was even worse than the '80s. Clothes were bigger than ever, shades were bigger than ever, handbags were more expensive than ever. And it ended as we were making the album. It's not necessarily that political.
In hip-hop, musicians can talk excitedly about money. In rock & roll it's not done much anymore.
A lot of so-called rock & roll bands are super lame and boring. There's no sex in rock & roll anymore. It's just love. Which is not as fun to think about. Everyone has a girlfriend that broke up with them. No one is like, "Shit, man, I got money and I'm horny!" Rap is doing that now. We're just trying to take back a bit of territory.
Your band wardrobe has taken on the look of Uncle Pennybags from Monopoly.
[Laughs] We were all thinking it was a cross between Dracula and Fred Astaire, which is pretty much how I see myself.
Do you ever regret the wardrobe decisions when you're playing a summer festival and you're wearing top hats and tails?
No. There's something powerful in the fact you are doing it. You know, "Fuck weather!" There's nothing cooler than a guy who's dressed completely wrong for the environment. Three-piece suit in the desert. Swim trunks at the North Pole. You look like a pretty unsafe guy.
Why the title Lex Hives?
If you write something mundane in Latin, it'll sound like the smartest thing anybody has ever said. We like using Latin. It sounds super important. It's a celebration of the Hives. When we formed the band, we had a set of rules, the Lex Hives, basically. We don't use this drum beat. We don't use reverb, etc.
Do you still abide by those rules?
Pretty much. They've become so much a part of our DNA that we feel a little nauseous when we try to break them.
You're coming up on your 20th anniversary. Hard to believe. You must have been a teenager when you started.
Yeah, like 14. It was pretty similar to what it is now, actually. It's not that far off. It was worse. [Laughs]
You just played with Bruce Springsteen at a festival. I was hoping you could confirm a rumor. I heard he sponges his knees to help slide across the stage.
Yeah, I've seen that happen, but he doesn't make a big secret out of it. It's in plain sight.
Do you have any tips of the trade like that?
No, but I got pretty bummed when I learned James Brown had kneepads. I had been doing knee drops for ten years, and I was thinking, "Well, James Brown's legs were fine." So my legs will be completely shot when I'm 60.
The Hives play Vic Theatre Saturday 30.