The impact of the Dave Matthews Band Caravan
Will the music festival help drive one of the biggest construction plans in Chicago history?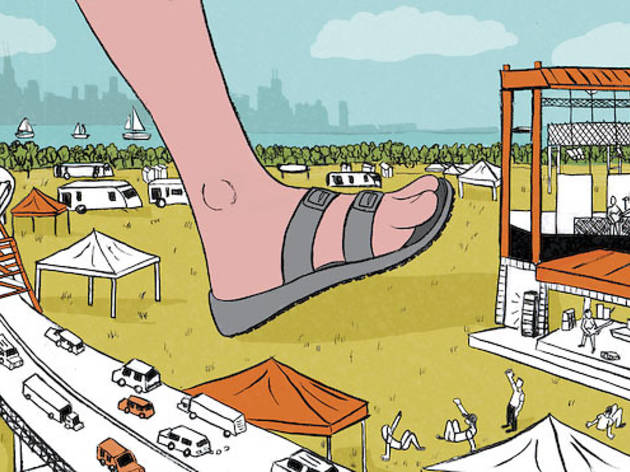 When announcements for the Dave Matthews Band Caravan began appearing last spring, its Far Southeast Side setting—around 83rd Street on the lakefront—piqued as much curiosity as excitement about the touring festival, whose Chicago stop (July 8–10) features Matthews headlining three nights. "I don't think I've ever been that far south," says Katie Marta, 30, a DMB diehard from Lincoln Park. "And I bet over 95 percent of the people going have never been close to being in that area."
"That area," or the neighborhood known as South Chicago, used to be a thriving pocket of well-paid steel workers and their families surrounding a U.S. Steel plant. But in 1992, the plant shuttered, leaving vacant 567 acres of prime lakefront property stretching from about 79th Street to 92nd Street. Today, the communities around it, filled with working-class black and Hispanic populations, range from neat (bright taquerias and cozy day-care centers) to rows of dilapidated housing and windowless pubs.
Jerry Mickelson of Jam Productions, the local promoters of the Caravan (which also features Kid Cudi, O.A.R., the Flaming Lips and more than 20 other diverse acts) has long been intrigued by a site that can hold 70,000 fans. "To have 600 acres of open land ten miles from downtown in a major metropolitan city is unheard of," he says. When plans for the festival began coming together, Ald. Sandi Jackson (7th) and Ald. John Pope (10th), whose wards share the site, were extremely receptive. And not just because Pope has several DMB songs on his iPad.
"The Dave Matthews Band will be the ambassadors for folks who've never ventured south and have no sense of what a hidden gem this area is," Jackson says. "This is really the opening salvo in our opportunity to build a city within the city."
Plans to reroute Lake Shore Drive to reach the site are already entering their second phase, to be completed in 2013. Construction is expected to begin this year on Chicago Velo Campus, an indoor bike track near the 87th Street Metra station. The Park District is taking over 2.5 nearby lakefront miles to develop as beaches.
And earlier this year, the partnership between U.S. Steel and development firm McCaffery Interests proposed Chicago Lakeside, a 500-acre development between 79th and 87th Streets to include more than 13,000 residences, 17.5 million square feet of retail, a high school and, potentially, the Barack Obama Presidential Library. A promotional video on YouTube shows a forest of high-rises populated by residents sipping wine in cafés. Sound like a fantasy? A $98 million infrastructure TIF makes breaking ground seem a lot more real.
But how real are visions of a rock & roll–led renaissance? Lincoln Park's Marta says she is excited about exploring the location. Other DMB fans, however, are less than intrigued.
"I planned on going to the Caravan with my friends," says East Lakeview resident Ian Kelly Davis, 27. "But when I did a Google search I realized chances were slim to none that I was going. I'm not going to take a $50 cab ride, and public transportation will be difficult at best—can you imagine 50,000 people trying to take Metra and shuttles?"
For now, the neighboring communities are enjoying more modest benefits. About 100 residents were hired to clean up the area. Pope expects festival work crews to draw from his and Jackson's constituents. Local restaurants, vendors and caterers are hopeful their bids with the concessionaire will be fruitful. And Jam has signed a long-term agreement with the site, meaning this festival likely won't be the last concert there.
Sam Gomez, general manager of local newspaper Our Neighborhood Times, perhaps put it best: No matter what happens, "at least this forgotten area has been cleaned up."