The Orwells | Interview
Elmhurst teens graduate from the basement.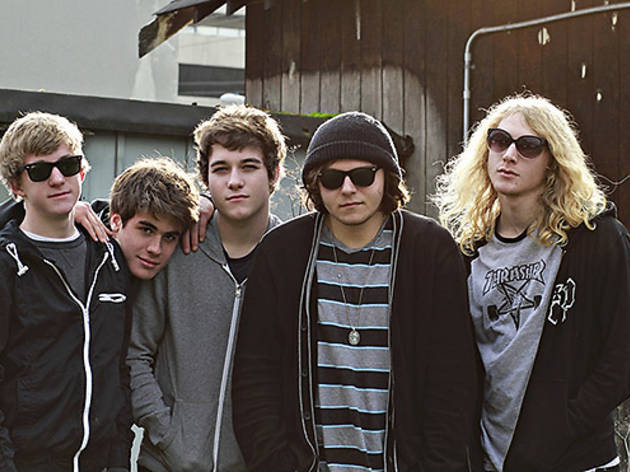 So far, the story of the Orwells is about as idyllic as they come, especially for a garage band that convened when most of its members were in their freshman year…of high school. Currently, the band is in the midst of its first major tour with a stop at SXSW before a Chicago homecoming this weekend in support of its debut album, Remember When, released last summer on Autumn Tone Records.
Matt O'Keefe and Dominic Corso, the Elmhurst outfit's two guitarists, are certainly aware of their good luck when I speak with them over coffee on a cold day in February. Rather than sit through another calculus class, the two 18-year-olds are bracing for an early flight to L.A., where they kick off a month-long tour. (The band members, with the exception of 19-year-old singer Mario Cuomo, graduated a semester early.)
It wasn't so long ago that the quintet, who landed a coveted slot at the Tomorrow Never Knows fest in January, was simply trying to break into the local market. "At first, we didn't know the DIY scene in Chicago so we'd always book shows at Subterranean, and we'd always play the early slot since we were underage," remembers O'Keefe. "No one wanted to come out at 5pm, so we were playing to our parents a lot."
But with the help of fellow young 'uns Twin Peaks, the Orwells honed their live chops at youth-friendly DIY spaces such as FeelTrip and the Observatory. In between, the band found time to record Remember When in a classic garage-band venue: O'Keefe's basement.
It follows that the full-length is filled with buzzing, punk-rock guitars and Cuomo's fuzzed-out singing—not a far cry from the Strokes' 2001 debut, Is This It. The songs tread between hooky garage-punk—the stupidly catchy "Mallrats (La La La)"—and older strains of rock music that predate indie entirely (the shuffling "Halloween All Year"). It's a style that's intentionally loose and in the moment, but not sloppy, which may stem from the band's family ties: Drummer Henry Brinner and bassist Grant Brinner are twins, while Cuomo and Corso are cousins.
O'Keefe chuckles when asked how the band got hooked up with Autumn Tone, a small independent Los Angeles label. "We made the video for 'Mallrats,' and we were sending that out to blogs via e-mail," recalls O'Keefe. "The Aquarium Drunkard guys put the video up, and then they mentioned that they have a small label and asked if we wanted to do a record with them."
A large part of the Orwells' charm undoubtedly lies in the age of its members, which is fitting—rock & roll was originally aimed at teenagers. But how often is it done well by actual adolescents? The band isn't trying to sound older than its years, but it wants to "stay as honest as we can to our experience and background," says O'Keefe. And if those experiences include "malls and high school and getting drunk in garages," then that's what they'll sing about.
Remember When is unabashedly youthful but, as the title suggests, offers moments of reflection. On the slower "Never Ever," Cuomo sings with conviction about a "fear of aging" as the band builds from a slow, bluesy stomp to a cathartic final chorus. That occasional sincerity sets the group apart from the increasing number of skuzzy bands with unintelligible lyrics, as does their ambition. The Orwells have already written another album's worth of songs, which they plan to record once home from tour, with the goal of getting it out this year. And while that drive and focus may seem out of place with the brash personalities they put forward, at heart they're still a bunch of teens. "We pushed ourselves to be better songwriters for this one," says O'Keefe of the outfit's intended follow-up, "but we didn't take it too seriously."
The Orwells play Beat Kitchen Saturday 23.