The Residents | Interview
The avant-garde band celebrates its ruby anniversary with a chilling box set.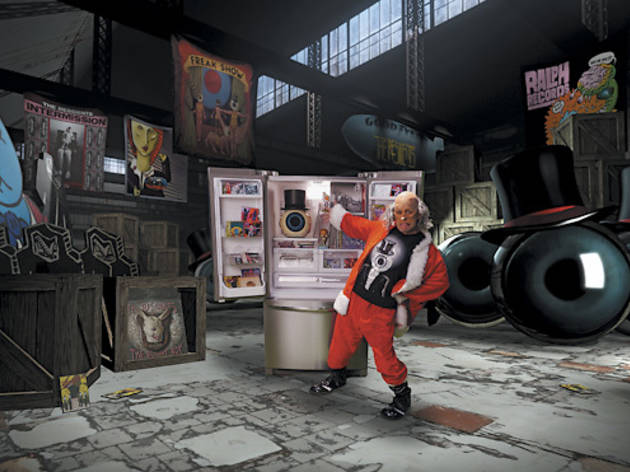 When legendary, mysterious art-rock pranksters the Residents visit Chicago this week as part of their 40th-anniversary tour, they won't be performing any new material, but that doesn't mean they haven't got new merch. In fact, the band's latest box set, a deluxe edition of ten, is one of the most elaborate products any band has ever released. Housed in a full-size stainless steel refrigerator, the set features first editions of every record, CD, DVD, CD-ROM and bobblehead doll the band has released—more than 100 products stuffing the shelves, crispers and butter compartment. Better yet, the freezer contains an actual eyeball-and-top-hat mask used by the band. All this can be yours for the low, low price of $100,000.
As we contemplated taking out a loan for one, we checked in with Residents co-manager Homer Flynn to see how much time we had left before all ten were gone. "No sales yet," he explained in a warm Southern drawl (band lore has them moving from Louisiana to California in the late '60s, though Residents myths and facts are often indistinguishable). "There are a couple of ongoing discussions with people," he added, "but nobody has come up with the $10,000 deposit yet. There's one guy in particular who is a longtime fan, and is capable of buying one, but there's still some back and forth stuff going on." So far the Residents also have yet to sell the corresponding $5 million mystery item, a question-mark-covered package smaller than a bread box that they promise is well worth the price. (When asked if that includes the fridge set, Flynn replied, "That's the first time that question's come up, to tell you the truth. The refrigerator goes with it!")
But longtime fans of the band have more to look forward to this year than well-refrigerated avant-garde music. The current tour, being captured by a film crew working on a Residents documentary, is a career retrospective, celebrating the four decades since the Christmas 1972 release of their debut single, "Santa Dog," following a few years of shenanigans. But don't expect a greatest-hits show. "You're not going to hear 'Man's World' or 'Constantinople,' " Flynn assures. "On one hand, I think fans will be happy that it's old material, but I don't know that they'll be happy with all the choices. A lot of it is fairly obscure and it's all been pretty radically rearranged, so it will be easy for people to think it's all new."
There's another fresh development, and a surprising one for a band that values anonymity (when asked how many original Residents still perform, Flynn hedged: "We'll say a couple, and leave it at that"). The band members' names, Randy, Chuck and Bob (though they are probably intentionally mundane pseudonyms), are now being used onstage, in videos and on social media. In the infomercial for the refrigerated Residents loot, Randy speaks in a regular guy voice and wears a rubber mask of a normal human face. Not to worry, longtime spokesman Flynn assures, the new names will not interfere with the strangeness fans have come to expect. "You'll see Randy, Chuck and Bob onstage," Flynn explains, "but it will be Randy, Chuck and Bob in Residents-style costumes. They won't be wearing flannel shirts." After a contemplative pause he adds, "Though that actually may not be a bad angle at some point."
The Residents play Schubas Friday 15 and Lincoln Hall Saturday 16. The Ultimate Box Set is available now.