The revolution will not be service charged
upstart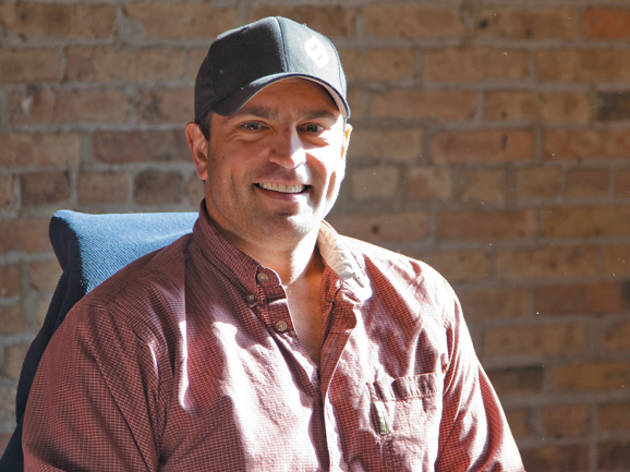 The FanFueled office opened in June, but in early November it still smells faintly of paint. Blond particle-board furniture sits pristine in the River North space. "It could use a lady's touch," founder and CEO Anderson Bell says with a laugh. "Once we get a partnership with Jam [Productions], we'll hire a decorator." The walls are slate gray, save for large patches of a dry-erase-board application. Across one white rectangle, in all caps, reads: THE ONLY EASY DAY WAS YESTERDAY."That's a Navy SEALs quote. A reminder to keep busting my ass," Bell tells me.
Bell, in his mid-thirties, is tall and athletic. A diploma in marketing from Georgetown and a certificate from his collegiate lacrosse days lean against the wall in frames, waiting to be hung. The New Trier High School grad has a younger brother: a Blackhawk pilot, West Point grad and Army captain. I ask Bell why he eschewed a military career. "I had what you call a problem with authority," he says.
Upon graduating from college, Bell moved back to Chicago to trade futures at the Board of Trade. After five years, the Streeterville resident "blew out" and lost all his earnings. He went into the bar business and promoted nightclubs. Soon after, he created his first website, a children's book registry where expectant moms could swap titles. It failed. "It was sort of like grad school," Bell says. "I learned about the back end."
The idea for FanFueled came two years ago, when Bell logged on to Ticketmaster to buy passes to see Pearl Jam—the grunge dudes who once boycotted the ticketing giant in the '90s. After all of the "convenience fees" and service charges (which can often add up to 50 percent of the list price), Bell could no longer afford the tickets. "The light bulb went off that something was wrong with the industry," Bell recalls. "Someone who was not adding value to the concert was preventing people from attending. When Ticketmaster launched 30 years ago, it was a great advancement. It prevented a drive to the venue's box office. It's an outdated business model now."
FanFueled started on the couch of the bachelor's apartment. Bell scraped together money from friends and filed a patent for his idea in March of this year. Soon after, an unnamed "great angel company," Bell says, came in with VC funding.
Essentially, his site works like this: When a concertgoer purchases a ticket for an event through the website, he or she is given a URL to pass along to friends on Facebook, Twitter, etc. If a second person buys a ticket through that link, the original concertgoer gets a small cut of the service fees. If the second person pastes a link that a third person uses, ticket buyers No. 1 and No. 2 get a slice. From $1.49 to $4.49, FanFueled's service fees are a fraction of Ticketmaster's, and the company keeps only half. The money a concertgoer earns is put into an account. Bell envisions smart tickets embedded with RFID, so that, with a touch of the ticket, those rewards can be used on beer and merch at the gig.
The sooner one buys, the more one can earn. By contrast, Live Nation, the massive concert promoter that merged with Ticketmaster in January after much-scrutinized approval from the Justice Department, discounts unsold tickets at the last minute. "That penalizes the biggest fans for buying early," Bell says from behind his desk. "They ruined their model in training people to wait. Let's flip this model."
He sports a FanFueled ballcap, while Cubs and Bears hats sit to his side. The partially filled bookcase behind him holds the writings of Nietzsche, The Count of Monte Cristo and several volumes of Henry Miller—"a favorite of mine," Bell says.
Currently, the FanFueled site sells tickets to a mere couple dozen events, primarily New Year's Eve bashes and nightclub parties. The challenge, clearly, is to wrangle venues and bands from Ticketmaster's stranglehold. (The biggest get so far is the upcoming Chicago Bluegrass & Blues Festival.) But there's no shortage of industry people disgruntled with the growing monopoly of Live Nation–Ticketmaster. Last month, Jam filed a lawsuit against Ticketmaster, asking out of a contract that sees money from its events going to a competitor, Live Nation.
Just three employees—a receptionist and two former interns working quietly at computer terminals—are on staff. (Business partner Jeff Cantalupo, a former account manager at Leo Burnett, is away at a wedding.) As we stand in an empty conference room, I ask Bell if he fears Ticketmaster will steal his idea. "Their greed prevents them," Bell says. "It's too much of a fundamental shift. We're taking care of the fans. They are publicly traded, with quarterly numbers to meet."
Right now, that can only remain a dream of the upstart.