There's always a Hitch
Gaga and Ke$ha were once unknowns on small Lolla stages. Meet this year's Cinderella act, Neon Hitch.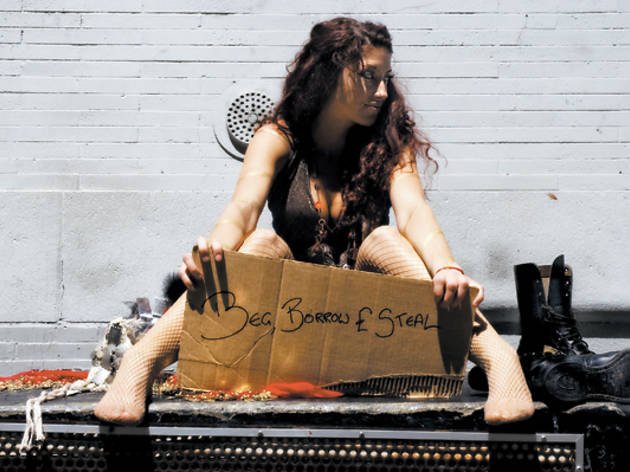 "Being a Gypsy, you're classed as homeless, but you have a caravan [RV]. But sometimes I didn't have a caravan. For a while I had nowhere," Neon Hitch tells us, with nary a trace of regret. Having grown up a nomadic performer, the chirpy British singer can only estimate her genetic makeup: part Irish, part Romanian…part caveman. "My ancestors are all crazy. My great-great-granddad, he was the last man to live in a cave in Nottingham."
Few other budding pop stars can claim such a fascinating back story. Like Neon Hitch, Lady Gaga and Ke$ha were once overlooked pop acts playing lunchtime Lollapalooza slots, but they were just ordinary girls who slapped on some wacky outfits. Now Neon's life is about to get crazier: She's in the studio with producer Benny Blanco, the precocious pop savant behind bubblegum smashes such as Katy Perry's "California Gurls" and Ke$ha's "Tik Tok." We rang up the 24-year-old at her new apartment in New York City to gather some facts.
Yes, Neon Hitch is her real name.
"You should hear what my parents wanted to call me. It was between Brown Rice, Neon Hitch and Z. Ziggurat Zanzibar Zandorf. I'm not joking. Imagine fitting that on my passport!"
Obviously, her parents were hippies.
"My adventures started the day I was born in London, when our house burned down. My mom bought a caravan and we traveled the world. I had such a wild upbringing. My dad did lighting for Duran Duran and Sting. I'd go stay on tour buses with him. I grew up on a bus. Now, when I go on tour, everyone else on the bus complains, 'I can't sleep.' What are you talking about? I sleep like a baby!"
She was doing circus acts long before Pink.
"I'd walk on stilts while swinging fire, or I'd set up a trapeze rig and put on a show. Afterward, I'd take a hat around to the crowd."
Help arrived in the form of Amy Winehouse.
"Amy really helped me through a tough part of my life. She's like my big sister. A couple years ago, I was homeless. I was at a party and I bumped into Amy. I'd known her a little before, as our boyfriends were friends, but hadn't seen her in a long time. I told her I had no home and she immediately blurted, 'Come live with me!' So I moved in. I couldn't really avoid the paparazzi. They just sit out her front door. It's crazy. Whoever came over, it was snap snap snap snap."
When she says homeless, she's not exaggerating.
"I was living in Brighton, doing a lot of squatting. I would sleep wherever I could—old, empty houses. I would go to friends' houses, asking to check MySpace, which was my only hope. One day I got a message from my now agent who listened to my demos. He wrote, 'I've got this producer you should meet.' I told him, I've got no money; you gotta fly me out. I didn't even know who this [agent] was."
Manhattan is her new home. Her first home.
"I live in Union Square. I had never been to America, but everything is exactly how I pictured it. This is the first time I've lived in a house. I've never had my own bathroom, air conditioning, heating or running water. The simplest things make me happy. My mum still lives in a bus in Wales. She makes jewelry and doesn't know anything about the outside world. When I get money, instead of buying her a house or a car, my mum wants me to buy her an Airstream caravan and ship it over. I miss being in a bus with my mum."
Neon Hitch brings African drums and a string section to the BMI Stage on Sunday 8 at 12:30pm.
Lady Gaga impersonator
|
Semi Precious Weapons
|
Neon Hitch
|
Lollapalooza lineup recs
|
Lollapalooza musicals
|
JP, Chrissie & The Fairground Boys
|
Dear Crabby's Lolla advice
|
The Black Keys
|
Lollapalooza 2010 after-parties, warm-ups and after-shows
|
Getting to Lollapalooza