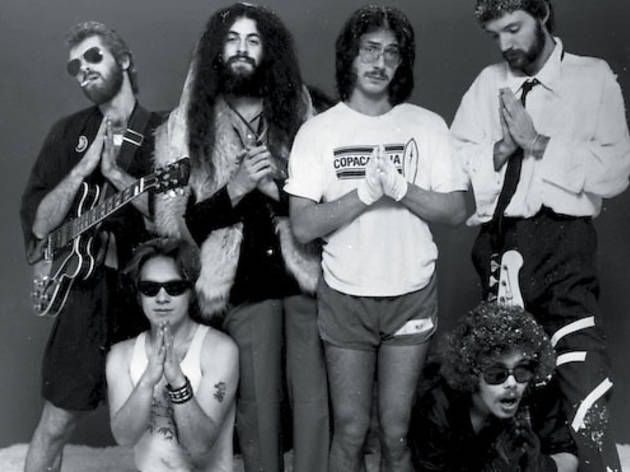 Tutu and the Pirates
So what if it takes three decades to put out an album? Better late than never. Chicago's original "anti-lectual" punk band reunites for the 2011 HoZac Blackout Fest.
Tutu & The Pirates helped invent Chicago punk, a varietal of jokey, aggressive, prank-themed rock & roll. The band formed in 1977, having met and bonded a few years earlier at Winnetka's New Trier High School, where hulking drummer Charles "Tutu" Roth, who went on to become a Marine and biker, had to protect his smart-mouthed punk cohorts. Pirates songs celebrated serial killers ("Wham Bam Son of Sam"), acne ("I Got Zits") and manual labor ("I Wanna Be a Janitor"). The latter featured an onstage love scene between a plunger and a guitar made from a toilet seat.
Local success came so quickly that the North Shore kids expected a major label to release their material, despite their refusal to clean up songs like "No Head from Darlene" and "Freud's Fucked." This stubbornness resulted in the band releasing zero material. "We thought we would be rich in a couple of years," frontman Dave "Little Richie Speck" Springer says. "I deluded myself to believe that. I can't speak for everybody." After disbanding in 1980, the sextet found its legacy in limbo.
Fortunes changed when filmmakers Christina Tillman and Joe Losurdo heard wild tales about Tutu & The Pirates while crafting their documentary on Chicago punk, You Weren't There. The 2007 film prominently featured the band, which inspired all of the original members to play a successful reunion show. That performance led, finally, to the release of the band's debut album, 2010's perfectly titled Sub-Urban Insult Rock for the Anti/Lectual, a compilation of vintage demos, rehearsal tapes and live material. The renewed interest has led to subsequent live performances, including this weekend's HoZac Blackout Fest, a two-day, Windy City–centric garage and punk celebration thrown by local label and former zine publisher Horizontal Action. Modern audiences have gone nuts for the surprisingly spry middle-aged band's stage antics (toilet guitar still included).
The lively contemporary crowds have reminded frontman Springer why being a Pirate was so fun in the first place. "Since we've been back, it just blows us away that these young crowds have the same enthusiasm and energy as when we first started."
Despite the youthful energy on display in their recent appearances, Father Time has taken a toll on the Pirates, who all live in the Chicago area. To represent the vintage lineups, which saw the band going through drummers like Spinal Tap, the reunion shows have featured a rotating trio taking the drum stool. However, two thirds of that triad, including Tutu, are out of commission for Blackout Fest due to recent surgeries. That leaves only Jeff "Abner Normal" Thomas, the son of Chicago children's television legend and Garfield Goose and Friends host Frazier Thomas, to pound out the pandemonium.
But percussionist triage is nothing new for the Pirates. Back in the day, the hard-living Tutu suffered injuries. He famously spent many a show merely sitting on the edge of the stage, reading pornography while his replacements played on. Springer can't promise us that his old friend will show up and repeat such antics at the Blackout Fest. But anything's possible. If Tutu needs reading material, the festival's promoters will be pleased to dust off a few vintage, X-rated issues of the Horizontal Action zine for his perusing pleasure.
Tutu & The Pirates play the HoZac Blackout Fest at the Velvet Perineum Saturday 28.