Unlucky number
Why can't 17-year-olds attend 18-and-older shows?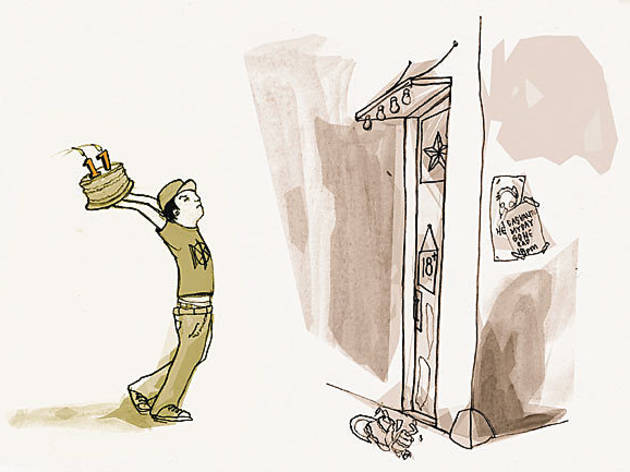 Eighteen and older. It rolls off the tongue, doesn't it? You're old enough to vote for Obama and drive a tank through Basra. But when it comes to concert going, what's so magical about this number? As it turns out, nothing.
TOC reader Tom Ledford brought this little-known fact to our attention in March in his response to a story in our Local Music Issue on the recent spate of all-ages venues: "The premise of 18-and-older shows is to allow adults who are still below the drinking age to enjoy quality music," he writes. "18-and-older shows, in comparison to all-ages shows, often occur later at night due to curfew law. However, a commonly ignored fact of [curfew law] is that it only applies to those 16 and under, and thus 17-year-olds are exempt. So I raise the question: Why are 18-and-older shows not 17-and-older shows?"
According to city officials, Ledford's right: Seventeen is the great forgotten age. But considering how many 18-and-older shows happen every week in Chicago—as well as New York, Los Angeles and Atlanta—we wondered if local venue owners were aware of the rule as well.
Don MacEachron, general manager of the South Loop's Reggie's Rock Club, lowered the bar of entry for 18-and-older shows to 17 only a few weeks ago and appears to be the first in the city to do so, though the Beat Kitchen and Subterranean quickly followed suit. But his reason for adjusting the age was not an epiphany about the need for teenage cultural immersion—he simply checked the books. On March 22, the city moved up curfew times from 10:30pm to 10pm (Sunday through Thursday) and 11:30pm to 11pm (Friday and Saturday) and issued a notice reminding venue owners of the law. "Once that curfew law came to light and I saw that it only applied to 16-year-olds, I decided to make the change," MacEachron says. "Why not let those kids in?"
Oddly enough, according to Efrat Stein, spokeswoman for the city's Department of Business Affairs and Licensing, the law has always said that. "Venues should allow 17-year-olds in to 18-and-older shows," says Stein. "There's no reason why 17-year-olds should be discriminated against." Stein points out that the admission restriction might have once made sense because tobacco law forbids under-18s from purchasing cigarettes. That would explain the enforcement at least up to January 1, 2008. "Today," Stein continues, "you can't smoke indoors anyway."
Over at the House of Blues, another longtime enforcer of the 18-and-older edict, our inquiries were met with surprise. "First, I'd want to talk to our legal team," says Michael Yerke, vice president of Midwest booking for House of Blues. "But if legally we could do it, I don't see why we wouldn't adhere to it." Yerke explains there was no plot to keep the 17-year-olds out. "It's just always the way it was; that's what our legal people advised us to do. But if this is true, I can't think of a good reason why we wouldn't [let them in] now."
Not all venues want to change their age policy, even though they can. Schubas music booker Matt Rucins points out that his venue is well within its rights to keep out certain ages on a per-show basis. "We deem 18-year-olds as being able to vote and serve our country, and so we see them as more mature," he says. "And because they're out of high school, we also see them as responsible adults."
What's clear is that 17 is a transitional period, with one's playlist somewhere between Fall Out Boy and Fleet Foxes. One venue representative who asked not to be named says the technicalities of the law are meaningless because the police don't want to see 17-year-olds out late at night. "You're not yet an adult in the eyes of society but even for misdemeanors, you're still tried as an adult," acknowledges Sgt. Dennis Vale, whose beat includes the club-heavy Lakeview district of Schubas and Metro. When parents call the police to bring home a 17-year-old, Vale says, the police invariably "will take action." Even though those kids have every legal right to be out? "Yeah," Vale admits. "Seventeen is a weird age."
Reggie's Rock Club, Subterranean and Beat Kitchen host a handful of 17-and-older shows this week.