What if Chicago bands were pro sports teams?
KISS now has a football team, the L.A. KISS, in the Arena League. So we wondered what our local music stars would look like as sports franchises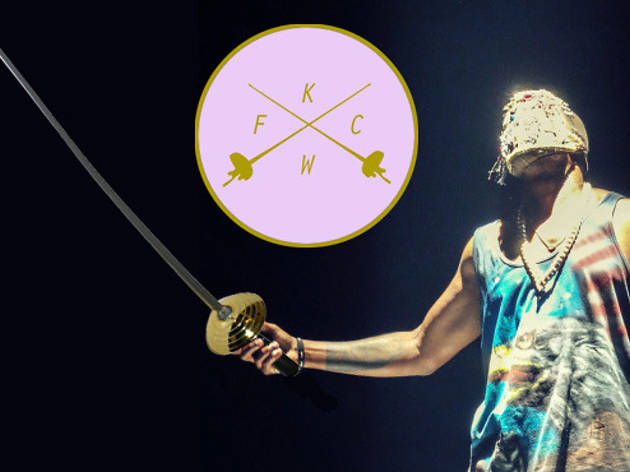 We you aware that KISS now has a football team? Yes, that KISS. The rock band that dresses up as space clowns and sings about gin and women. Gene Simmons and Paul Stanley are co-owners of a professional indoor football team in the Arena League. The Los Angeles KISS played its inaugural game inside Anaheim's Honda Arena over the weekend. Women in bikinis dangled from the rafters, because of course. Pyrotechnics shot flames into the well conditioned air—matching the motorcycle-like flame decals on the helmets.
So that got us wondering. What if Chicago's most notable music stars owned pro sports franchises? Billy Corgan of the Smashing Pumpkins beat everyone to the punch (or well staged slap) with his wrestling league, Resistance Pro, which might become a reality TV show on AMC.
These are our dream teams.
Kanye West would never do anything so common and lowbrow as football. No, Yeezus would only commit himself to something European with fancy dress. That leaves equestrian dressage, polo or fencing. Considering the ornate Martin Margiela masks worn onstage during his Yeezus tour, Kanye already has the gear for swordplay. Plus, he'd be itching to drop words like "plastron" and "épée" in his lyrics (rhymed with "girl you got that ass on" and "Chi-town Yahweh," perhaps). Nothing quite like standing under a sky blue sky in a green outfield with a glove on one hand and a microbrewed beer in another. Softball's the perfect sport for a band whose output is one fat underhand pitch to rock critics. Dads love this game. No need to tuck in that jersey. Just when you think Wilco is going to deliver an easy pop-up, the band corkscrews a wicked curveball. Wilco, like softball, is harder than it seems. Have you attended or watched a hockey game—any hockey game—in the last year? If so, you have undoubtedly heard "My Songs Know What You Did in the Dark (Light Em Up)" at least five times. You know: "Light 'em up up up, I'm on FI-AH!" The next generation of Stumps and Wentzes will not have to pay for college thanks to the residuals this emo-pop act is raking in from ice arenas alone. Congrats, Fall Out Boy, you wrote the Bush's "Machinehead" of this generation. Time to pump some of that cash back into the sport. Controversial rapper Chief Keef calls himself Sosa. The nickname likely traces back to the drug lord Alejandro Sosa in Scarface, but as he is a Chicago kid, on some level is in an homage to the juicing, corking, hopping home-run hitter Sammy Sosa. The former Cub might be a pariah in the post-steroid MLB, but Keith "Chief Keef" Cozart, as owner of the Cheefs, would have no qualms about hiring the Dominican slugger as manager. As Keef says on "I Don't Know Dem": "Riding with my hitters, bitch." He's talking about baseball, right? The Rockford-born power-pop icons were never as big in America as they were overseas. Heck,
Live at Budokan
started that whole "Big in Japan" concept. They are the soccer of classic rock acts. Rick Nielsen's trademark checked pattern would look right at home on a player's kit. The WNBA doesn't get enough love. Elena Della Donne is one of our most badass local athletes, and yet bench players on the Bulls are far more beloved. Exile in Guyville, indeed. Phair is savvy enough with the media to bring some attention to women's basketball. After all, it took some big balls to release that 2003 solo album. Slow. Complicated. Hard to explain. Easy to nap to as it plays in the background. Wait, are we talking about the band or the sport here?