Why emo is (unfairly) uncool
Nineties nostalgia is in full bloom. Scrappy indie bands are finally getting their moment in the spotlight. Well, except for one big chunk of the decade—emo. Why is that?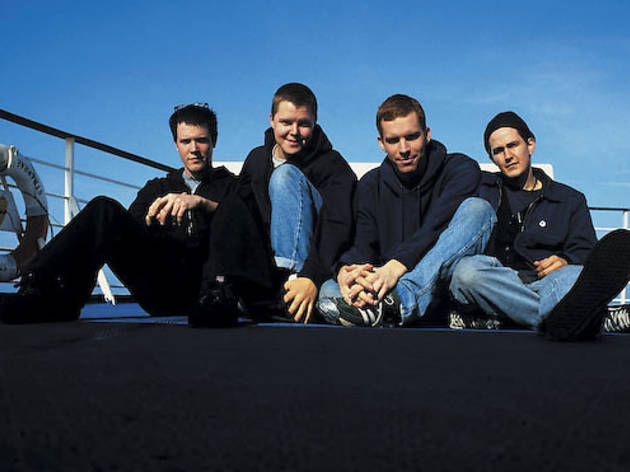 Washed Out recorded a handful of tunes in a bedroom and shortly thereafter was touring Europe and Australia—before putting out a debut full-length. Archers of Loaf once haunted half-empty bars but have reunited to reissue deluxe versions of their catalog, sell out two nights at the Bottom Lounge and headline this weekend's A.V. Fest.
In many ways, the music scene in 2011 feels like an idealized do-over of the music scene 15 years ago. And yet, the tide of '90s nostalgia has not included emo bands. The Get Up Kids, who helped give emo its radio-hook sensibilities and who share a member with Spoon, are playing a street fair in Old Town on Saturday. This is not coincidence. The cultural trends that led us down the path to '90s revivalism are the same ones that solidified emo's status as hopelessly uncool.
It's impossible to define emo without pissing somebody off. The word, originally short for emotional hardcore, was first applied to D.C. band Rites of Spring and then to music that straddled punk and pop, like Milwaukee's the Promise Ring. Yes, it was decidedly "emotional" music, made by earnest and sweaty dudes with guitars and feelings. But it was often willfully oblique, music by self-styled poets who read Rilke and drank lots of coffee. It was an outlet by and for people who were too introverted to just come out and say what they felt.
Saying what you felt was a lot harder before the Internet. But then LiveJournal oversharing found its musical corollary in Dashboard Confessional's Chris Carrabba, whose slick 2002 hit "Screaming Infidelities" brought emo to the masses and obliterated any dignity the term may have possessed.
The Internet gave us the opportunity to discover and identify with any music we chose. Taste became a core part of our online social identities. Many who once defended emo, myself included, quickly disowned it. Outwardly cool, accessible, but still ostensibly underground bands like the Strokes and Interpol looked way better in a Friendster profile.
Yet taste is only as valuable as it is socially decipherable, and it follows that all roads would eventually lead to the past. Millennials and Gen Xers alike remember Clarissa Explains It All and/or the video for Dinosaur Jr.'s "Feel the Pain." It's an instant point of connection in an increasingly fragmented world. Emo bands, on the other hand, are most likely to be remembered as a social liability.
No amount of musical reinvention has yet made an emo band palatable. The Promise Ring, whose Nothing Feels Good remains a high-water mark of the movement, was met with consternation when it worked with Blur producer Stephen Street in 2002. Half of that band has continued as Maritime, further exploring their Britpop fetish but remaining largely overlooked and under the radar. Maritime sits five slots under regional alternative-radio one-hit-wonders Hum on the A.V. Fest bill. The Get Up Kids have incorporated electronic textures and krautrock grooves but still have little to no hope of experiencing a widespread critical reevaluation. Once an emo band, always an emo band.
Braid, which played a reunion show on August 27 at the Metro, has made no such gestures at reinvention, instead releasing an EP that sounds exactly like old Braid. The response has been predictably positive among die-hard fans and predictably dismissive elsewhere. Pitchfork gave it a 2.8. Is it fair that Dinosaur Jr. gets praised for picking up where it left off, and Braid gets mocked? Of course not, but that's kinda the point. Bands like Braid, Maritime and the Get Up Kids are free to pursue whatever path they choose without fear of transgressing today's aesthetic fads. Maybe being uncool isn't so bad after all.
Maritime plays A.V. Fest, while the Get Up Kids hit the Wells Street Fall Festival Saturday 10.