Wilco (the history)
A chronological look at the ups-and-downs of Chicago's very own Wilco.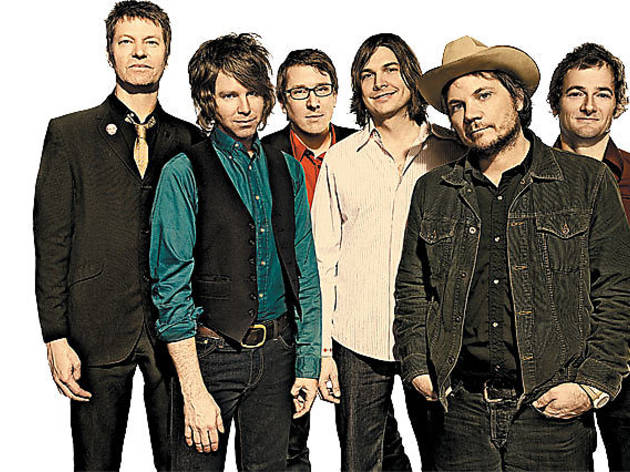 1994: Jay Farrar quits Uncle Tupelo —college rock darlings with fully fleshed out country and rock sides from the St. Louis area. Tupelo morphs into Wilco with Jeff Tweedy—Farrar's bandmate for a decade taking control while Farrar launches Son Volt. Wilco signs to Reprise Records.
A.M. (Reprise, 1995) The Tupelo boys turn to good time bar-rock to soothe their break-up blues—its short on innovation but way more fun than it deserves to be. Key cut: "Passenger Side"
Being There (Reprise, 1996) Sprawling double album that finds the band experimenting with classic production techniques of Phil Spector and the Beach Boys and expanding its palette of sounds and losing the country cousin touches of the No Depression scene. Key cuts: "Outtasite (Outta Mind)"
Mermaid Avenue Vols I and II (Elektra, 1998 and 2000) Political poet Billy Bragg teams up with the band for an album of unreleased Woody Guthrie songs. The slightly weird collab (supposedly Wilco's Jay Bennett was more enthusiastic than frontman Tweedy) makes for great ink and it makes lots of top ten lists but the comparisons to the Band's Music from Big Pink seem a bit overblown. Volume II is a bit more rock n roll. The whole project ends up polishing the Guthrie legacy for future generations. Unfortunately, there's also a song with Natalie Merchant.
Summerteeth (Reprise, 1999) The most immediately catchy of Wilco's albums—it has an unforced literary quality to it. Fans seem to love it to death—despite the fact that it was probably the least collaborative and most Pro-Tooled of the band's early albums. Key track: "I'm Always in Love"
2000 Loose Fur forms A collab between Chicago producer/avant-garde/popster Jim O'Rourke and Tweedy results in O'Rourke-produced recording sessions. Tweedy replaces Wilco drummer Ken Coomer with O'Rourke's drummer Glenn Kotche. The band goes on to release two albums for Drag City.
Billy Bragg & Wilco - Man in the Sand (The Making of "Mermaid Avenue") (2001) This documentary of the Woody Guthrie recording project narrated by Nora Guthrie is a lesser known artifact in the Wilco archives possibly because it follows Billy Bragg around most of the time.
Chelsea Walls (2002) Tweedy and the band contribute songs and score to a film soundtrack for Ethan Hawke's directorial debut. The CD is currently out of print. We hear "end credits" is amazing.
Yankee Hotel Foxtrot (Nonesuch, 2002) The band records in its loft-turned-studio, embracing a new aesthetic that shows traces of a Radiohead influence. Jim O'Rourke mixes much of the album. Dropped from Reprise, the record ends up coming out on Nonesuch—owned by the same parent company. Wilco wins this round. Key track: "Heavy Metal Drummer"
I am Trying to Break Your Heart: A Film about Wilco (2002) Director Sam Jones documentary shows (and perhaps contributes to) the band splitting up with Jay Bennett while getting the cold shoulder from its record label. With the album done, Jay Bennett splits the band taking much of the studio equipment from its loft with him.
The Minus 5 releases Down with Wilco (Yep Roc, 2003) Former Young Fresh Fellow's album recorded at Soma Electronics Studios in Wicker Park with Mikael Jourgenson engineering features Wilco and Peter Buck.
A Ghost is Born (Nonesuch, 2004) Multi-instrumentalist, ace keyboardist and a producer in his own right, New Jersey native Mikael Jorgensen joins the band. Tweedy takes up lead guitar duties. Originally demoed in Wicker Park, the album is recorded digitally in New York with O'Rourke producing. It netted 2 Grammy noms. Key track "The Late Greats"
"Just a Kid," 2004.
Wilco records Just a Kid at Wicker Park's Soma studio for the Spongebob Squarepants movie.
2004 Jeff Tweedy a longtime migraine sufferer checks into the hospital for painkiller addiction. Eventually, a healthy Tweedy takes up jogging and gives up cigarettes—resulting in reports of severe shin splits on several occasions.
2004. Greg Kot publishes Learning to Die, which, despite the goth title, is not a Bauhaus biography but actually a Wilco bio with a heavy emphasis on Tweedy's Uncle Tupelo years.
2004. Ringer multi-instrumentalist and awesome dude Leroy Bach splits the scene with West Coast guitar slinger Nels Cline and Autumn Defense's Pat Sansone coming in to fill the gap. Clines virtuoso fretwork will become the trademark of the new Wilco sound.
2006. Tweedy embarks on moody solo acoustic tour, captured on DVD by directors Christoph Green and Brendan Canty for Sunken Treasure - Live in the Pacific Northwest (Nonesuch, 2006).
Sky Blue Sky (Nonesuch, 2006) The band's next step is an easygoing album with a vaguely '70s feel suggesting that Steely Dan and British folk have been playing on the iPods. The band places songs from the album in a new Volkswagen ad campaign, annoying a sliver of its audience.
2007 UNKL releases Wilco Figures - Six Pack, a collection of 2 inch high figurines with balloon-shaped heads. They're cute but quickly dated.
Kicking Television (Nonesuch, 2007) The band releases a live album to document its new ass-kicking live line-up and to stun the naysayers who think its gone soft.
May 2008 Secret show?
Hypeful.com publishes a fake review of a secret Wilco show at the Cavern in TX. The band plays under the name Black Shampoo—an early alias. The review spreads virally.
In December 2008, most of Wilco records a charity album in New Zealand with members of Radiohead and Crowded House for the 7 Worlds Collide project. The band stays longer and starts tracking its next album in New Zealand—then adds overdubs in Chicago.
Ashes of American Flags (Nonesuch, 2009)
The band releases its live DVD (co-directed by Fugazi drummer Brendan Canty) on record store day April 18.
May 2009
Ex-member Jay Bennett (1994 to 2001) sues for $50,000 in damages, claiming he is owed royalties for songs and for appearing in the documentary I Am Trying To Break Your Heart.
Summer concert preview
|
Regina Spektor gets Far out
|
Schubas and Double Door anniversaries
|
Summer albums
|
Wilco (the album)
|
Wilco (the history)