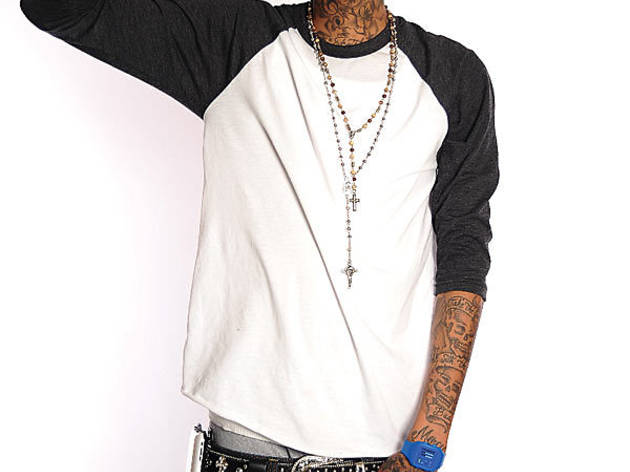 Hip-hop started on the streets of the Bronx; now, remarkably, regional pockets pop up across the globe. A crew of South African joke-rappers is one of the hottest things on the Internet. Rising wordsmith Wiz Khalifa, on the other hand, is no joke, but he's poised to do for Pittsburgh what Die Antwoord is doing for Cape Town.
As the Steel City spitter's heavily tattooed torso suggests, he's hardly a blank canvas. The club rapper's been hustling for the past five years, issuing a steady stream of mix-tapes on which he comes off like a less arrogant Soulja Boy. Born Cameron Jibril Thomaz, the military brat had a brief fling with Warner Bros., but he's back to the indies for last year's cheekily titled Deal or No Deal, a scatterbrained second proper studio album that hops from ringtone rump-shakers to dance-pop to blunted ruminations. If one of his random darts hits, the svelte 22-year-old could make a name for himself yet.
Despite a modest amount of blog hype, it's still surprising he's at the top of the bill, given hip-hop journeyman U-God. The perennially underrated Wu-Tang Clan member first struck out on his own with 1999's Golden Arms Redemption, but he's a dull blip on the rap radar, even compared to the group's lesser affiliates Inspectah Deck and Masta Killa.
It's a shame U-God remains an underdog. Last year's slept-on Dopium was just as strong as the recent output of Ghostface or Raekwon (both of whom turn up on the platter). In the rare instance when the Staten Island posse reunites, U's gruff baritone fills out the much-needed low end like the bass in a barbershop quartet. Even solo, the 39-year-old New Yorker has no problem filling up the space normally occupied by his seven bandmates, his powerful rumble enough to overshadow the fact that he comes from one of the biggest crews in the rap game.