Ximena Sariñana | Interview
Former telenovela star Ximena Sariñana steps out of her comfort zone to play herself on her self-titled, English-language debut.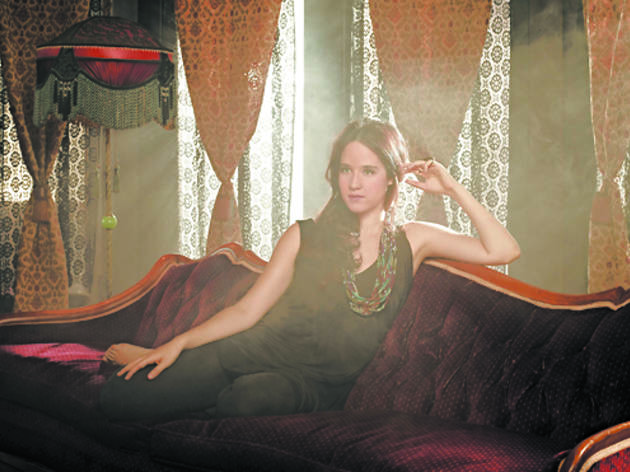 Ximena Sariñana grew up as a brat. Well, playing one on Mexican soaps. As Mariela, a ten-year-old Sariñana, in tightly pulled ponytails, plotted against her adopted onscreen sister, the orphan Luz Clarita. With her chipmunk cheeks, she was an unlikely villain in Luz Clarita, which was the point. Fifteen years later, Sariñana still looks remarkably young, hardly older than a teenager, those cheeks intact and her adorableness disarming. It sets you up for the sucker punch of a heavy lyric or a storm cloud of melancholy in her otherwise bubbly folk-pop.
Her own childhood was far less contentious and melodramatic than Mariela's. Born in Guadalajara, Sariñena was steeped in showbiz. Her father, Fernando Sariñana, produced and directed films; her mother, Carolina Rivera, wrote screenplays. As Ximena remembers it, Ravel's Boléro could often be heard wafting through the house, or her dad would pluck Latin American folk songs on guitar. "A lot of my childhood memories are connected to music," she tells us over the phone from L.A.
Her parents collaborated in filmmaking, often casting Ximena as the kid in their rom-com or crime caper. By age eight, Ximena was acting in musical theater; then she moved on to the telenovelas, and eventually artier dramas. I ask if she ever watches old footage of herself. "I mean, if they are putting them on TV, then I'll watch them, but I won't pursue watching myself," she says. "It's not a lot of fun watching yourself act."
In another interview, Sariñana recalled seeing Ella Fitzgerald at the Hollywood Bowl as a two-year-old, an incredibly early memory for someone to retain. I doubt her. "I actually do not remember that," she admits with a laugh. "But my mother remembers it and has made a point of talking about it. I do remember going to see Robert Plant when I was, like, four."
When Sariñana speaks about making records, it sounds as if she's talking about making movies. She is keen on collaboration, certainly as a result of her upbringing. "Film is the perfect art to get involved with at a young age. It teaches you art is a team effort. I like that about art."
Sariñana's upcoming album for Warner Bros. is her first in English and self-titled. That could be misinterpreted as some bold statement of identity, but Sariñana jokes that her first choice, Different, was merely "too cheesy." Greg Kurstin, a hip producer of Britney, Ke$ha and Lily Allen, was her chosen collaborator here. The results are not too far off from a jazzier Lily Allen, actually, or Fiona Apple. Why the plunge into English, Hollywood pop? "Everybody said, hey, this has never been done in Mexico before. It's a big risk, and it's definitely going to be harder," she says. "Those three arguments were enough to convince me to give it a try."
When writing in her two tongues, Sariñana finds herself taking on two different personalities. Spanish Ximena uses more slang; the English stuff comes out more dark and reflective. She would not, or could not, ever translate one of her songs. Nor is the sometime actress slipping into roles on the record. "Growing up as a kid actor, you can pop in and out of characters. You're always doing it anyway. Then we grow up and take things way more seriously. For so long, I've been playing different characters. I wanted to write something personal."
Sariñana opens for Sia at Metro Friday 22. Ximena Sariñana is released August 2.